I'm excited to be sharing all about English Cottage style with you today, and 12 easy ways to incorporate elements into your own home!
*Feature Photo Credit : Making it in the Mountains
I love studying different styles, breaking them down and showing some of the individual elements that the style is known for, because that makes it as easy as can be for YOU to incorporate those pieces into your home to inject your space with that style.
Today we'll be talking all about English Cottage!
If you've missed the other posts in this series, you can find them here:
And If you're wanting to learn more about YOUR own design style…
My Elite Decorating Academy is ready & waiting for you! Within the 28 hours of teaching (broken down in to classes an average of 10 minutes each); I have teaching on finding your design style, mixing styles, creating mood boards, hiring contractors and much much more!
Find out for yourself at elitedecoratingacademy.com!
*This post contains affiliate links to products I know &/or love.
12 Ways to Add English Cottage Style:
Number One | Assemble a collection of walking sticks, umbrellas and canes.
One of the great things about thrifting and collecting pieces like this is the variety within the designs you'll find! Look for different pretty handles, hook ends and different animal heads.
With such great variety comes a lot of old world character.
You can also have a lot of fun in how you display your collection. There are actual vintage stands you can buy, or you can go with a tall basket or bucket.
I use a French flower bucket for mine!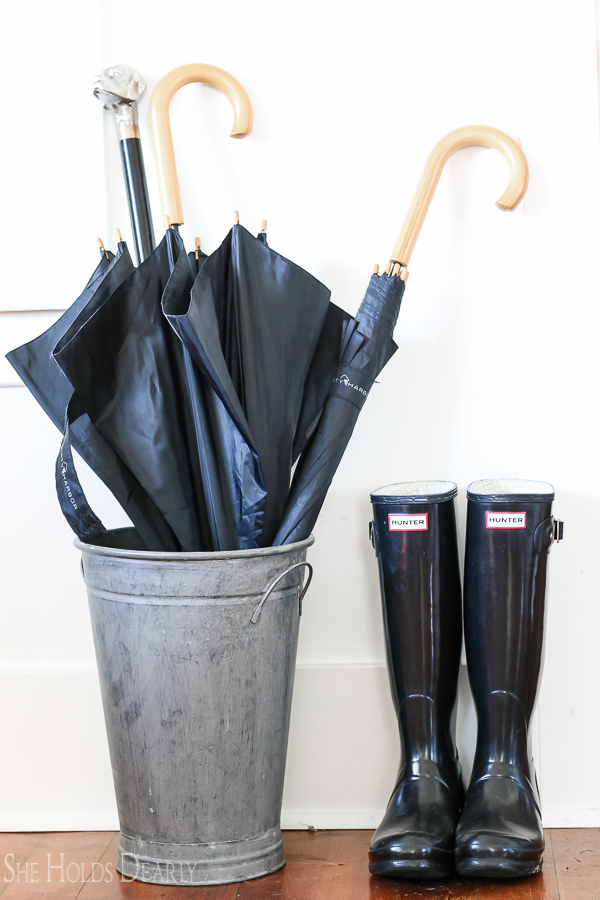 I have a feeling that these are getting more and more trendy for collections because the prices is currently about $30 each when I've seen them in antique stores.
Keep your eyes out and grab them up!
Number Two | Ferns
I just love ferns! If I had to chose a favorite plant, it would be them, hands down! They're just so versatile, feminine and they give me a Beatrix Potter vibe. I love how their fronds have an almost "lace" feel to them.
If you've got a green thumb, you can certainly opt for real ferns, or if you're wanting the more low maintenance route, I highly suggest faux ferns.
I have a bunch of faux ferns that I've used in different wreaths, buckets, and urns, and they look realistic and add the perfect touch.
I have a post on creating a 5 minute fern wreath if you're looking for some late Spring/early Summer decor!
Here are some wreaths on my spring porch.
Number Three | Old Books
You had to have known I'd throw this in here! There's just something so charming about linen and leather cover cooks with gold on the spines. I use them all over in my decorating and never grow tired of them!
They're getting a little harder to find for the prices I used to love before ($0.50-1.00 per book), but you can still find a great selection in the $5-6 range at most thrift stores. You can also find them on Etsy.
If you can find them at a yard sale, or if anyone you know with an extensive library is paring down, you might be able to group them for a better per-book price!
As for displaying your books, there's really no wrong way! You can either set them up in bookshelves, stack them, or arrange them both ways on different shelves for visual interest.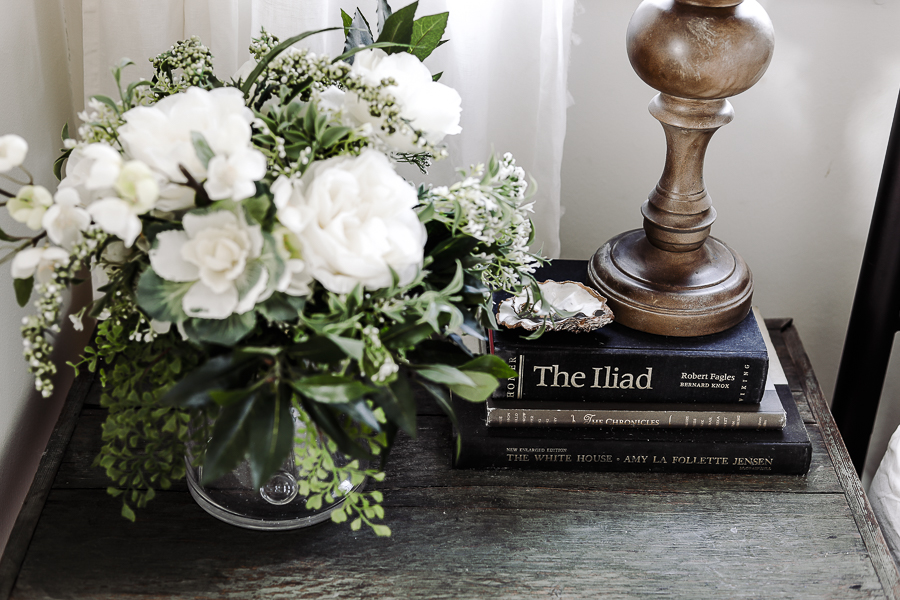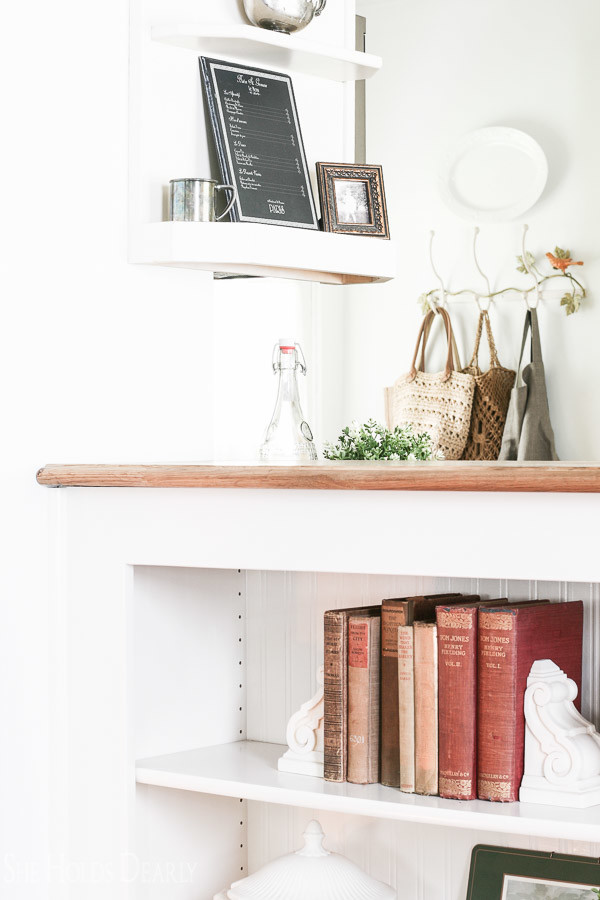 Credit : 1828 William Lee House | Charlotte, NC (Pricey Pads)
Number Four | Dark Woods
We're a year or so removed already from the highest peak in the trend of painting all the wood furniture white, and there's a real shift back to letting dark old wood shine in all it's glory.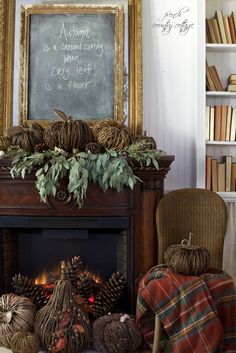 I still think there's a place for beautiful raw wood, but you can absolutely incorporate dark dark wood in English Cottage Style. Let the depth and warmth make a statement in your space.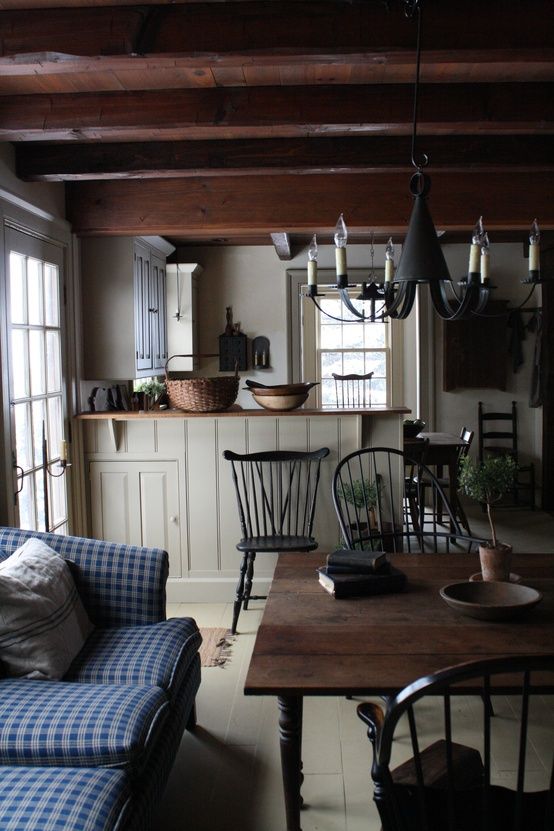 Credit: Phoebe Troyer/ Modern Country Style
Another fun way to incorporate wood elements is to add faux beams on your ceiling, it packs a big visual punch and adds instant cottage vibes.
Number Five | Gallery Walls
Do you know what? I hope gallery walls never go out of style. Not only are they trendy, but they have elements of real classical design at the same time.
I think they're another great way to add tons of texture, character and personality to a space. Diana from Diana Marie Home took out all the stops with this great gallery wall. It has so much visual interest and texture.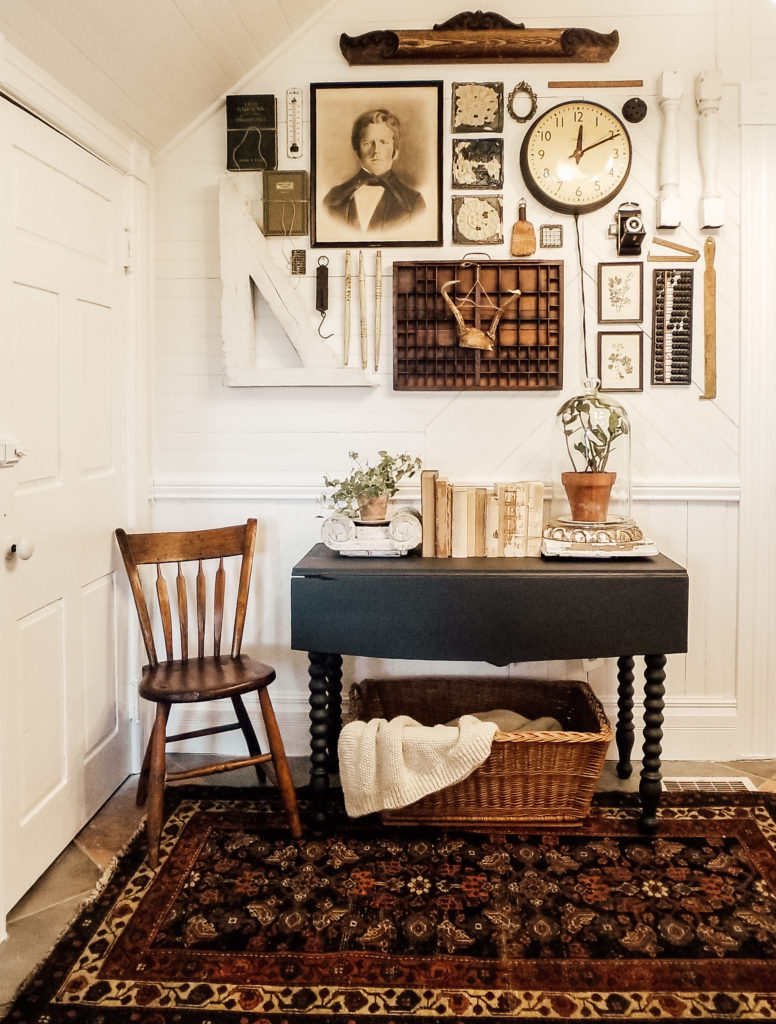 And speaking of gallery walls, I have a fun new offering for you! If you're wanting to add some beautiful vintage inspiration to a gallery wall, click HERE and get my current 12 favorite free art prints to download and print!
Number Six | Trunks
Whether they're wicker or true antique steamer trunks, these make great visual statement pieces, and also double as wonderful storage! I shared a post last year all about how I store my favorite painting supplies in my steamer trunk.
I also recently added straps to this thrifted wicker trunk in our master bedroom to give it some extra English cottage style. It's a really simple and quick DIY project!
If you have an old steamer trunk that has a bad musty smell, there are a few options – you can use it for storing items that won't be damaged by being enclosed near the smell, or you can do what I did to get rid of the musty smell in my old steamer trunk. Once it was smelling fresh, I decided to add some extra charm by decoupaging the inside! I love the surprise of the floral whenever I open it up to get my painting supplies.
Pricing wise, I would say if you see a steamer trunk for $100 or less, snap it up! They can often go for closer to $300-400, so keep that in mind!
Sometimes you can find good deals for Steamer Trunks or wicker trunks on Etsy.
Number Seven | Animal Artwork
There's just something about animals, mainly canines, horses (equine) and rabbits that quietly screams "English cottage".
You can either incorporate these in actual art prints (like in your gallery wall), or via small figurines made out of brass, or cool bookends (holding up your vintage books).
Number Eight | English Crocks
There's no going wrong with vintage English crocks of any size.
I have a medium size crock on my kitchen counter holding utensils.
A large one in our fireside room holding kindling for our wood stove.
And more and more recently I've been loving the tiny "meat pot" and "marmalade" size jars you can find on Etsy.
They're pretty pricy, though, and can cost almost $60! (Sometimes you can find good deals on Etsy.)
My solution: I made some myself using stamps from Iron Orchid Designs. You can read the whole tutorial here.
They turned out really cute, very vintage, and I think it would be fun to make them again for a party or wedding to use as centerpieces!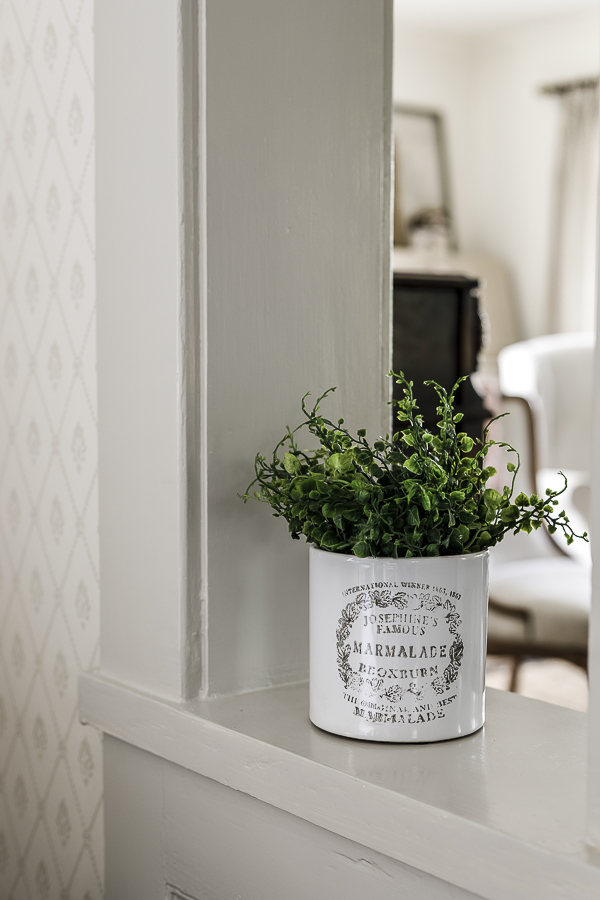 Number Nine | Wall Paper
I just love wall paper! I has a way of making spaces feel so cozy. My favorite types are smaller scale repeating florals.
Wallpaper an entire room or just a single accent wall – either way it will add great feminine warmth and visual interest. It's getting more and more trendy again to wallpaper after having gone a bit out of style for the mainstream in the past few years.
Number Ten | Stone Wall
Speaking of making an impact… my friend Andrea at The Pine and Prospect Home blog made this beautiful stone wall in their kitchen that is just lovely! It's real stone called airstone, but because it's a veneer, you install it almost like regular brick.
I think a great way to amp up the English cottage style is to over-grout the tiles, too. It really adds to the idea that it's been there a long time.
You can see a fun tour of Andrea's whole house that I did last year.
And make sure to follow her blog and her YouTube channel if you don't already!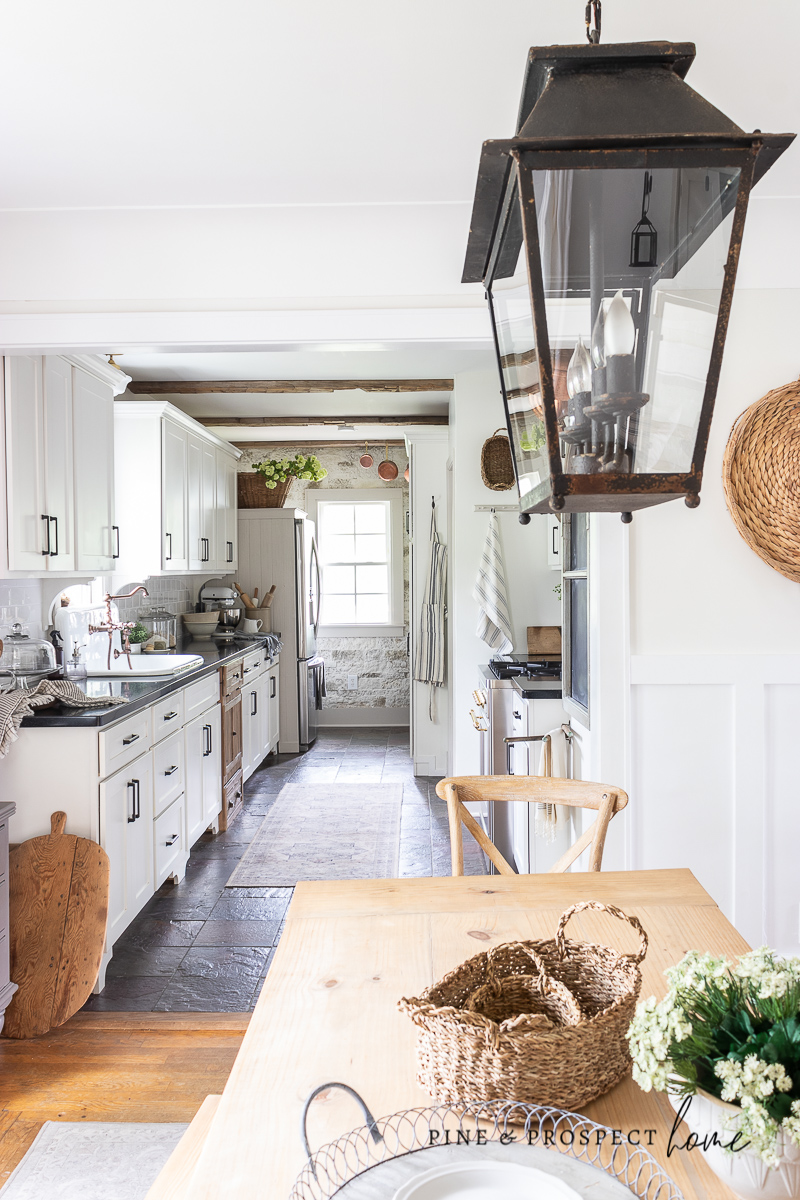 Number Eleven | Copper Pots
I'm currently starting a collection of my own variety of copper pots to add to a display in my kitchen. I think they look beautiful hanging off a beam (like Andrea did above), or on a simple copper rail with s hooks like this one you can purchase from Etsy.
You can't help but feel a little transported back to the old world around a collection of beautiful copper pots.
Number Twelve | Peg Rails
Last, but certainly not least, peg rails!
I think you should go ahead and just add these wherever you have space!
Liz Marie has done such a lovely job of incorporating these in her home, and she's shared a tutorial on the best way to DIY them to fit your space exactly.
I especially love that peg rail doesn't have to be decorated. It's got enough charm and character on it's own that you could simply leave it plain 90% of the year and add a few seasonal decorations when you wanted to add some extra character.
Peg rail is user friendly, super functional and the perfect English cottage style design element to add to your home if you're wanting to dip your toes in this style.
Don't Forget to check out elitedecoratingacademy.com if you're wanting to learn more!
Pin this for Later: