Join me on a cottage style home tour at my friend Andrea's house!
If you aren't already familiar with my friend Andrea from the blog Pine and Prospect Home, I have the great pleasure of introducing her to you today!
In addition to her blog packed with wonderful tutorials, she also has a beautiful Instagram account and a fabulous YouTube Channel under the same name!
I have a feeling that you're going to just love her!
My Michigan Trip
Not only are we friends in the blogging sphere, but we're also friends in real life! We're both part of a lovely group of ladies that get together once a year to compare notes, share tips and encourage one another in our businesses. This year she was gracious to host us all in her home state of Michigan.
They live not too far away from the Great Lakes and the area has a really interesting mix of coastal and farm in it's design feel.
As I was flying in I could just see farm after farm and even when we were landing, where I'm used to seeing "the city" leading to the airport, instead we were flying over corn fields until just before we landed.
But my goodness, I loved what I saw while I was there. The colors alone are magnificent. I definitely felt like that could be somewhere I'd be happy living more than once throughout the trip!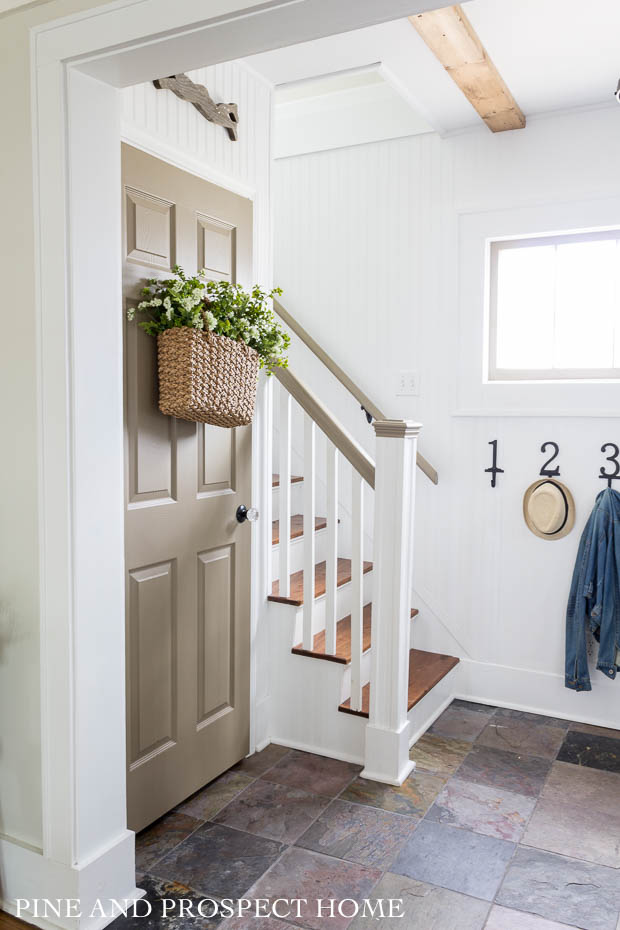 *This post contains affiliate links to products I know &/or love.
Andrea's Cottage Home History:
There's some fun history behind Andrea's home – namely that as a child she used to walk past it to go to school and helped clean for the previous owner during high school and always loved the character of the house. Circumstances worked out after she was newly married and they were able to buy the house she'd loved for so long! She has an entire blog post called "Our Home Story" where she shares even more of the details!
It's such a God story and she shares a beautiful perspective on God's timing in that same post.
Since then, her and her husband have transformed it room by room. She has a Before & After post on her blog too!
Some of my favorite things about Andrea are how frugal she is and how beautiful her designs are! I'm personally so inspired by her as a decorator!
Cottage Home Tour & More!
Along with sharing lots of pictures of Andrea's beautiful space, I'm going to share a few elements you can use in your own space to recreate this look! This list will be a great resource for things you can look for when thrifting to pull together a similar look.
Andrea describes her style as English Cottage, but I really feel beachy/coastal elements coming through as well. Not in a nautical sense, but I think there's a subtle inspiration from all the water and beaches near the Great Lakes.
Here are the elements you should work to incorporate if you'd like to recreate a look similar to this cottage home tour:
Number One | Neutral Color Palette
If you like this style, you'll really need to stay committed to a neutral color pallete!
That means lots of whites, tan, grey, and some blue and green accents.
Andrea does a magnificent job incorporating greenery into her designs! Some items are fresh from her garden and neighborhood, but she also has some great tips for using faux plants!
Number Two | Open & Built in Shelves
There's just something about the look of open shelving and built ins that feel so right in a cottage home tour! And Andrea and her husband have added some great charm and character with the built ins they've added since moving in.
There are two beautiful built in shelves surrounding the window seat they added in their sunroom.
And across from that they have a lovely and functional built in desk that they were able to put together for less than $50 with a hand-me-down desk from Andrea's mom!
Also, I'd be remiss if I didn't mention that Andrea is a fantastic artist! She paints beautiful pieces which you can purchase HERE.
Back to built ins…
In their living room they built a small shelf on one side of the fireplace and a built in bench on the other. Late last year Andrea changed the bright white color to a newer mushroom shade that gave her some great contrast against her walls.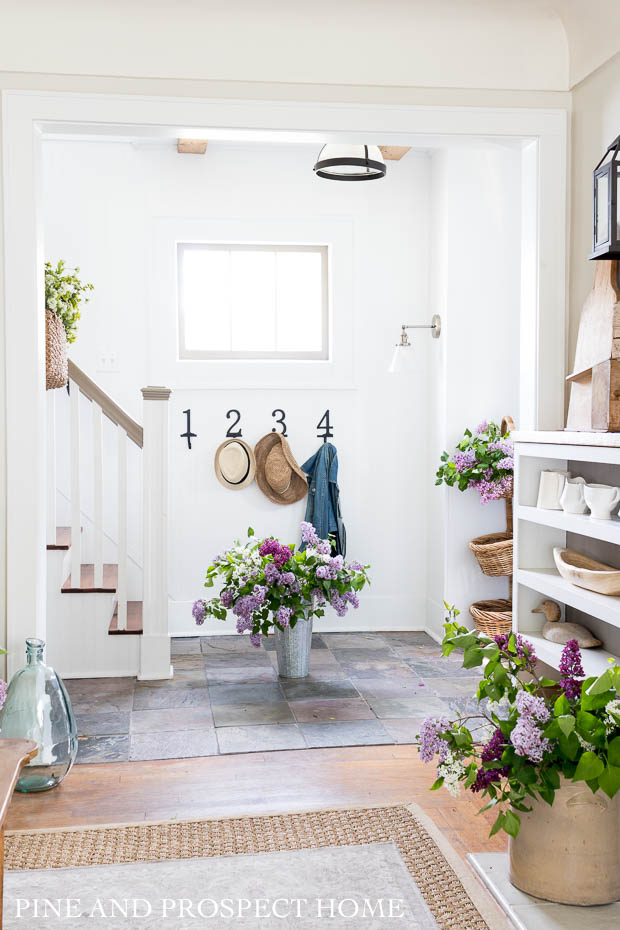 Number Three | Natural Elements
Just about everywhere you look in Andrea's home she has lovely natural pieces to help give the space a more vintage cottage feel.
There are her beautiful wooden beams in the kitchen.
Their very clever use of a reclaimed beam to cover the vent hood on their stove.
The lovely mantle in their living room above their fireplace.
Not to mention beautiful wooden furniture pieces, bowls and wicker baskets throughout the entire house.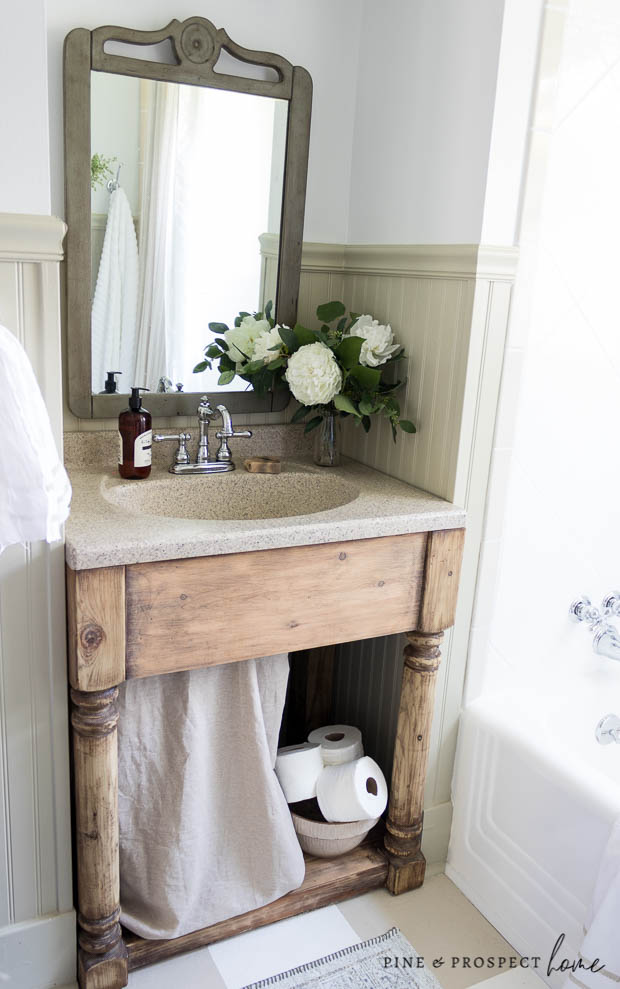 Just gorgeous, isn't it!?
I also noticed a really subtle use of glass accents repeating through the house! Jars for storage, (like pictured here in their pantry) shades on light fixtures, and cloches! It's another aspect that makes gives this tour an authentic cottage home feel.
Number Four | Stone
Andrea also has an excellent eye for adding stone work that amplifies the cottage home feel! They have slate flooring in their entry, a lovely airstone accent wall in their kitchen, and airstone on their fireplace.
Their yard is also a beautifully manicure space with gardens and flowers and white rock pathways.
Number Five | Hide Modern Pieces
This tip is one of the ones that I think can have the biggest impact on making a space feel more authentically vintage. Hiding or disguising modern pieces so that they don't detract from the lovely space you're creating! I did an entire post on 10 ways to hide a TV, but Andrea and her husband went a step further and created a lovely enclosure to hide their TV over the fireplace!
They also built this great cover for their dishwasher that gives it an old ice chest feel.
Toning down modern elements lets vintage elements shine!
Before I end this post I'll share a few more beautiful pictures of Andrea's home!
I hope you love her home as much as I did, and that you'll follow along with her on Instagram, Pinterest and YouTube and her blog for more DIY and design inspiration! Leave her a comment letting her know your favorite of her projects and that I sent you!
She also has a Pursue your Passion from Home Online Course available that you can find more details about HERE.
And now, just feast your eyes on some more pictures of her lovely cottage home!
Dining Room & Kitchen: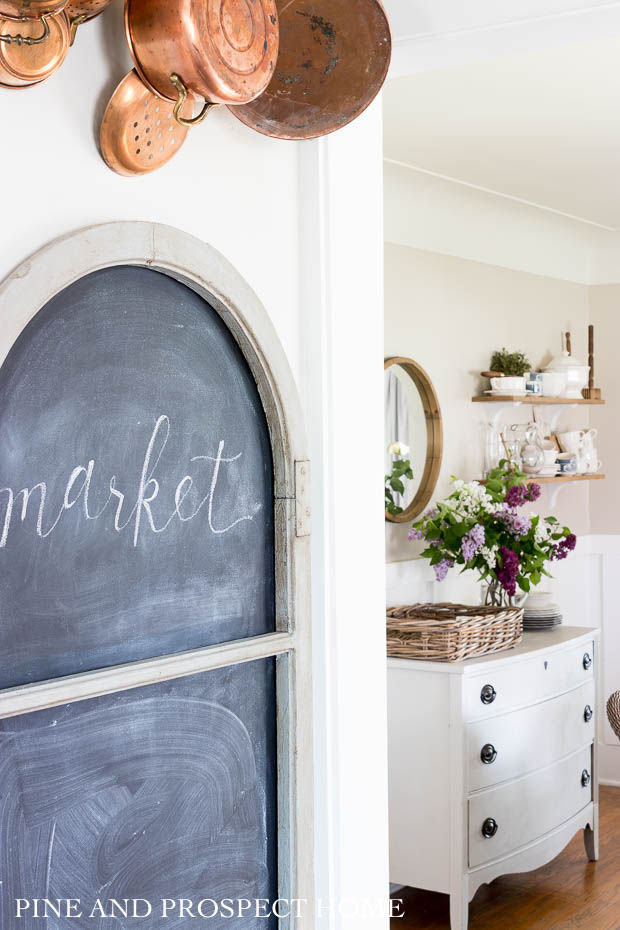 Andrea's Recently revealed Simple & Functional Boy's Bedroom:
Whimsical animal theme nursery:
Master Bedroom:
Bathroom:
Open Now For New Students | Elite Decorating Academy
Click here to go to elitedecoratingacademy.com to learn more and get registered!
Pin this Cottage Home Tour for Later:
Until next time,