Whether or not grandmillennial is a new term for you, or if you've been a fan for ages, I think you're going to enjoy us jumping in to study all about it today!
Feature Photo Credit : Bria Hammel Interiors
There's some debate about whether or not this style is called "Grandmillennial" or "Grand Millennial", so when you head off to search on Pinterest,
(And I'm sure you probably already had plans to!)
I recommend trying both terms to see which gets the results you're after! That's a little Pinterest trick to keep in your back pocket. If you're looking for something specific, sometimes using a common misspelling, or another version of the same word (couch vs sofa) will get you a much more broad search!
*This post contains affiliate links to products I know &/or love.
What is Grandmillennial?
I like to think of it as being a posh cottage core. It's got some of the same granny chic vibes (hence the "grand" in the name, it's short for Grandma!) that we all love. And a very feminine slant on the mid-century modern style, with almost a 1950's feel.
If any of my other videos have pained your heart wanting more color, texture, pattern and layers : Today's Your Day!
Today we're celebrating displayed antiques, dark wood, lots of color (pink, baby blue, earthy green). All things ultra feminine and traditional.
I've even heard it called "the new Southern" because of the aspects of glam – glass, crystal & furs.
Let's get started!
A couple of things that are indicative of this style:
Dark Wood Antiques | There's no shame here relating to dark rich cherry and walnut wood tones. Where some other styles give old pieces new life with different paints, this one lets them shine in all their vintage glory.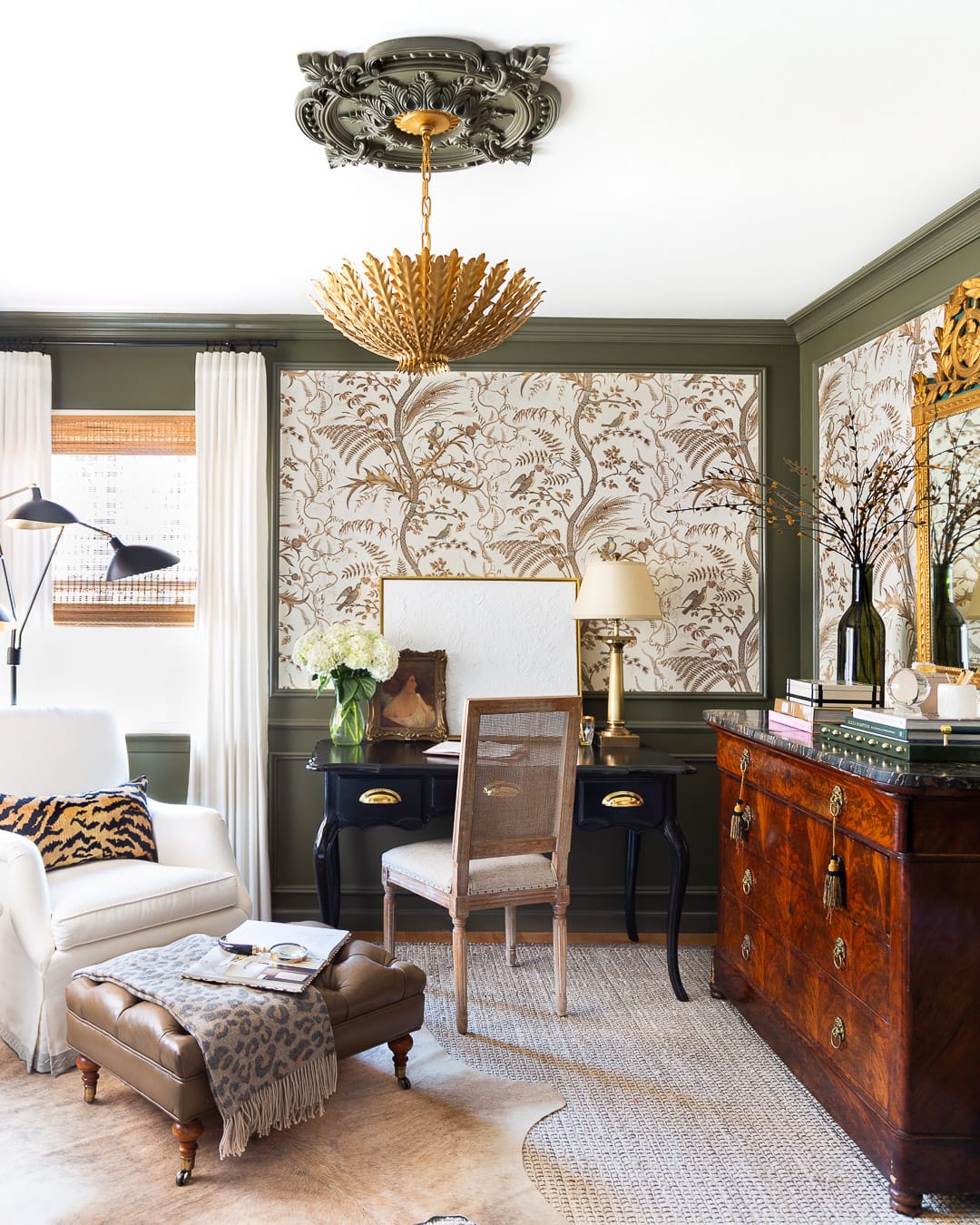 Millwork | Lots of styles have millwork, but no one else does them just like grandmillennial! In addition to there just being a LOT of it in all the different aspects ( crown molding, picture molding, baseboards), it's also often painted the same color as the wall to make it look like one large cohesive piece.
Wallpaper | There's also no shying away from patterns becoming friends here. You'll absolutely see vibrant and patterned wallpapers right next to bright patterned curtains.
Scallops | If you can add a scallop edge on it, this style has probably done it! Whether it's bed skirts, sheets, or carved into the actual edges of a table, there is an abundance of scalloped edges, and I personally love them.
Bullion Trim | Another fun accent you'll see on the bottoms of couches, chairs and ottomans is bullion trim. It's a close relative of a fringed trim, but with an even more traditional elegance.
Wicker & Bamboo Accents | You'll also see a fair number of natural woven accents like wicker, bamboo & baskets.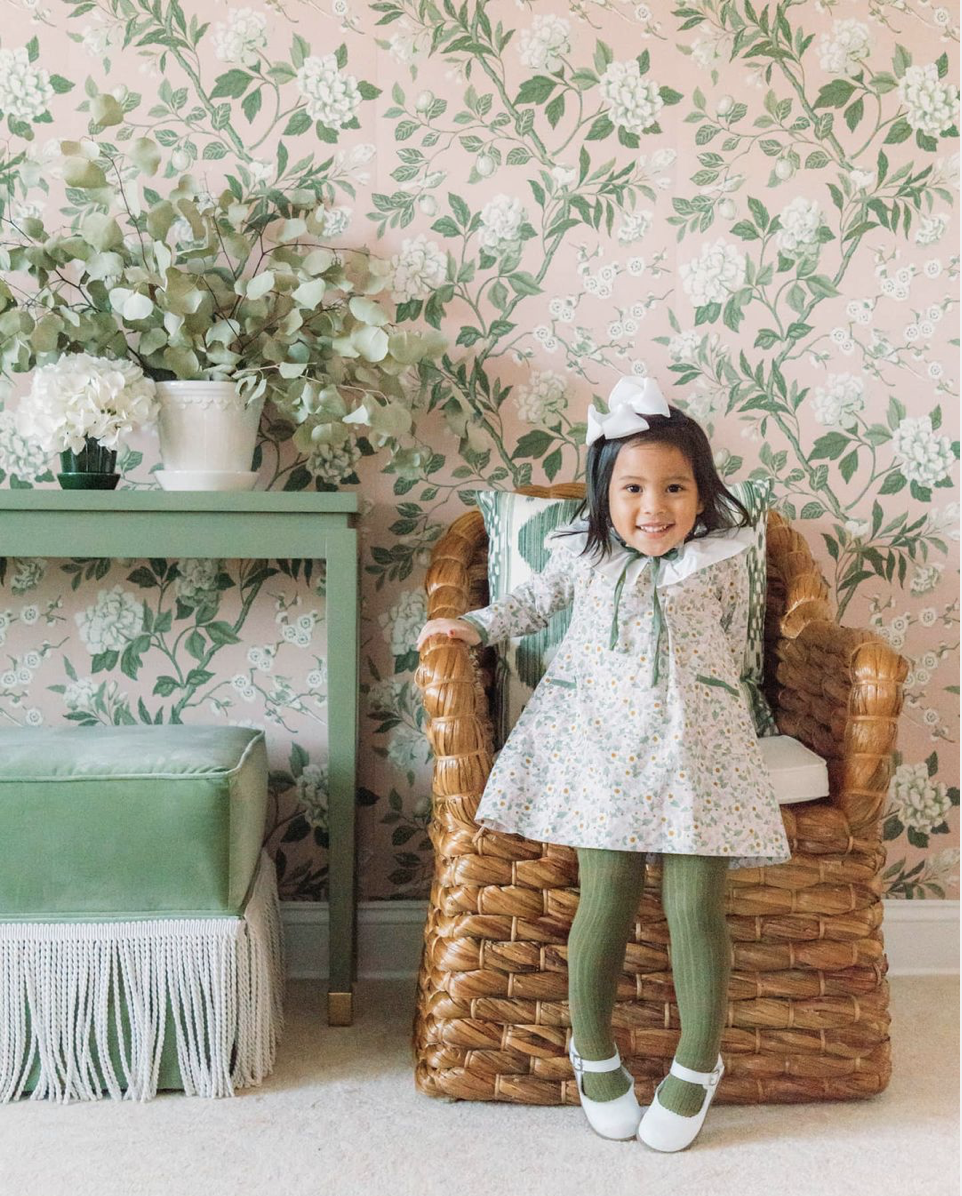 Monograms & Needle Point | One of the real shining examples of the "Grand" part of the grand millennial style is the revival of needlepoint!
Abstract Artwork | As a pretty surprising element of this style, you'll often find abstract art pieces mixed in among the very traditional vintage furnishings.
Pleated Lampshades |
Pleated lampshades on solid color gourd shaped bases are always a hit.
High End Designer Pieces | You'll also find some well known designer items, like the boxwood design shown here in this upholstered headboard.
Blue and White |
Finishing touches include things like contemporary decorating books, and lots of blue and white accents, especially in dishes.
You may also notice there are subtle nods to "coastal style" in the use of the sea grass, wicker and shells for decor.
If you're loving this style, you're going to want to check out both Ballard Designs and Serena & Lily. Serena and Lilly used to be pretty well known for having mainly blue and white as their colors, but just this year they've started branching out to greens and yellows, and I'm really excited for it!

And that about sums up my summary of the grandmillennial style!
In the comments below, let me know which aspect is your favorite – even if the entire style isn't quite for you! It's always good to learn more about design and styles that might push you outside of your comfort zone a little bit to make your design knowledge more broad and robust!
I also wanted to leave you with some great resources for seeing and learning more about this style:
On Instagram there are these three accounts that I especially love and reccomennd:
And in the blogging world, you've got to get yourself acquainted with Stephanie from The Style Bungalow, and Alyssa from A Glass of Bovino.
All talented ladies with a lot of great designs to share with you! The inspiration photos from this post are almost all from these great ladies!
I've also got a brand new grandmillennial board on Pinterest that I'll be adding inspiration to! Join me there for inspiration if this is a style that you love!
All About…. Design Series:
If you're looking for inspiration for some other design styles, I've got an entire series working through summaries of different styles that are popular right now.
Here are the past posts:
If there are any other styles you'd like to learn more about, please let me know in the comments below! I'm always adding more to my list that I'd like to work through and the more votes I get for specific styles, the earlier I'll get them posted here on the blog!
Pin this Post All About Grand Millennial Design Style For Future Reference:
Until next time,