Today I'm sharing a run down all about Modern Farmhouse!
This is my 5th post in my "All About" series, and just in case you've missed any of them, here are the first four so you can catch up!
Let me know in the comments below which one has been your favorite so far, and which style you're still looking forward to!
What is Bringing Modern Farmhouse About?
Over the last decade, a lot of the design world has been deep into farm house style, as popularized by Joanna Gaines. She 100% lit a fire under this style, and it's been at the forefront for the past ten years.
But if you remember from a post I did a while back about which decorating trends to follow that most trends have a 10 year shelf life, and after that point, they start to shift.
I really think that farmhouse has now run it's course, and it's not only shifting into something new, but it has split into two different camps.
I see about half of former farmhouse designers heading into the granny chic, cottage core direction with ultra girly florals, colors, and a cozy, almost cluttered feel.
And half heading into modern farmhouse, a design style that still loves white, baskets, blankets, throw pillows, and white curtains, but has deviations from a true farmhouse style in some other ways!
I like to think of it as a more streamlined, modern and European farmhouse look.
Three Main Design Categories:
In the design world there are three main categories that styles fit into.
Traditional
Transitional (Bridging the gap between traditional & contemporary)
Contemporary
If you've been around for a while, you'll know I'm firmly in the traditional camp, but with an appreciation for things in the transitional camp, and that I do not dip into contemporary at all – it's not at all my style, and I won't take on jobs in those styles because I know how they would turn out. (Hint: It wouldn't be great).
Mid Century Modern is on of the transitional styles that I can really appreciate – it has a beautiful way of merging old world/turn of the century pieces with contemporary modern pieces.
Modern farmhouse is similar. There are some of the pieces of old world charm I love so much, and some elements of modernity that I can get behind fully, and others that aren't my favorite.
I'll share in detail about those next!
*This post contains affiliate links to products I know &/or love.
The Queen of Modern Farmhouse:
Farmhouse design style had Joanna Gaines, and I think for modern farmhouse, our equivalent is Shea McGee!
Shea and her husband Syd have a hugely successful line at Target called McGee & Company, their design company, Studio McGee, and a show on Netflix, Dreamhouse Makeover.
If you love this look, I know you'll love Shea, too! A lot of my example pictures today are from her projects and lines!
What Exactly is Modern Farmhouse:
Overall, modern farmhouse still uses a very neutral color palette, but with a bit more contrast added in!
One of the most widely known complaints with the farmhouse style over the past decade is that it was too much white – and modern farmhouse heard the noise and responded by adding in more black elements to contrast against the white pieces that they wanted to keep.
Lots of modern farmhouse looks incorporate black window frames, but in my How to Decorate With Black post from earlier this year I mentioned that I would steer people away from this idea because windows are one of the very expensive features in your home, and doing them on a trend means that you'll most likely feel stuck once the decade passes and black windows are no longer the thing to do.
If you already have black window frames, enjoy them! I do think they're beautiful! But I still wouldn't recommend anyone just making that decision now to head that way on a trendy whim!
There are other great ways to incorporate black into a home, like black accent walls, beautiful black molding, black kitchen islands, and pretty black and glass framed cabinets.
Another color that modern farmhouse does really well is navy blue. I love how they warm it up with wood tones and cognac leather.
Most of the floors I see in modern farmhouse are raw wood & white oak. I have been LOVING the look of plaid rugs, and Shea has a great selection of them.
In Kitchens, I see lots of carerra marble and wooden counter tops. The rooms themselves are spacious with large islands and featured faucet hardware in striking brass.
Kitchen cabinets are almost always shaker style, and there's often a high emphasis and value placed on great European stoves, often with a runner in front of it.
Open shelving is still going full-steam ahead, though the styling on the shelves themselves is a bit more subdued in modern farmhouse. Simple bowls, a single cutting board, and neutral cook books might be all that's displayed.
Olive tree topiaries of all sizes show up often in this look!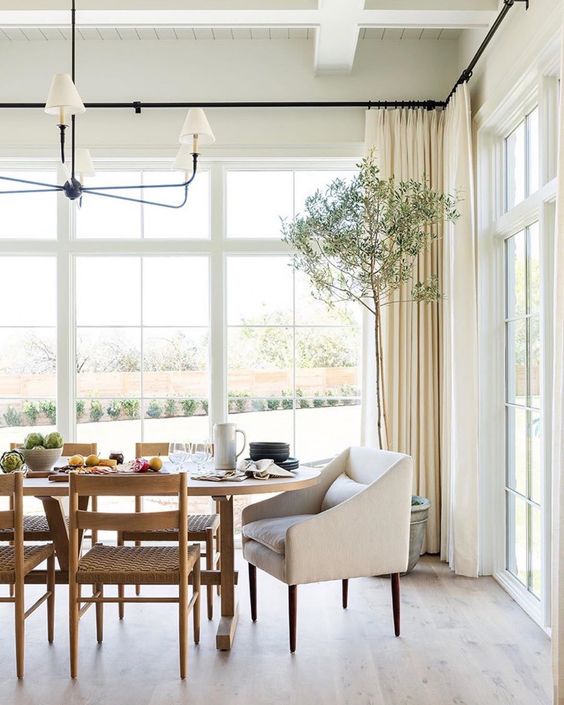 A lot of the modern farmhouse furniture you'll see is a great combo of exposed wood frames and beautiful linen or leather seats.
End tables are organic and funky with really sculptural shapes, like this one linked here.
Couches are often linen with sleek lines. Some even throw back to the more vintage style with a single cushion on the seat like this Leonard sofa and this Daxton Settee.
Throw pillows are used often and really really well in modern farmhouse – especially Shea McGee's lines!
I always check through her offerings when I'm on the search for a specific project because I know she'll have a fantastic selection with neat block prints, muted colors, and of course a really high quality fabric.
She absolutely nails the combination of colors, textures and patterns.
One of the biggest deviations I have noticed between my own style and modern farmhouse is their love of super funky ultra modern light fixtures.
These personally aren't my style, since I'd much rather have a grouping of brass lined or hammered copper pendant lights, but I understand that others are really drawn to this aspect of the modern farmhouse design!
For wall decor you'll find lots of sleek round mirrors and watercolor or sketched artwork with simple gold frames.
Table lamps are super structural and created with natural elements.
My friend Natalie over at Vintage Porch has a great tutorial for upcycling thrifted lamps into this same style for a fraction of the price.
And that's my brief summary of modern farmhouse for you!
If you have any specific questions about the style or if you have another style in mind that you'd love to see broken down in this same way, make sure to leave a comment below!
Don't forget to join the waitlist for my Behind the Scenes class, too! We're opening VERY soon for our Fall 2021 registration, and I don't want you to miss out!
Pin This For Later: