Today we're going to take a "101" style look at the Bohemian Design Style!
Feature Photo Credit: @saskiatabea
A few weeks ago I shared all about the new cottagecore design style and it was a big hit! I think that specific style, despite the different names people have called it over the years is a really special one to a lot of the people in this community!
So as part of a new series, I'll be doing little deep dives into some of the more popular current design styles and sharing my takes on them!
This week I'll be talking all about Bohemian or Boho design style, and a few more I have in the works are Mid-Century Modern, and Grand Millennial.
*This post contains affiliate links to products I know &/or love.
Bohemian Style's Versatility:
I've recently been using bohemian inspiration in a few of my projects that you might remember:
My daughter's bohemian teen bedroom which was blended with an equine feel to showcase her love for horses.
And even more recently, the nursing mother's room I'm working on for our church (that will be finished for Mother's day!!) where I mixed Mid-Century modern and Boho style for a really lovely, feminine feel.
The versatility of this look is actually one of the things I love the most about it! It pairs well with SO many other styles for a really large range of flexibility. And because there are so many individual elements within the style, (which we'll look at more closely below) you can easily take just some of the pieces that you love if the look as a whole is too over-bearing for you.
I often see boho style elements being used when there's a desire to add femininity to an otherwise more masculine look (like in marriages with seemingly opposing design styles) and I think it works really well for that purpose.
I also really love that there's no age range for this look. I've seen it used successfully in ALL walks of life.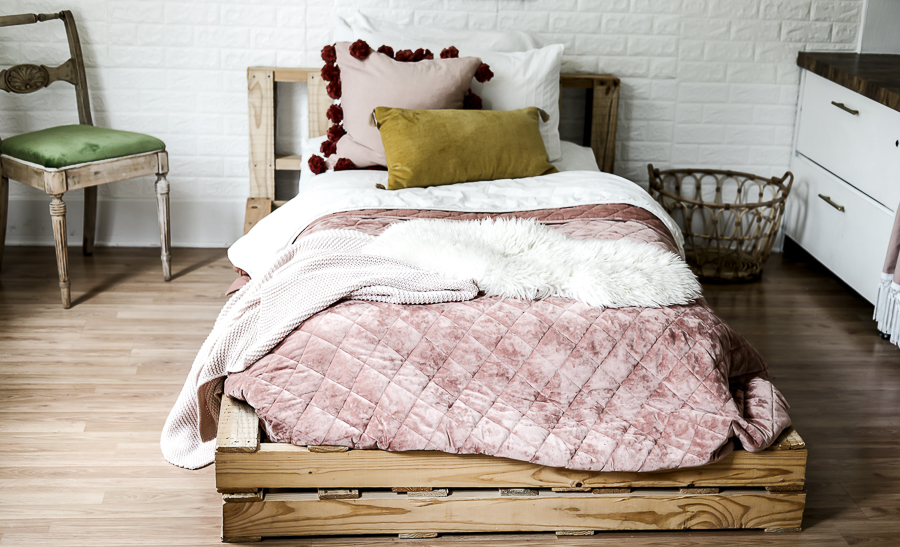 College Dorms
And as elements in grown women's homes.
Describing Bohemian Style:
Some of the words that come to mind when I'm thinking about boho style are: ecclectic, gypsy, and 70's, hippie, and laid-back.
It's a really forgiving look, and well-collected.
I think about how sometimes people have design elements in their home that they feel they HAVE to work around for a time being, like funky tile in a bathroom or crumbling plaster on a bedroom wall. Adding in boho elements has a way of bringing those things full circle to look more intentional and cohesive in your space.
Bohemian Style Colors & Design Choices:
Within the overarching style of "boho", there are sub-sets that choose to do things in slightly different (but equally fun and beautiful) ways.
Some people choose to stick with all natural colors with raw wood. Some prefer black and white tones, and on the other end of the spectrum, some go all out with colors and use things like turquoise, chartreuse, coral, and mustard yellow – often times all together.
Above all, something every boho look will include is an indulgent amount of textures and patterns.
I think for wooden accents, almost all boho designs stick with medium wood tones or raw/natural wood. The raw and natural wood look is often repeated in woven baskets (but we'll also chat about those more soon!).
Architectural design choices include items such as rustic wooden beams, the incorporation of elements that might be considered dilapidated like the crumbling plaster I mentioned before, brick (natural or painted really ANY color), and funky colorful tile.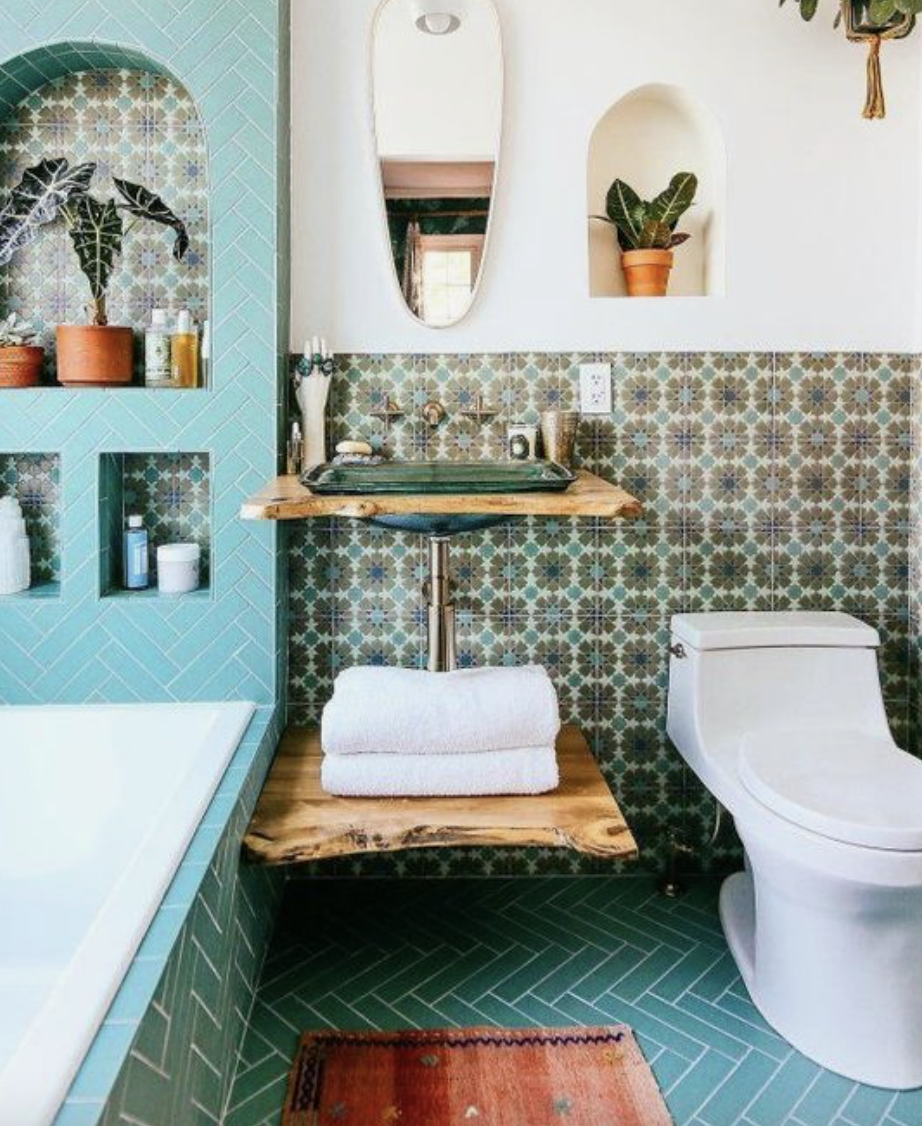 Three Bohemian Must Haves:
Number One | Plants
Of all the styles I've seen, I think boho takes the cake for being the most plant-loving!
When I say plants, I mean like 10 in each room!
I've noticed that the majority of the plants used in boho design are simpler, broader leaf styles. Things more like pothos, snake plants and fiddle leaf figs, and usually less ivy and plants of that nature.
Number Two | Baskets
When I say baskets here, I actually mean anything natural and woven. In addition to actual baskets, think: wicker, caning, and woven jute rugs. It's these pieces that add so much of the lovely boho texture that most people would recognize immediately.
I honestly don't think you can overdo it with baskets… or plants… or plants in baskets in this look!
Number Three | Hanging Decor
This is actually one of my favorite design tips of all time – but adding elements to your decor that hang down from the ceiling changes the atmosphere of the room and has an effect on everyone who enters! Something about feeling "surrounded" and like you're in amidst what is going on influences how the room makes you feel.
Plus hanging and draping decor gives an instant "party" feel to any space.
Some great hanging boho elements are:
Macramé – either wall decor or for hanging, you guessed it: plants!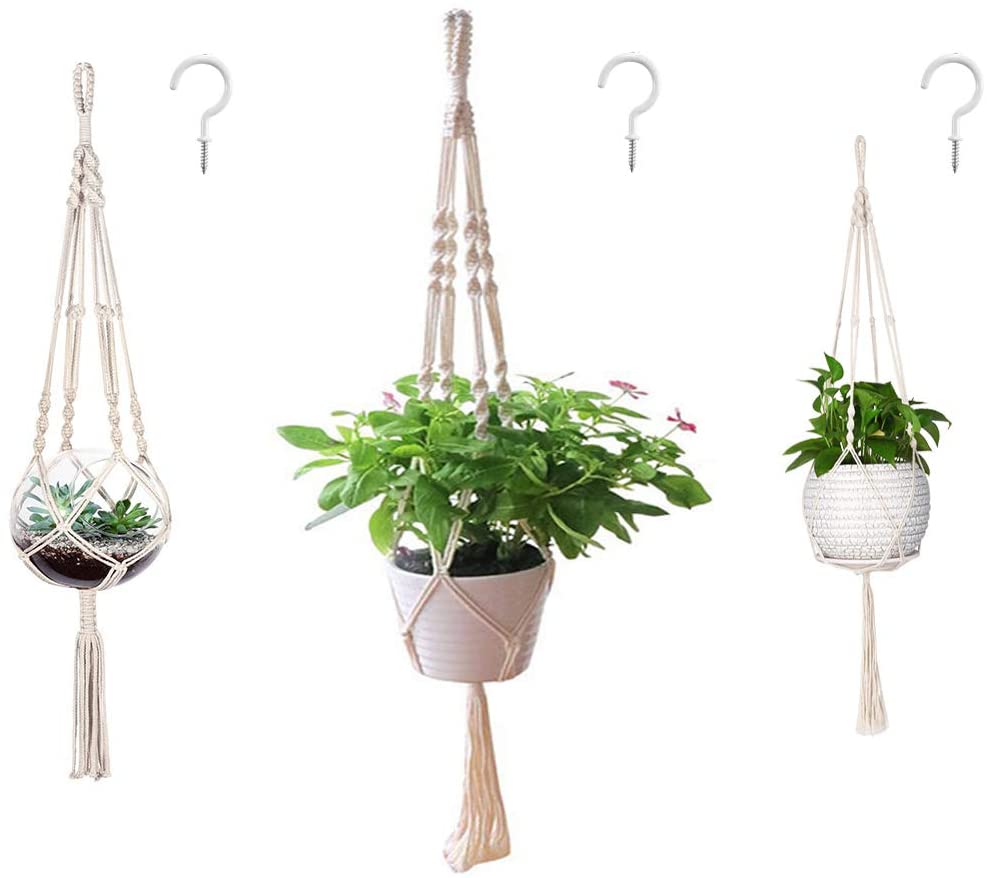 Swings and Chairs
Hammocks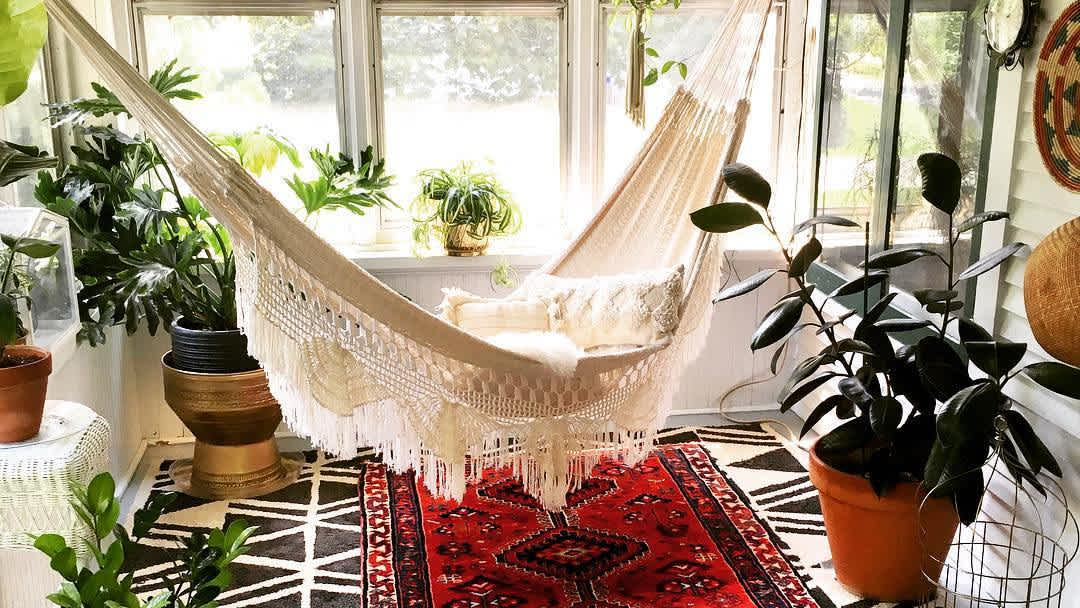 I actually shared an entire post all about my love for our Brazilian hammock a few years back. It was a great fit for my daughter's teen boho birthday party.
And Hanging Lights:
Hanging lights can range from big basket chandeliers (similar to how we did ours for my daughter's room), fringe chandeliers, beaded chandeliers, and all the way to string or fairy lights.
Boho Furniture Ideas:
When you think boho furniture, the elements you want to look for are: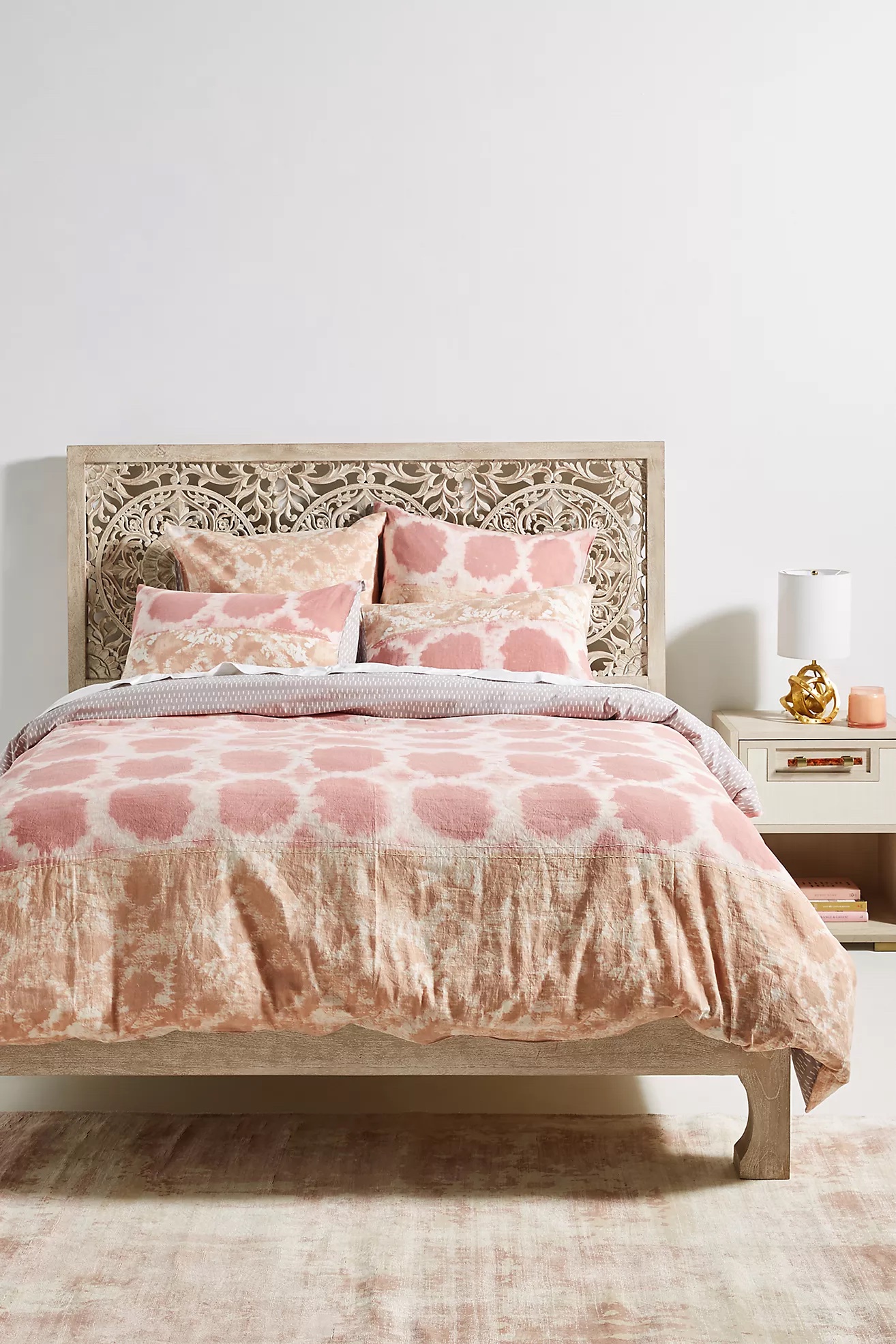 Moroccan elements (colors and designs)
Velvet
Leather (especially cognac)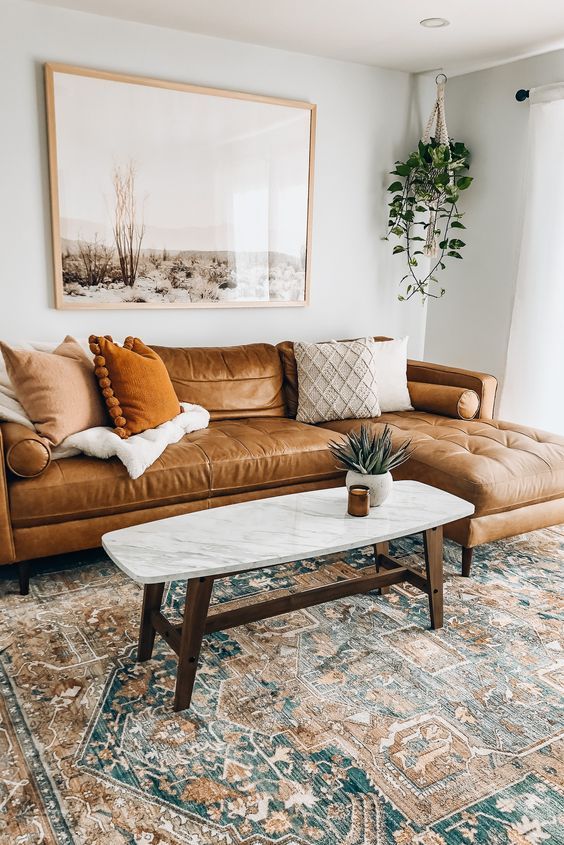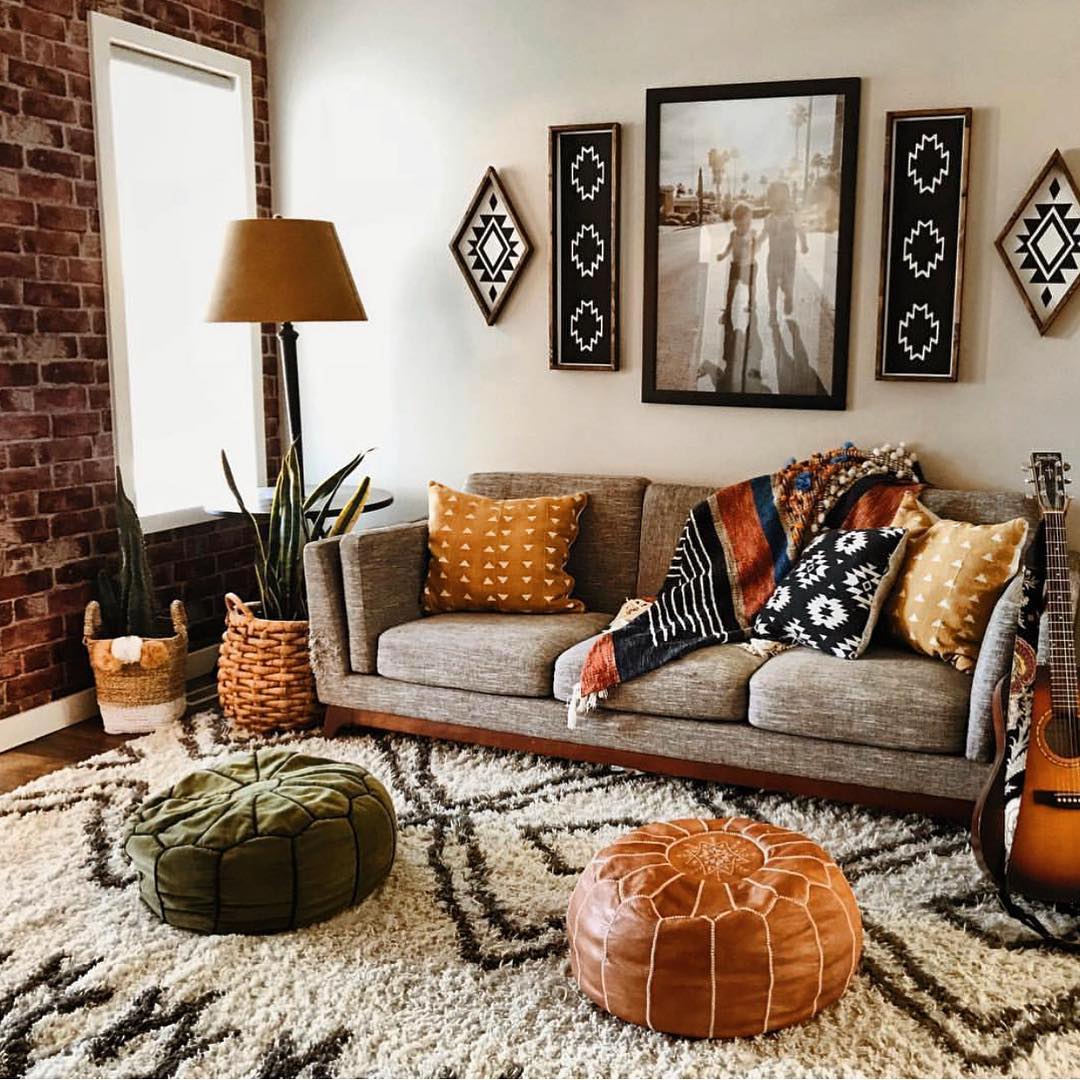 Lighting
As I touched on briefly up above, the lighting in bohemian design style is really really soft.
Most spaces decorated in this fashion don't even need wired-in overhead lights because the atmostphere is created by string lights and floor lamps and candles.
Textiles:
Patterns and textures once again appear in a big way in boho textiles.
Lots of layering with cozy quilts, luxurious velvet, and cool leather.
Rugs are often layered as well, either with shag carpets, oriental rugs or natural woven jutes. Bright colorful rugs really bring out the "gypsy" inspiration.
You'll also often find beautiful tapestries spread wide to cover entire walls.
Wall Decorations:
You'll find lots of beautiful mirrors mixed in with other boho elements. Both antique chunky mirrors, and sleek round ones. (You really can't go wrong). I especially love how they amplify the soft lighting techniques without adding any harshness.
Gallery walls are less organized and structured, similar to the "messy" look of cottagecore gallery walls.
Sometimes even things like flat baskets/chargers are highlighted in a gallery wall of their own, staggered across a large wall.
I hope this quick "Boho 101" post was helpful!
Wanting to Go Further?
If you're wanting additional help learning how to choose your design style, mix design styles, create mood boards, style vignettes (and so much more)… you'll LOVE my Elite Decorating Academy!
One of our recent students said this about EDA:
I've been working my way through your EDA course and am LOVING IT. I've never felt so energized and confident with the wealth of knowledge you present in such a digestible way.

Ashley A.
Learn more & join for yourself at elitedecoratingacademy.com!
Pin this for Later:
Until then,