Knowing which decorating trends to follow and which to take a pass on can be a tough decision!
I know for myself, even as a designer, I try not to stress about following decorating trends, or even trying to predict or set new trends.
As part of the industry, however, I do hear about and see them! And I agree that honestly, some are really fun to join in on.
That being said, I feel like some people jump right in on trends with both feet, and some of you might be scoffing at me saying something like, "I have a timeless decorating style. What I chose today will most certainly be the way I decorate forever."
As beautifully well planned as that sounds, I have to beg to differ! Think back to 10 years ago, what was your style like then? What about 20 years ago (if you were, like me, decorating back then)? Most of us can say we have seen some evolution over the past decade(s) in how we've styled our homes.
The question always arises : Who sets the trends anyway?
Typically there are two ways design trends occur:
There are what I call "manufactured trends" that are established by the design industry in an attempt to sway public opinion.
A great example of that is the "color of the year". This year, it's Pantone 19-4052 "Classic Blue".
But even with this set as the "color of the year", what I'm actually seeing popping up alot are colors like hunter greens, navy, and mustard yellow!
Which brings me to the second way trends occur, as "organic trends". These are trends that go viral via bloggers, YouTubers, Instagrammers and on Pinterest!
Joanna Gaines is a great example of an organic trend setter. Things like her use of shiplap and how she re-wired vintage lights have taken off and have become widely known.
| Classic Vs. Trends. |
I've found that having a balance of both classic and on-trend items in my home helps keep things new and exciting while also protecting my wallet.
When I've gone about things less mindfully, I've been left with feelings of getting sucked into the expense and eventual regret of strictly following decorating trends.
In our current culture, it's really easy, especially for DIY decorators, to suffer from inspiration overload!
There are so many beautiful and lovely ideas on Pinterest and Instagram. But sometimes those things can lead us to fall prey to really persuasive marketing for things we might not truly need or love long term.
Trend |A Friend for a Season
When we think of "trends", we think of current popular styles.
You can almost attribute it the personality of a friend you have for just a season (think: highschool or college).
It's anything you might regret later or something that draws a lot of immediate attention.
When you can look back and name a specific decade something came from – you can rightly assume it was probably a trend.
Remember these guys from the 80 & 90s?
Most of them are now just sitting at thrift stores waiting for their comeback along with roosters, chubby songbirds, and owls – to name a few of the popular feathered friends who have been featured in the past few decades of style.
And in all honestly, I don't dislike birds, I even still use them in my own decor sometimes, usually just as a more subtle detail.
Thinking of birds in decor always reminds me of this funny clip from Portlandia:
Using Trends to boost your decor
The fun thing about trends is that you CAN use them in ways that add value and joy to your home, without breaking the bank and creating projects that you'll need to redo in 5-10 years time.
Using trends as accents can be a really economical way to include them in your home.
Throw pillows
Wall decor
Accent wall treatments
Storage containers
Lighting
Smaller accent furniture pieces
Throw rugs
Think about 5 years into the future, and if it's something you wouldn't mind replacing in that amount of time, go for it!
Classic | A Lifelong Friend
Think of classic decor as something that is always loved, even if it sort of comes and goes from being front and center.
It's the lifelong friend that you can pick right back up with even after some time away.
Classic pieces aren't too demanding of attention, and they kind of set the backdrop for your whole design.
Sometimes you'll hear words like: historically memorable, tried and true, traditional, enduring, serving as a standard of excellence, of recognized value.
Classic decor is like the little black dress of decorating.
When looking for classic pieces to invest in:
Any stone and and tile work that can literally last for a LONG time before they would ever NEED to be replaced.
big pieces of furniture – pick neutral designs and styles
appliances – think stainless steel!
large area wall treatments – having a fun accent wall is neat, but probably don't do any one thing to all the walls in your home unless you know it's going to last.
wall to wall flooring – save the trends for things like accent rugs that wear out and can be replaced easily.
Comparing Trends and Classics from the 80's and 90's as an example.
Some of the trends of the 80's and 90's were : wallpaper and stenciled borders, absolute floral overload, overstuffed furniture, and dark heavy wood furniture
Some classic pieces from the 80's and 90's were : rattan furniture, large coffee tables, and large florals (but in a might less concentrated way).
| Know when something sparks joy |
One way I've found to help myself when deciding on trendy vs. classic pieces is to take a good look at the things I am actually pinning on pinterest.
If what I'm thinking of shows up repeatedly, that shows me that it truly sparks joy and catches my attention time after time.
| Learn to DIY and thrift as much as you can |
You know that I love and advocate for DIY decorating here over and over, but it really is such a great way to keep the costs down, while still enjoying some fun current trends!
If you need some classic inspiration, here are ten of my favorite DIY projects:
#1 Farmhouse Drop Cloth Curtains
#2 Aging Terra Cotta Pots
#3 Closet Makeover Using Shiplap
#4 How to Strip Painted Furniture
#5 How to Make a Wreath in 5 mins
#7 No Pattern Slipcover Tutorial
#8 How to Install Rustic Brick Accent Wall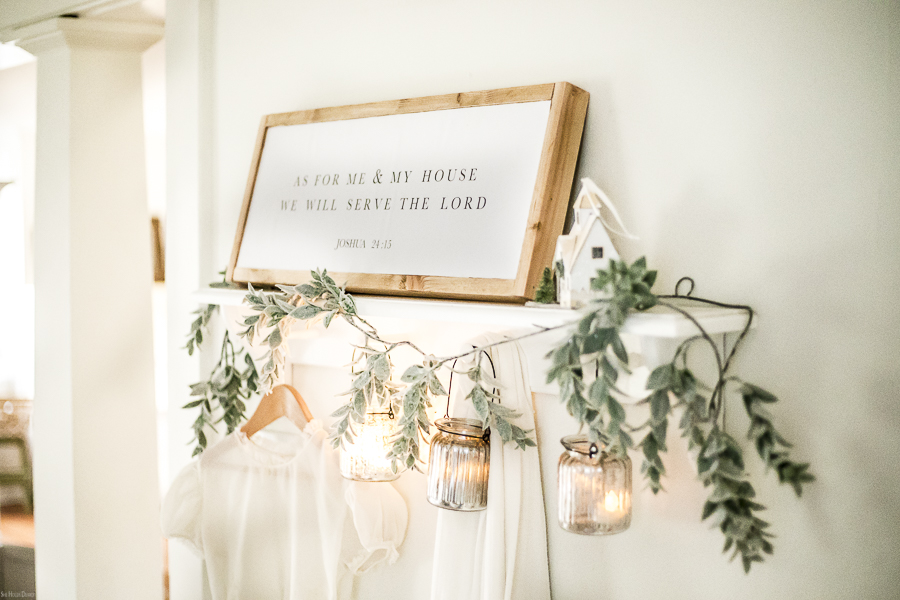 #10 Bi-fold Closet Door Makeover
I hope this helped inspire you and answer some questions you might have had about decorating "on-trend" and how to do so in a way that works well for your decor and your wallet!
Do you know about my Behind the Scenes group?
I created this group as a way to get to work more closely with women who love decorating and want to feel confident with their designs for their own homes.
We open enrollment for the group just two times each year, and we're just weeks away from our next enrollment period.
This group includes live consultations with me, Bible study topics, decluttering skills, and more! Click HERE to join the wait list!
A few years ago I wrote this post, What Your Decorating Says About You that I feel relates a bit to this discussion as well!
If you're curious about your decorating style, here's a fun little quiz you can take to see! What Kind of DIY Decorator Are You?
Pin this for Later: