Whether or not you follow trends, it's fun to know what's current and going on in the industry! Let's dive in to the Interior Design Trends for 2023!
Featured photo credit : Kelly in the City
I know not everyone likes to incorporate trendy items into their homes, but regardless, studying what is happening in design and being aware of the trends is always helpful as a designer!
I'm maybe a little late bringing out this list for 2023, but this year I wanted to spend a little extra time seeing what others are saying and formulating my own ideas before I came to share them with you!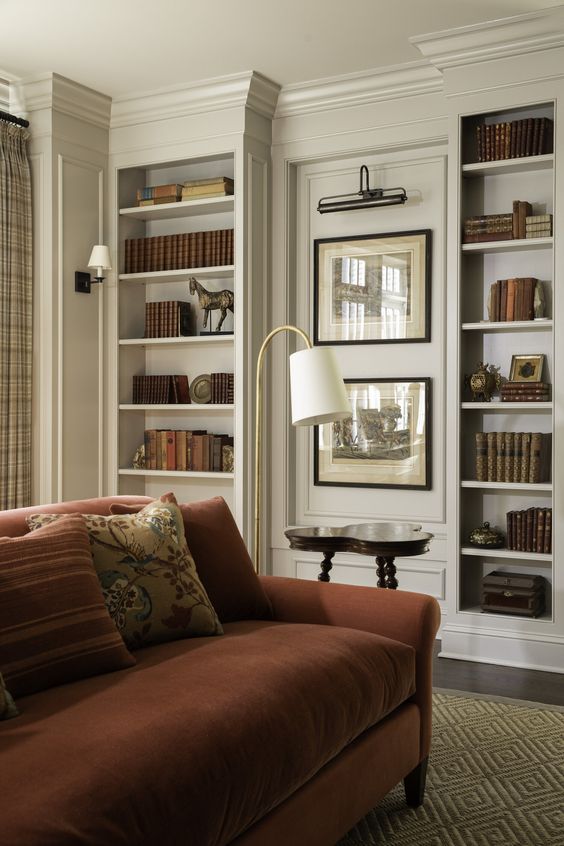 Photo Credit: Hadley Wiggins
*This post contains affiliate links to products I know &/or love.
You're Invited : The Elite Decorating Academy
I'm so excited to share that my Elite Decorating Academy is open NOW for new students. This course has 28 hours of practical interior design teaching that will follow and assist you far beyond the trends of this year!
Visit elitedecoratingacademy.com to learn more and to get started!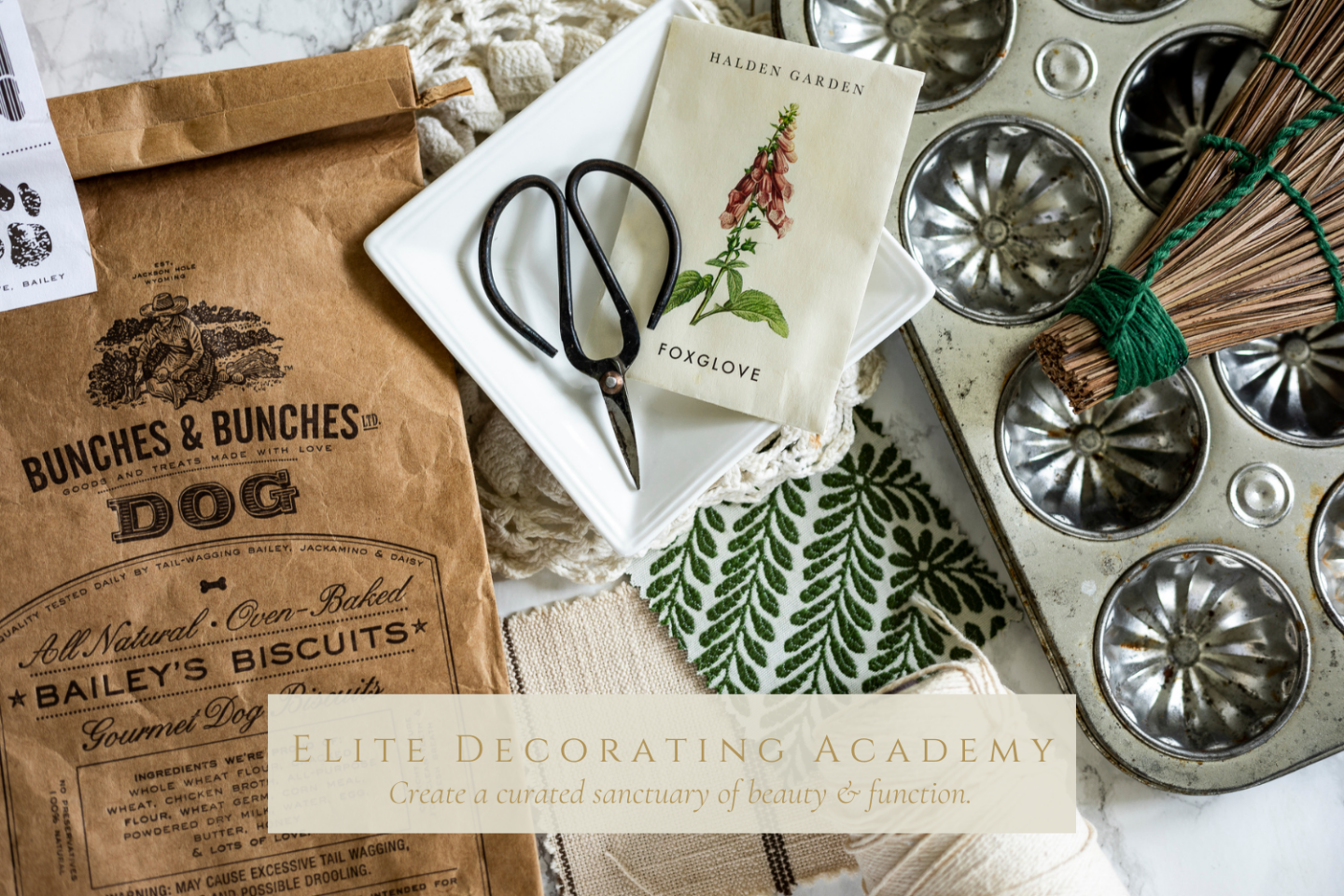 2023 Interior Design Trends
no 1. Floors
One of the biggest trends in flooring for this year: checkered floors!
This checkered style is also showing up in blankets and other smaller pieces of decor as well, but it's most impactful on the floor!
My opinion is that turning the blocks onto their side into a diamond pattern will increase the longevity of this look.
I've seen people creating this look with combinations of tile and slate, by painting the checks straight onto wood floors, or painting onto 1×1′ kitchen floor tiles.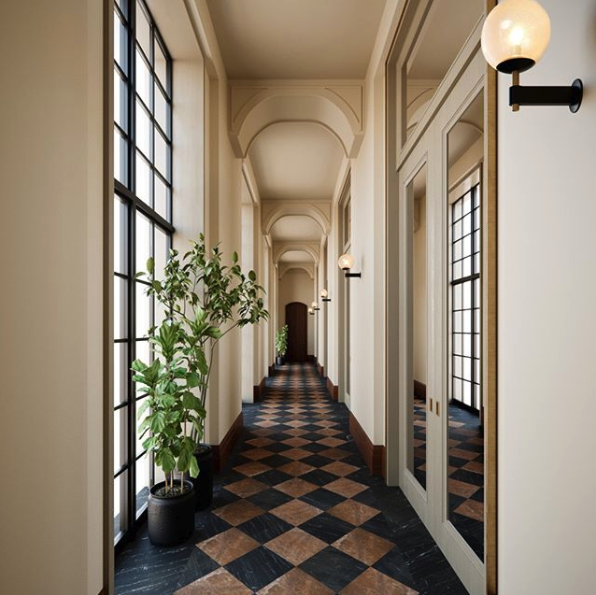 Photo Credit: Scout & Nimble; designed by Gachot Studios
no 2. Color Trends & Wall Treatments
If you haven't already caught on, we're embracing color again!
We're coming out of the white on white from the last decade and choosing color as a way to increase the warmth and coziness of our homes. (I think in part to people having spent so much more of the past years at home.)
Big name paint brands are introducing their "historic home colors" which include beautiful muted blues, greens and yellows.
Photo Credit: Kipling House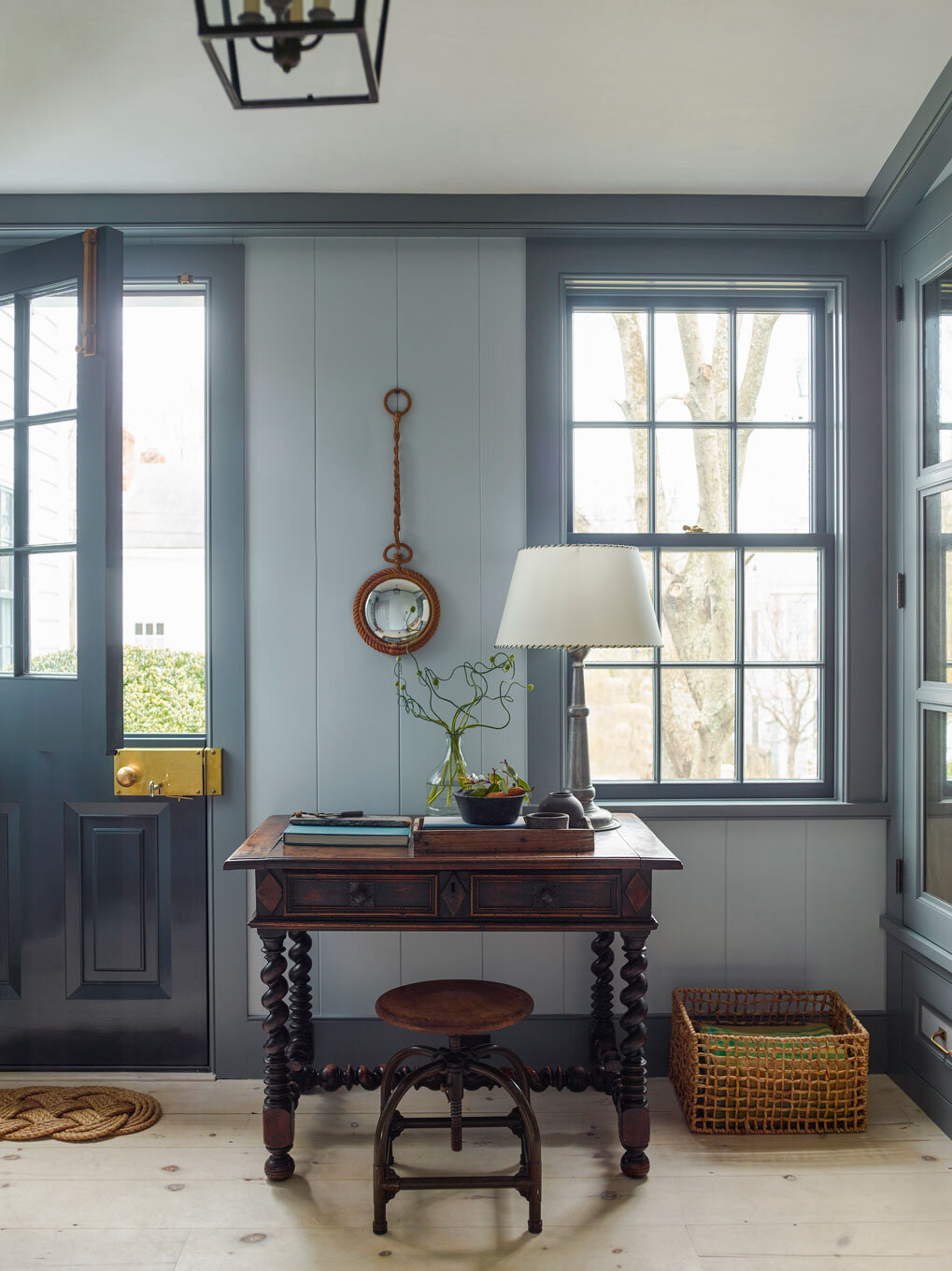 Photo Credit : S.R. Gambrel
Photo Credit : Magnolia
Something worth noting is that the colors are also being used more widely in the rooms. You'll notice less white trim, and more monochromatic paint colors with just a difference in the sheen between the trim & the walls (semi-gloss for the trim and eggshell for the walls).
It makes for a really beautiful and sophisticated look.
Earthy tones are also making a strong appearance. Personally I'm most excited about chocolate brown coming back! I've always loved it, though I had to step back a bit when it started feeling aged.
Similar to my thoughts on over-using black in your decor; I will caution you to use chocolate brown in moderation. I think it works best as an accent, and when balanced with light creamy colors. You'll end up with a beautiful and elegant result.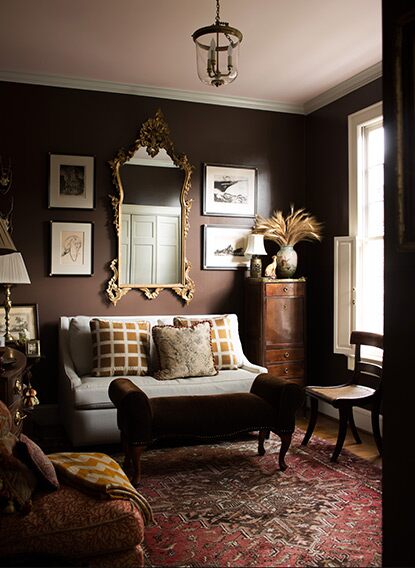 This brown living room is from Benjamin Moore's "English Heritage Colour Palette".
I love this all brown kitchen. The cabinet doors remind me of chocolate bars.
Photo Credit: Ashley Montgomery Design
Other popular colors are mauve, plum, peach & terra cotta.
Photo Credit : Wildflower Home
Photo Credit: Avenue Design Studio | Archipel Townhouse
Lime wash has also made a come back, but it's not the same faux painting that we did 20 years ago. This time around it comes off as having an even softer old world texture that is just lovely.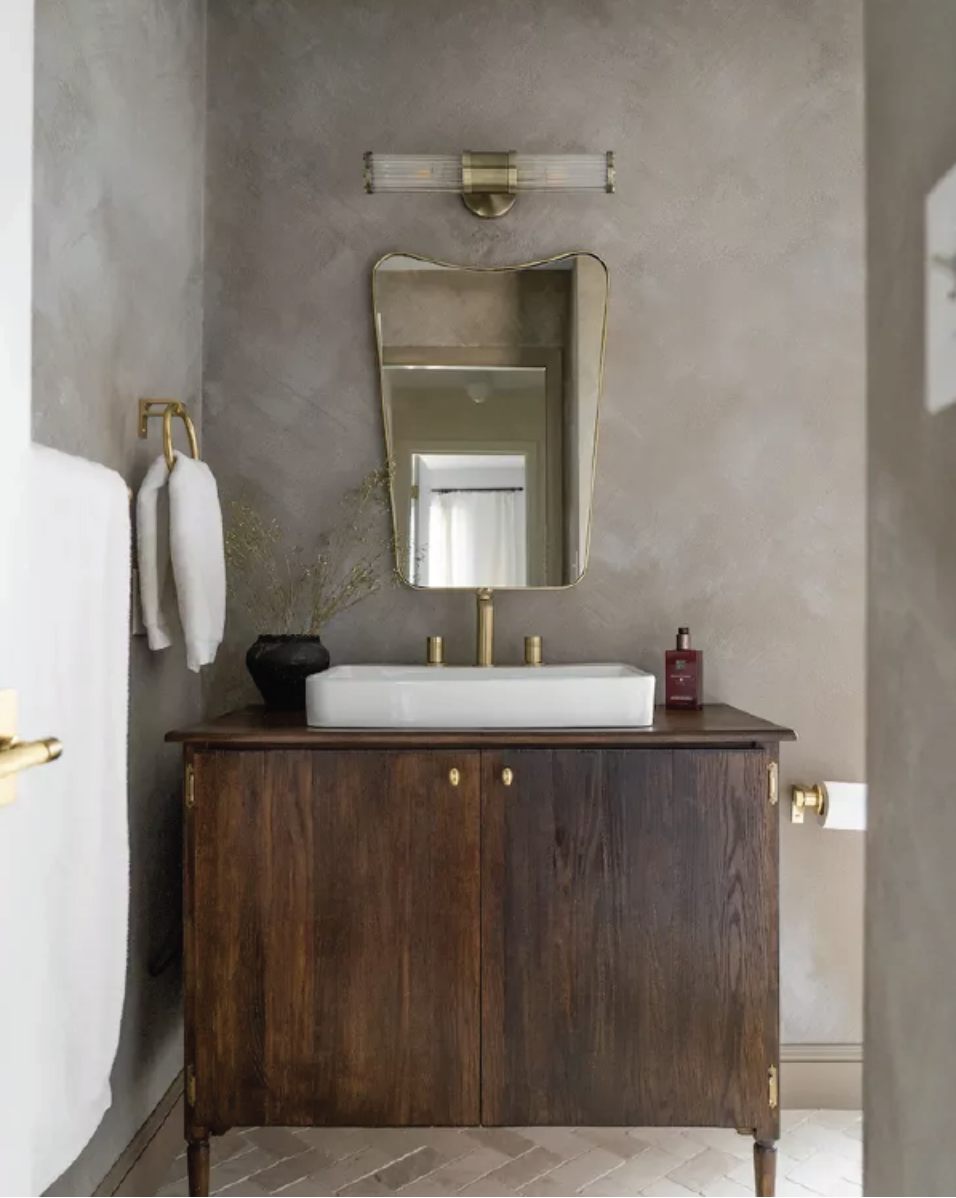 Photo Credit : Food 52
And I'm sure you've noticed this as well, but wallpaper is coming back in a big way. And if the word wallpaper strikes horror in your heart because you've fought to remove it before, be encouraged: manufacturers have heard our cries and have been working on developing wallpaper that is easier to remove.
Don't let a fear of tough removal keep you from experimenting if you're getting the itch!
It's being used to wrap full rooms, as accent walls, in closets and bathrooms, and even on ceilings ("the 5th wall")!
Photo Credit : Chris Loves Julia
Photo Credit: W Design Collective | Dutch Fields
Wallpapered murals have also come a long way. Just look at this beautiful example by Chris Loves Julia.
I'm personally thrilled that William Morris' beautiful warm nostalgic florals are also being incorporated into current design trends. He's one of my favorite designers and I love the history of his impact in the interior design world.
More Interior Design Trends for 2023
no 3. Furniture
Two words: Secretary desks! I've seen so many different versions, each styled beautifully while creating functional work space in what might otherwise have been a unused area in a room.
I especially love when the exterior is one color, and there is an accent color waiting for you as a surprise inside.
Photo Credit: Anna Hayes Design
For sofas, I am noticing lots of singular bench cushions, as opposed to the 2-3 cushion models that have been popular for so long. The single bench cushions really are a throw back to vintage sofas and settees, and so of course, I love them.
Photo Credit : Natty & Polly
Antiques are all the rage now, and I think it's a mixture of 3 things:
People are more interested in sustainability & being able to reuse items
Supply chain issues are still causing delays; you can either get your item today at the thrift store, or wait 8 months for it to be delivered new
And again, there's a desire for warmth and comfort (as mentioned above when talking about color trends); and an appreciation of the history and story of antique items. I think that is valued more highly now than it was five years ago.
no 4. Lighting
The biggest 2023 trend I'm seeing in interior design for lighting is fun shades!
There are glass fluted shades which are beautiful, and my favorite: pleated shades!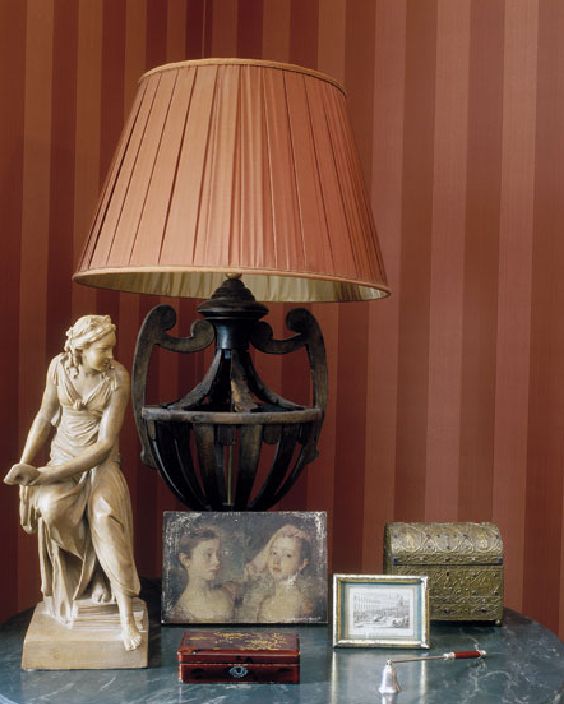 Photo Credit: Jean-Louis Denoit
I'm hoping to do a DIY version of a pleated shade for myself soon – which I'll certainly share here!
Another lamp trend is gold and metallic shades.
Photo Credit : Target | Accented Metal Task Lamp
Black shades are also very popular right now, which I've actually been loving for years.
You might remember when I did a tutorial for painting a lampshade black a few years back.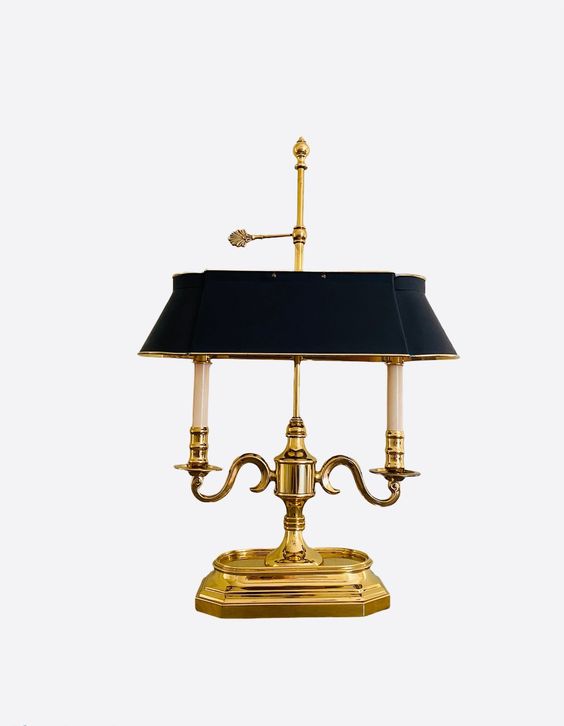 Photo Credit: Etsy (similar lamps)
Woven and natural fiber lampshades are still popular, and even caning is still going strong! I've actually noticed it is being used in even larger applications than the past few years.
Look at this beautiful large room divider as an example.
Photo Credit: Behance | Alina Gordienko (available for purchase on Etsy)
no 5. Kitchens
Kitchens do not lie. It's often easy to walk into a home and know exactly when the house was built or remodeled based on the kitchen alone. And along with being super trendy, they're also super expensive. (I talk more about this in my blog post linked below about which decorating trends to follow!)
One of the biggest kitchen trends right now has to do with marble. Marble "slab-splashes", to be precise. Huge single pieces of marble used to cover the entire wall in place of a more traditional backsplash.
Marble waterfall islands are also beautiful and on-trend, as are thick marble countertops & sinks with extremely contrasted veining.
This is actually one of the only trends that I've mentioned through this post that I would NOT do. These marble pieces truly are beautiful, but they are not lasting.
I guess actually, in a way they are TOO lasting. These lovely, expensive pieces of marble will last far beyond the trend and most likely, far beyond your love of them.
I know some might cringe to hear me say this, but I would suggest an inexpensive DIY if this is a look you love. Either wood with faux marble contact paper, (like what I used to surround our bedroom fireplace) or painting on a faux marble finish with epoxy/resin. This is another DIY that I might attempt in the future… so stay tuned for that one!
Photo Credit: Jean Stoffer Design
Photo Credit: Lone Fox
Long open shelves that span entire kitchen walls are also very popular.
Photo Credit: EyeSwoon / Athena Calderone
There are a few other noticeable changes throughout the entire house such as:
Bar carts have graduated into full scale bar areas, and designers are finding new and interesting ways to display wine, like filling niche spaces and adding doors.
Photo Credit : Better Homes & Gardens | Matthew Quinn
This one by Drew over at Lone Fox was created out of an unused sun porch area.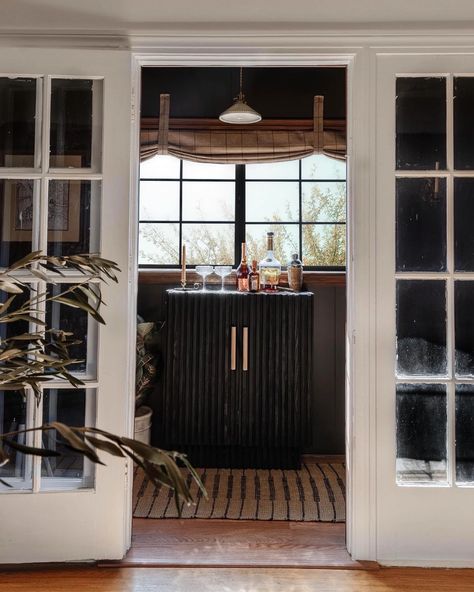 Butler pantries & "sculleries" are also making a comeback! And in an exciting way. They're given their own VIP treatment with decor, art, ladders, space for appliances and prep work.
I love that they're a place to be bold with design decisions, and that they've got a very European feel to them.
Photo Credit : Sincerely Marie Designs
I'm also noticing that the open floor plan seems to be less popular than it's been in recent years. I think it has to do with people needing to compartmentalize space for things like work-from-home set ups as well as wanting space to do their hobbies.
This was a project of my own from last year to make my craft closet into a functional space that was also beautifully organized and designed. I share all about that here.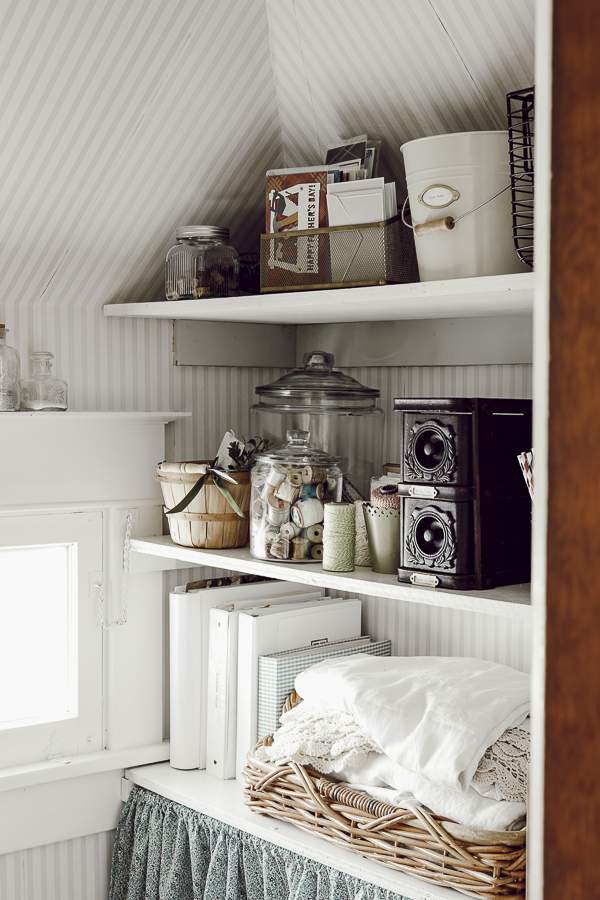 A couple fun last minute details that are popular: fluted furniture & scallops!
Photo Credit : Paint & Peony
Photo Credit : Nickey Kehoe
And that's the round up for 2023 Interior Design Trends! Looking forward to seeing how these play out through this year and beyond, and how I might incorporate some into my own designs!
If you'd like more Interior Design knowledge, make sure to join my Elite Decorating Academy!
Related Posts:
Pin These 2023 Interior Design Trends for Later: