Are you looking for some simple Easter ideas this year?
You're not alone! Many of us are planning ahead now for a much more simple Easter celebration than we might usually have done, or than we might have even been looking forward to a month ago!
This year is quite the anomaly with all that has been going on, but I hope for my own family, and for yours, that we can still have a Easter worth remembering!
It may look different this year, but we can include some of the things that bring about a sense of normalcy, and enjoy the day celebrating with our families.
If you know me, you know I love throwing big parties! Some we've done recently are the Pride and Prejudice Party and the Boho Birthday Party – both for two of my daughters.
When I think back about those and other parties, the elements that were most special to me (aside from the guests and all the love and fun memories) were the decorations and special food!
So in planning a simple and scaled back Easter celebration, those are the two things I am focusing on!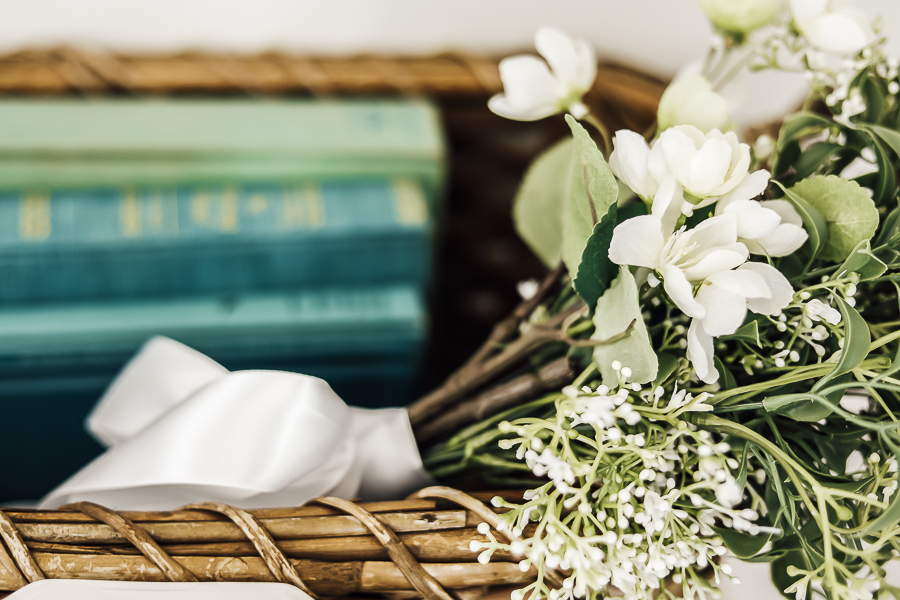 *This post contains affiliate links to products I know &/or love.
Simple Easter Ideas – Decorations
Having beautiful decor around where we have our celebration is important to me! Here are 5 of my favorite ideas!
Number One | Spring Animal Banner
I printed off this sweet Easter Bunny and Lamb banner from Ella Claire on nice card-stock paper, cut out the pennants, hole punched the top at both corners, and then strung them through with twine.
This is a beautiful project that could be hung a number of places! I chose to hang mine over a green faux garland around our chalk board.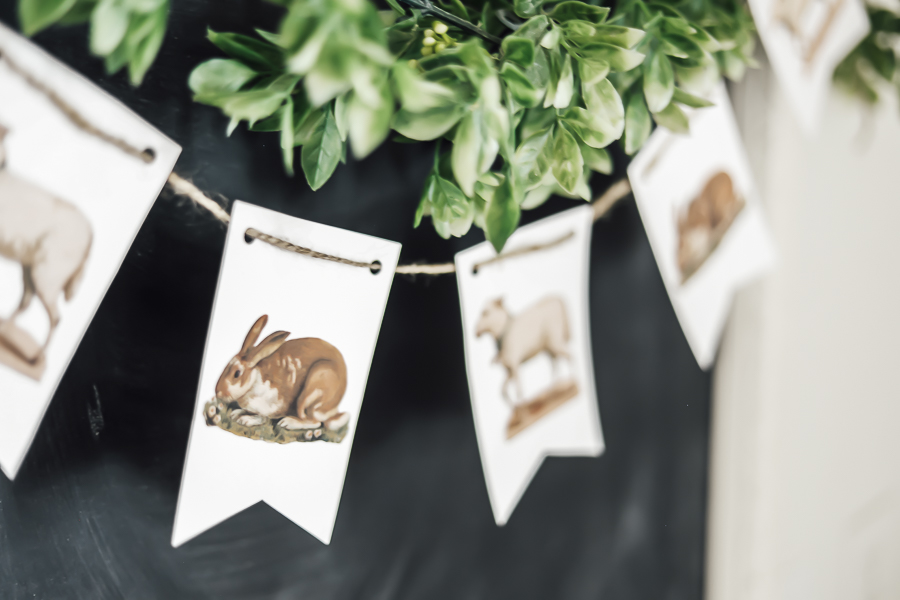 This is also a project that is suitable for children to help with (with your discretion and supervision if they're little!) if you're looking for something to keep those hands busy this season!
Number Two | Green Clipboards
My next decor idea is these adorable sage green clip boards from Liz Marie!
She found and bought her clip-boards second hand for $1 each, painted them and added cute printables!
I think Miss Mustard Seed's Boxwood Green milk paint would look fantastic on these! And the possibilities are endless with the prints you could use on them! Flowers? More sweet spring animals? Vintage recipes? So fun!
Plus there's such variation in how you display them, either as a stand alone piece, or in a beautiful gallery like Liz did.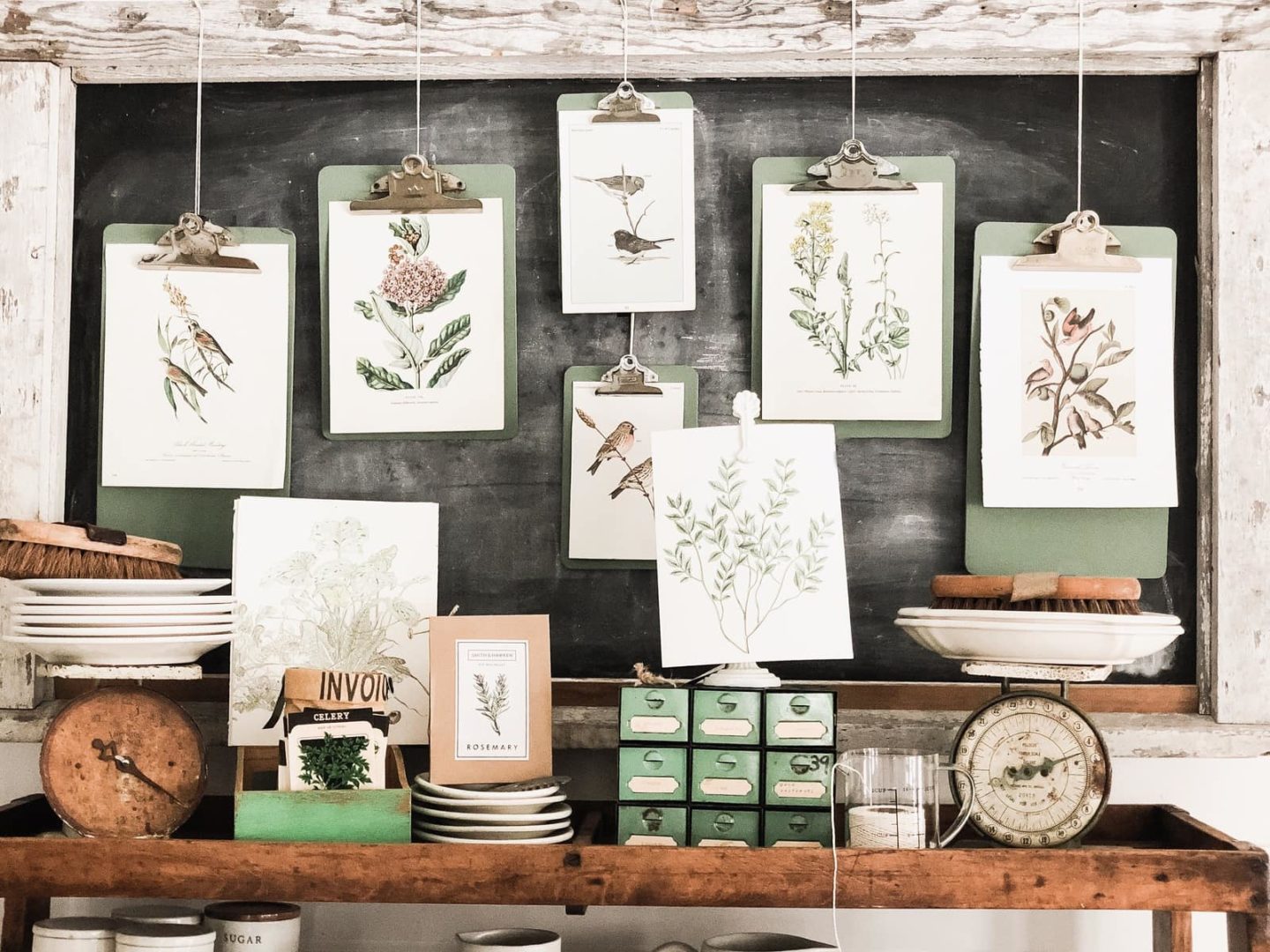 Number Three | Vintage Look Easter Eggs
In place of colorful dyed Easter eggs, you can consider using plain white boiled eggs and "tattooing" on cute designs! Yes – this is a real thing!
This post from Pam at House of Hawthornes tells you exactly how to go about making tattooed Easter eggs!
She used a temporary tattoo paper (linked in her post) and printed the images onto that before transferring them onto the eggs!
Such a clever and unique way to decorate eggs!
This is another cute tutorial from Janine over at Happy Happy Nester! She shared this fun idea for using Printables for Easter Eggs! She has a free printable that you can print, cut out, and glue onto the outside of the egg! So simple and cute!
And another really fun one for young children!
Number Four | Make your own birds nests
I already love birds nests so much – truly, I would almost call myself a collector – send me any you don't want!
But more so in spring and around Easter! They make such cute decorations around this season!
If you have real ones to use, those are perfect, but you can also make your own! This DIY Birds Nest tutorial from Made by Barb is a fantastic reference!
And they can be used in a number of ways! Like as part of a wreath like Sherry from The Charm of Home blog put together!
Number Five | Felt Flower Wreath
Speaking of wreaths! This adorable felt floral wreath from Janine at the Happy Happy Nester would be a really cute addition to any Easter decor!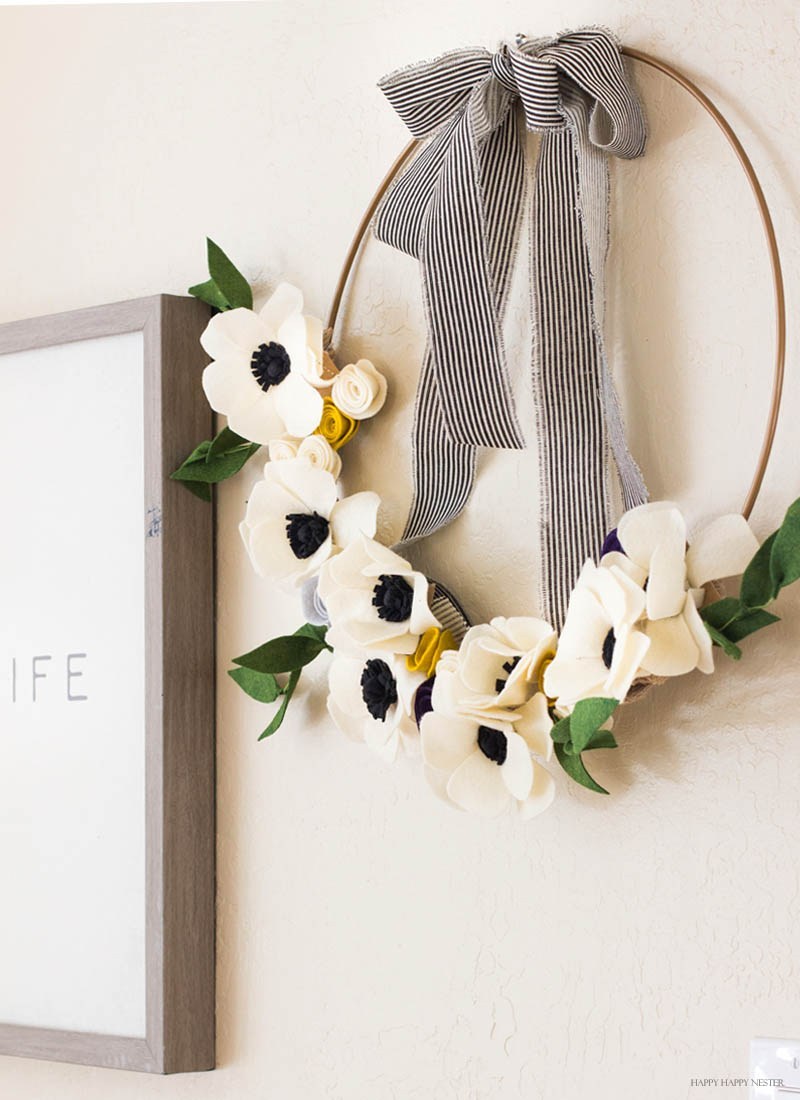 Projects like these are so fun because you can customize the flowers to any color you're excited about for your current scheme!
These are another project that could fun with older kiddos!
Simple Easter Ideas – Special Food Items
So many of our holidays have truly deep and special meanings, but often our personal memories around them relate to the foods that we commonly serve!
I'm not going to talk about the big items today (like Easter ham), but instead, some fun treats & desserts.
Especially in a year like this one – it's fun to have some special treats to look forward to. These could even be fun as "basket stuffers" if you are looking for that last special something!
Number One | White Chocolate Easter Lollipops
These adorable lollipops are delicious and really easy to make!
Supplies:
Make sure you follow the directions on the candy melt bag to melt down the candy without getting them too warm – ask me how I know…
Sometimes when melting chocolate it can harden and clump up, called "seizing".
Mine did that – but there was still hope!
I was able to carefully smooth and paint some of the chocolate into the molds (to make sure all of surface area was covered well – especially where there were details like the feathers), and then pressed in the additional chocolate pieces.
Afterward I found this YouTube video that better explains what it means when chocolate seizes and how to fix it!
Next time I'll try it I'll be sure to try this trick if it does seize, which will make it even easier to simply pour the chocolate into the molds!
Glad to once again be able to share my wisdom after learning by experience!
Number Two | Macarons
These sweet french treats are not only delicious, but they're also so cute when served – like these cute pink and green macarons below!
If you're feeling less adventurous, you can buy the ones from Costco! They're a great value, and come in 5 cute pastel colors and flavors.
Or if you're up for a challenge, you can make these white chocolate pistachio macarons from Broma Bakery!
Number Three | Easter Popcorn
My friend Alicia shared these really cute and delicious Easter Candy Popcorn balls. I just love how colorful and festive they are!
This is another really fun treat that you could make along with kids!
Number Four| Lemon Thyme Bars
If you're looking for something with a more elegant flair, try these lemon Thyme bars from Dawn at D.M.R Fine Foods.
So pretty, especially for something with a more tea party feel!
Number Five | Carrot Cake with Cream Cheese Frosting
If you're feeling ambitious, you can chose to make this Carrot Cake Deluxe by Call me Cupcake.
One of the upsides of doing cake is that there are so many pretty ways to decorate and style them! Like the beautiful flower cake below!
Or you can also do cupcakes like these beautiful ones by Creations by Kara – always a crowd favorite!
[show_shopthepost_widget id="3959634″]
Or have you ever thought about an Easter picnic?
If the weather allows it, we'll certainly be enjoying at least part of our at-home Easter celebration outside!
Some quick picnic tips:
Blankets -that's an obvious one
Pillows – sometimes forgotten, but they really add to the comfort of sitting outside on the ground!
Plan finger foods, especially those that can be eaten at room temperature!
And pick foods that you can prepare the day before when possible to make the day itself more enjoyable.
I hope these tips help you during your Easter preparations this year!
If you enjoyed these tips, you might like some of these other related posts!
Pin these tips for later:
Until next time,