It's that time of year when the birds start chirping again, the grass turns green and this strange, warm ball of blinding light makes an appearance in the sky.
It always amazes me.
To celebrate the coming of spring, the first place that gets a facelift is the wrap- around front porch on the old farmhouse.
I'm excited to have you over for a little spring porch tour today!
Usually, I have our wood pile for our wood stove off to the left of the front door. But, this spring its out of sight around the corner, making room for a collection of garden inspired decor I can't wait to show you.

To create this look, I first leaned a set of bifold doors up against the wall. I found them at a architectural salvage store and thought they looked like large shutters. I have a plethora of ideas for using them around the house. Yippeee!
I added my favorite sunhat to the doors and brought out my garage sale easel with a French canvas art piece I made recently. Here is an almost identical easel from Wayfair.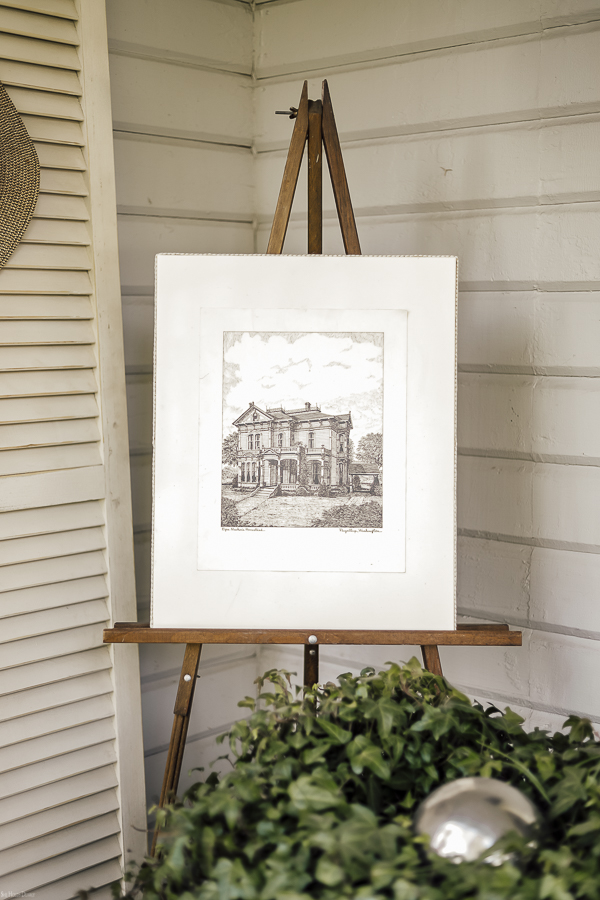 The shutters and artwork gave me some needed height in the corner, then I started to build out on the ground a little.
My big 40L galvanized container from IKEA is where I keep my potting soil and that urn with ivy has been around since who knows when.
Finally, I pulled my Hobby Lobby lantern off my hearth and my Hunter boots out of my closet for a couple pops of black.
For the door, I just reused the 5 Minute Fern Wreath from last year on my trusty command strip hook.
My porch is really uneven, so my row of wooden, folding chairs from IKEA looks a little wonky, but I've made peace with it until we can afford to redo the porch.
My favorite step stool from IKEA now sits to the right of the front door. And since I know you are going to ask, the color is Boxwood from Miss Mustard Seed.
To soften everything up a bit, I brought out a couple of throw pillows, some faux ferns in galvanized pails from Michaels and some faux roses from IKEA.
Last but not least, I dug threw my garden stash for some pretty pieces and hung a tray on the wall for more height above the chairs.
DECOR TIP- I always think of my trays are potential wall decor and this one is shows a scene of Victorian mamas having a play date with their littles
Thanks so much for stopping by the spring living room and fireside room tours will be up soon, as well.
Pretty simple, but hopefully you have some new ideas to freshen up your spaces this spring.
Watch this video to learn more!
You can subscribe to my YouTube Channel here.
Pin for Later