Have you ever wanted to add an antique brass finish to a newer looking metal?
Sometimes you find that near perfect piece – except it's not in quite the metallic finish that you'd prefer.
That's what happened with a cute simple $10 picture lamp I picked up from IKEA a while ago.
(The exact one I got is no longer in stock, but they have a similar one in now, called the ARSTID – an LED light for $29.99 in a nickle plated finish.)
I loved the look of it, except for the shiny brass that screamed "I'm from the 80's!".
I knew that antiquing it to a antique brass or "brushed brass" feel would give it a more timeless look – perfect for my home!
The idea of antique brass is to stimulate aged brass that's been around the block a few times. Often this is done by chemically treating the brass to darken it to a medium brown without losing the beauty of the gold undertones.
But THAT doesn't sound like a simple DIY project, so I'm really glad that I found another, much easier way to accomplish the same look.
*This post contains affiliate links to products I know &/or love.
A Simple Process for Antiquing Brass
The product I found to complete this "antiquing" process is called Rub n Buff by Amaco. It's a must-have for any DIY supply arsenal.
I think this would work especially well on things like dresser/cabinet hardware, picture frames, or other smaller detailed projects like adding a contrast strip around the edge of a nightstand.
I'd stay away from applications that might need to withstand more wear and tear, OR plan on doing some extra steps to prep those items, and finishing with a clear coat or some other protective finish.
This could also be really cute to use as a "dipped leg" for a chair or stool! Or for covering nail or screw heads that were taking away from an otherwise fantastic project.
The Rub n Buff Product:
This kit that I got comes with (5) 1/2 fluid ounce tubes in different metallic finishes:
Autumn Gold
European Gold
Gold Leaf
Grecian Gold
Antique Gold
I love that the set of 5 gives you options!
Jenna Sue over at the Jenna Sue Design Co. put together this great visual of the different colors all used on old spoons.
Don't let the small tubes throw you off, either. They're certainly small, but the product really works well even with just a small dab. As they say, "a little bit goes a long way".
Rub n Buff also comes with other colors (like turquoise, black and red), but those don't come as highly recommended as the metallics. I've heard that the colors can look almost watered down and splotchy – leaning towards a DIY fail.
And we don't want that!
Other Potential Finishing Applications:
If you're curious about other possible ways to achieve this same look, the best alternatives I can think of are:
Gold leaf – which is good for applications where a flaky and very shiny look are desired.
Spray paint – great for times when you want a very even finish.
This Rub n Buff product gives the best texture and patina of the three options, in my opinion!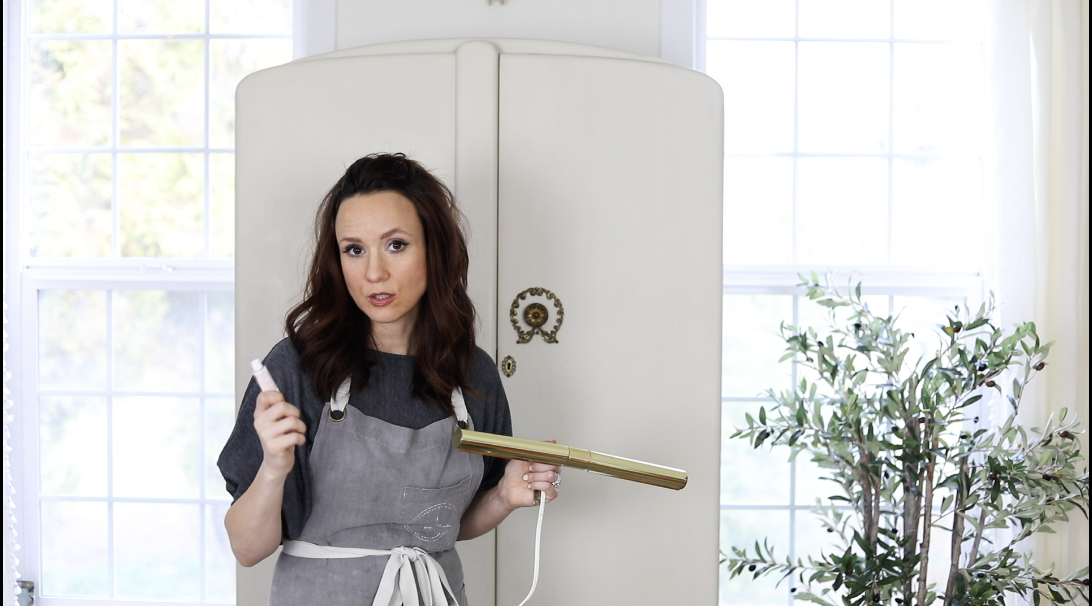 The process to Antique Brass
Gather your supplies:
Your object that needs a makeover – a picture light, in my case
Black spray paint (my favorite is this Oil Rubbed Bronze by in the 2x formula by Rust-oleum, because it contains paint and primer in one!)
Rub n Buff in your desired shade ( for my current lamp project, I chose the european gold finish.)
An old make up brush (trust me on this!) that is stiff but still soft
Drop cloth or cardboard to protect your work space
Mineral spirits/paint thinner – for any accidental clean up.
Steps:
Step Number One | Protect your work-spaces
I used cardboard for my outdoor space for spray painting, and a simple drop cloth for my indoor space while doing the Rub n Buff finish.
Step Number Two | Disassemble or prepare your item.
This can mean either disassembling the item, or taping off areas you do not want painted.
Luckily this lamp came apart easily, so I went that route!
When I have not been able to disassemble items in the past, I have found that using painters tape generously, and then cutting off excess pieces with a razor blade or x-acto knife has worked well to get even harder to tape areas looking neat.
Step Number Three | Give the item(s) a coat of the black spray paint.
This step doesn't have to be perfect, but you do want the majority of the item to be covered well in the darker base color.
Or if you are actually going after something more like a mid-century satiny gold, you could potentially skip this black base coat step and simply use the Rub n Buff alone!
Step Number Four | Using your old makeup brush, tap and dab a small squirt of the Rub n Buff onto your item(s). It dries immediately, and won't "spread" very well, so keep tapping and dabbing until it's covered!
On the Rub n Buff website they mention that you can also use your finger or an old cloth, but I've found that the makeup brush works best!
Step Number Five | If needed, apply a 2nd coat of the Rub n Buff.
This depends on the finished look you're going for! If you like the more textured look with some of the black base coming through, one coat is probably enough. Doing a second coat gives a more full and even coverage.
I prefer a more covered look and chose to do a 2nd coat.
Step Number Six | Now, the second part of the "Rub n Buff" name – Buff!
I actually found that dabbing and rubbing the product in with my old make up brush did a decent job buffing – but you can use a clean soft cloth to buff your newly finished item until smooth and shiny if it's not quite to your liking!
Step Number Seven | Carefully clean up with mineral spirits or paint thinner where needed.
You're done!
[show_shopthepost_widget id="3968878″]
I'd love to hear from you if you've used this product before, especially in the other colors offered, OR if you've used it in "higher traffic" areas and whether or not it's stood up to the wear and tear!
If you enjoyed this tutorial and you're looking for more farmhouse inspiration, you can join me over on Pinterest where I have an entire board dedicated to Farmhouse Lighting, and another dedicated to Farmhouse Paints!
Pin this for later:
Until next time,