If you've been here for long, you probably know I LOVE a good project that turns something I find inexpensively into something that is perfect for our house. Today it's how to paint a lampshade black!
A lot of times that means taking semi-drastic measures like when I painted a piano, or the time I painted our leather couch, when I painted our metal door, or recently when I painted our upcycled armoire.
But all those things were worth it.
By having the skills to modify and perfect pieces you find at garage sales, on craigslist, or on the clearance rack – you open up a whole world of possibility when it comes to decorating your home.
It's kind of like if you either know how to sew or have an excellent tailor you can bring your pieces of clothing to. Then it's no longer about whether or not the length of your new pants will be exactly right for you, or if the dress gathers will hit at just the right spot.
Your horizon expands to all these things that suddenly can work – once they're adjusted to fit your body.
You can think of your decor in the same way. If you can buy something with great bones and make the adjustments to make it perfect for your space, you're getting the best of both worlds!
These and other DIY tricks are part of the reason I'll say again that I think YOU are the best decorator for your home!
Now, back to the project at hand! Sometimes the process to make something fit your home is a big undertaking, and sometimes it is as simple as needing to paint a lampshade.
I got these lamps together for $7 at a garage sale intended for our Master Bedroom update – they just needed a little bit of care!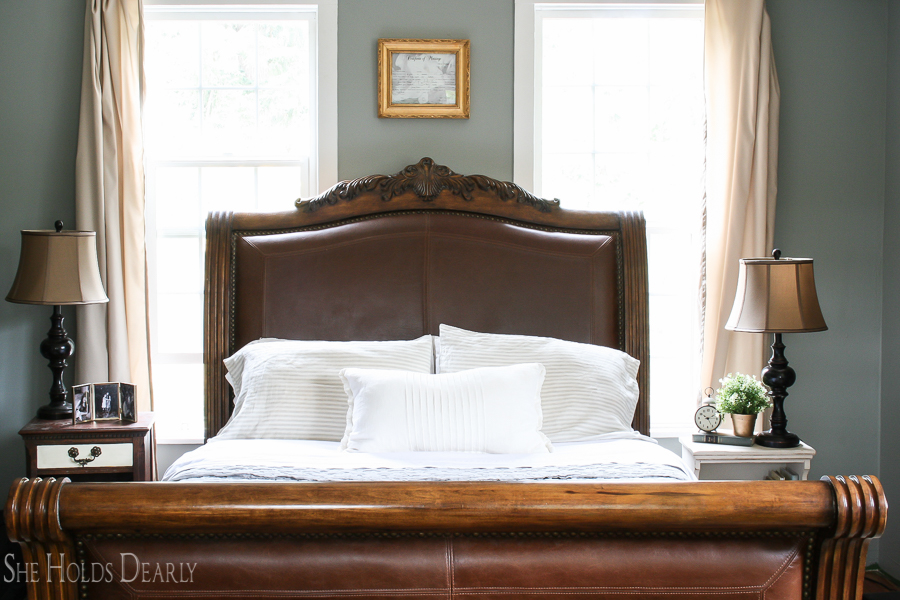 I used a painting technique to make the bases look like they were real wood, and then chose to darken the shades for a sleeker look.
I originally tried dying the shades with RIT dye, and while that dye is great for some applications – it did not work in this case! (I had a big mess in the kitchen to prove it).
It's not too tricky to paint a lampshade black!
Materials
*This post contains affiliate links to products I know &/or love.
I found that a combination of these 2 products worked beautifully.
Rustoleum Spray paint – In this case i used "Oil Rubbed Bronze" – $6 (Pick a color with some "shimmer" to help recreate the satiny look of the shade.)
A few other things you'll need:
Gloves
Short sleeve shirt – or long sleeves you don't mind getting paint on
Drop cloth or other surface protector.
How to Paint a lampshade
Tutorial
Your first step is to do a light coat of spray paint over the whole shade, both inside and outside.
Let it dry for about 30 minutes
Once that dries, you'll notice that some of the fibers of the shade come to the surface.
Use the 400 grit sandpaper to knock off the fibers. (This is where you'll want a protected work space – drop cloth- so all the fibers and dust don't end up all over your floor!) Make sure it feels nice and smooth to the touch.
Apply your Versatex screen printing ink with the sponge applicator (or a brush you don't care about). It's about the consistency of a creamy shoe polish.
Make sure to do even brush strokes the full height up and down of the shade, and pay special attention to the seams and along the top and bottom. Make sure to smooth down any goopy bits to keep the finished project looking smooth and neat.
Wait about 1 hour and then hit any newly risen bumpy fibers with your 400 grit sand paper again. This also helps bring out some of the 1st layer shine again.
For ease of drying you can set the shade back on the lamp stand. This helps make sure it's not leaning against anything when it dries!
FAQ about painting a lampshade
I had some people ask me if the paint was smelly when the lamp was turned on.
My perspective is that paint fumes don't ever stay around too long. It really seems to have not been a problem at all for ours.
Someone else was curious about how the light came through the shade.
It actually doesn't make it through the 2 layers of black paint, but it creates some really pretty dramatic light by showing through only the top and bottom parts of the lamp. (If you haven't touched up the seams well, you'll have a little bit of light leakage through there as well.)
Easy and quick!
If in this instance you decided you'd rather buy a finished lampshade instead of doing a DIY project, you can find some cute ready-made ones like this NYMO lampshade from IKEA.
How cute are those scallops?
Shop the Look
[show_shopthepost_widget id="3919429″]
Related Painting Posts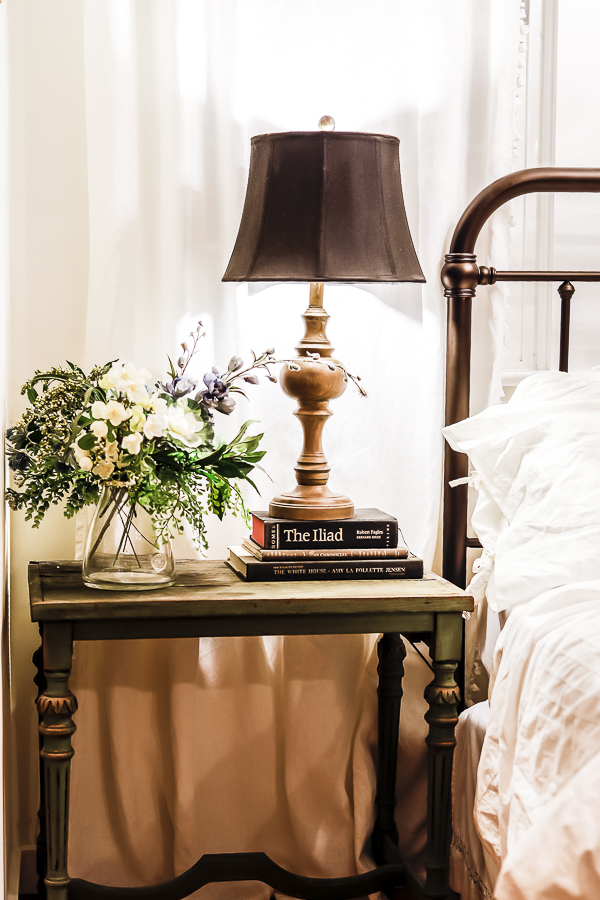 Related Lighting Post
Related Buying Second Hand Posts
Related Upcyling Posts
I hope you found this tutorial inspiring and doable. I see black lamp shades around more and more and love this new little trend!
If you are wanting to see more Farmhouse Lighting inspiration, I have carefully curated a collection over on my Farmhouse Lighting Pinterest board.
Anytime you bring in a pop of black to a space, it lends an air of elegance helps to ground the whole look.
And I continue to be amazed at what paint can do to things!! Rarely is there a product or surface that you truly cannot paint. More often than not, you can extend the life of an item by simply updated the color with the magic of paint!
Let me know in the comments below what is the most unique piece of decor you have ever painted! I love hearing your stories and learning more from you!!
Pin This Tutorial for How to Paint a Lampshade Black For Later