In today's post, I share some of my tips for antique mall shopping and their sales! It was super fun to actually vlog this trip to the antique mall, taking my followers along for the trip.
I went to a local mall in my area called Hamiltons. I think it has over 200 vendors and took me about four hours to look through.
I did take my kids, they are all in their teens now and we can all split up. But, even when they were little we would go. As long as we didn't try to walk through the whole building it was fun.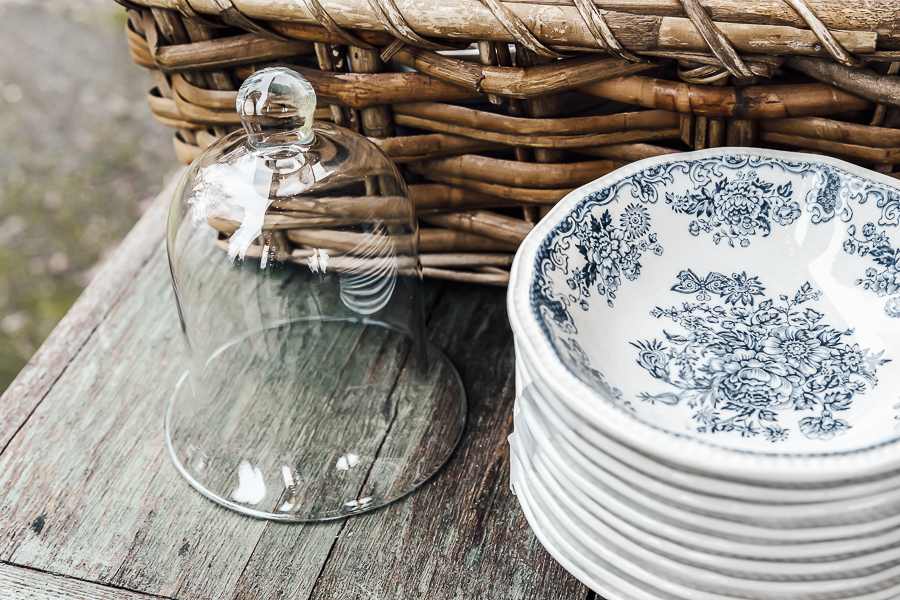 Whether you have kids in tow or not, you can benefit from these antique mall sales and shopping tips.
*This post contains affiliate links to products I know &/or love.
(Here is a similar green nightstand online)
My first tip is to start with a list whenever you're antique mall shopping. Now of course you will find things that you didn't know you needed (!) and you should try to get those, if the price is right. But, I did have a few things I was looking for specifically that I didn't want to forget.
My list included
a nightstand
antique chair for my desk
an architectural piece to put on my mantle because I still feel like it's missing a couple details.
large wooden crate for firewood
a new nightstand, possibly a marble top or something that I wouldn't mind turning the top into a full concrete look
small decorative pillows
2. Bring a measuring tape. Know the space that you are trying to fill or the size of furniture you are looking for.
3. Bring some water because this is going to be a long hike.
4. Wear good shoes. I forgot that last one I was wearing my Hunter boots but whatever, mind over matter. . .
5. Be Ok with purchasing finds that are not on your list. This is part of the fun! You just never know what you are going to find.
ALSO, be prepared for some entertainment and shock value. One of the crazy, fun things about shopping antique malls is that you find completely weird things that you would never see anywhere else and they're just mixed in with all the pretty things!!
I saw a gigantic cheese grater, like, 2 feet tall!!! For $200. Maybe a pizza parlor would use it for a decoration. I don't know.
I think it's super fun to find things that your parents owned and that you grew up with. Maybe your grandma had that quirky platter or something.
You see them for sale in an antique store it always is such a trip down memory lane.
6. Always keep an eye out for printed for sale signs within the individual booths. Sometimes I find something that I'm really interested in and think that I don't wanna pay the price and then when I look up I see that everything in the booth is 20 %, even up to 50% off and suddenly I have an eye a new item that I am able to get.
7. Start a stash as you begin accumulating your goods. Go up to the counter and ask for a little space that's yours. Don't carry your things around, just keep going to the front counter. They like to know that people aren't stealing, misplacing or breaking anything.
8. If you like a display piece and it doesn't have a price tag, ask at the front counter. They can call the owner of the booth and possibly sell it to you.
9. Keep track of inspiration pieces, as well as pieces that you know you like for sure.
I went in looking for an architectural piece to put on my mantle in the master bedroom, instead, I saw a wreath appliqué on a wall mirror that I loved. It sparked the inspiration for what I want to do above my mantle! 
10. When you do find a piece that you think will work be sure to get it out and measure it. You might need to ask for help if it is too cluttered or too large.
BONUS!! When you're done shopping, be sure to set it all out as soon as you get home and admire your goodies!!
Friends LOVE seeing the stash that you curated for the day!! So, post those pics on social media, if you like.
Related Posts
10 Tips for Negotiating at Yard Sales
5 Tips for Shopping Antique Shows
12 Tips for Cleaning Vintage Finds
10 Ways to Repurpose Vintage Items
12 Creative Ways to Display Dishes
Pin For Later!