Are you looking for ways to incorporate cloches into your decor? I've got some fun cloche decorating ideas that can easily be transformed for any season or occasion!
First of all, some of you may be wondering, "what is a cloche?" and why do I need cloche decorating ideas?
A cloche ("klōsh") is a glass domed cover used to protect plants from frost. The word itself is actually French for "bell", which makes sense given the shape!
Back in France, they used these as miniature greenhouses, and outdoor gardeners today may still use them to protect more fragile plants from the cold. But they have come to serve a wonderful purpose indoors as well – as a vessel for displaying beautiful seasonal vignettes or tablescapes.
Personally I love using cloche decorating ideas for Spring.
But they can be a great option for all four seasons, or special occasions all year round.
My friend, Jamie, over at So Much Better With Age has some wonderful seasonal ideas that you can check out, too!
My favorite style was her Crow and Bat Halloween Mantle! She simply hung black paper bats she cut out by a thread and taped the thread inside to the top of the cloche!
How CUTE is that???!
For Christmas, she added in some faux snow, bottle brush trees and tiny presents!!
When thinking about cloche decorating ideas for your home, there are a few basic types of cloches that are most common.
*This post contains affiliate links to products I know &/or love.
Some can be purchased outright from places like Amazon or Michaels, but you can also find other non-traditional items that serve the same purpose and add beauty to your design without the price tag of buying new.
Thinking Outside the Box
And once you have a top selected, you also have your pick for bases!
When you have your dome and your base selected, you're ready to start the fun task of filling it up!
[show_shopthepost_widget id="3912374″]
Thinking Inside the Dome
The beauty of decorating inside cloche domes is that you can highlight and elevate even very simple pieces.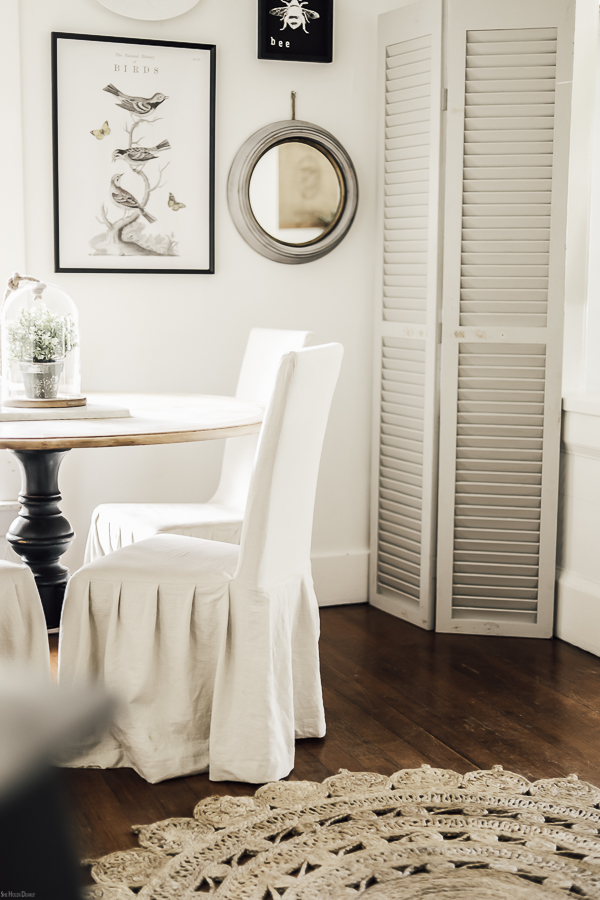 Simple and Elegant Cloche Decorating Ideas like these come together quickly to make a unique and beautiful statement piece.
When I'm decorating with large cloches (like those that are store bought, or any glass dome that has quite a bit of height), I have found it is usually best to group two or items together, with varied heights. One item by itself can look a bit lacking – except in the cases where it really fills the space well, like a potted plant.
I also love being able to mix and match different elements! This can work within a specific season, or across seasons and occasions.
Cloches are an easy versatile way to add fresh style to your decor.
I can't wait to see what you come up with!
Related Posts
Pin for Later
Warmly,