Have you ever heard of color washing? It's in the same family of skills as "white-washing" like you've probably seen on brick fireplaces; but this technique can actually be used on wood, too!
We've been finishing up quite a few projects in our master bedroom recently, such as:
And if you remember, my office is actually tucked in one of the 3 closets in our bedroom, so as all of these other improvements were happening around the room, I started to realize that my desk could use a little bit of a color update.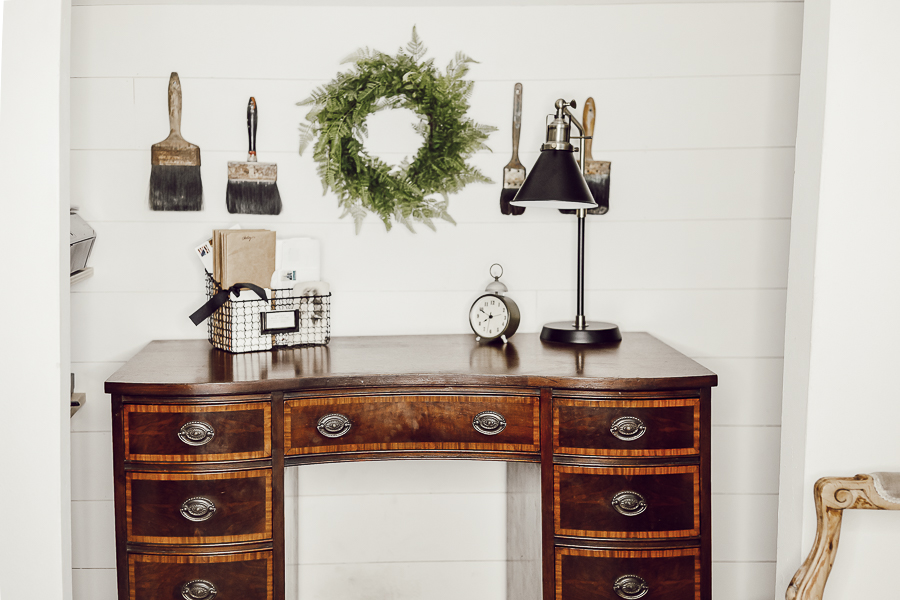 It took me a while to come to the decision, and I know some people won't agree with me – but I decided to black wash the desk!
I do believe this is an old piece, but I purchased it for $150 on craigslist, and as with other pieces in our house – I'm OK with painting them if it means it extends their useful life in our home. I'd rather have functional pieces that I love and use than vintage pieces that are never touched or that we're afraid to use.
Black washing is part of the overall process of color washing, just using black paint. In the same way that white-washing is when you use white paint to lighten brick features.
This was the first time I had used this process on wood furniture, so there was a slight learning curve, but I'm glad to share my discoveries with you – and I'm really happy with the final result!
*This post contains affiliate links to products I know &/or love.
Black/Color Washing Wood Furniture:
Step One | Prep your Item
I actually didn't do much to prep my item other than removing the hardware, and moving it to a protected work space.
Mine didn't need any other sanding or prep.
Step Two | Mix your Wash
I used a ratio of 2:1 paint to water, or another way to say it is 2/3 paint + 1/3 water.
I mixed mine up in a glass mason jar that I keep with my paint supplies for mixing milk paint.
The black paint I chose to use was from Magnolia Home and is their black chalk paint called "Black Board".
The other one I had considered using was the fushion mineral paint in "Ash" that I had used for the lockers in my Son's room.
Step Three | Paint/wash on a light coat of your paint mixture.
I used a regular 1 1/2″ angle paint brush and did a thin application over the entire desk.
Step Four |Wipe off key areas with a rag to create the look of "wear".
Although this is similar to distressing projects like I've done in the past, the technique is a little different and provides unique results in how it looks.
I focused mostly on the center of the drawers to allow the rich wood tone to come through the wash.
Once it had dried I realized there were quite a few brush strokes and the area that was wiped clean had very defined borders, neither of which I was fond of.
I tried sanding the paint in some areas to see if I could level it out – but it ended up looking too much like a distressed chalk piece. And I while I love that look for certain things, that wasn't what I was going for here.
After that, I tried wiping the drawers down carefully with a damp cloth. That worked really well to smooth out the bits I wasn't liking. Hooray!
Step Five | Add your Wax
I did a test in the area under the desk to see which of the three wax options I thought looked best.
I tried clear Wax, homemade black wax*, and dark wax.
|*The homemade wax is made by mixing 4 tablespoons of clear wax and 1 teaspoon of paint. I ended up making an even smaller batch for my test area. |
And I'm glad I did the smaller batch, because dark wax won the contest!
I used a soft rag to rub that in over the entire piece. And then, tada! Done!
The Behind the Scenes :
Boy, sometimes when you type things out as a tutorial, they sound so put-together! In reality, I had a few hiccups this first time trying out color washing on wood; other than just the brush strokes I mentioned above.
One of the issues that popped up was my black paint looking navy! The dark wax did help a bit, but I will make a final decision once I've lived with it for a few days and seen it in the light of day!
I remembered too that when I had used this paint previously, it had a bit of a navy hue as well.
Also, I didn't think my 1 light coat was enough, so I did a second coat on the top of the desk, and then realized that made it too thick – none of the beautiful wood tone showed through. Luckily the wet rag trick I mentioned earlier did help with that, too!
While I was in the thick of it, I also realized that the original drawer pulls being black were too dark against the new color of the desk.
So while I pondered what to try with the different wax options and the thought that I might need to sand it down and start again – I opted to go ahead and change the hardware using my trusty Rub n Buff product!
If you ever get stuck on something, taking a break and working on something you know for sure you're decided on can give you the mental space to make the big decisions when you're ready to go back to your main piece!
That's what these cute handles did for me.
I chose the European gold color and stippled the product on with an old foundation make up brush. Because they were already black, I didn't want a full coat of the gold – I like the areas where the black peaks through. The mottled gold adds to the vintage feel!
Another trick I use when working on projects is to bring in some of the elements that I plan on using to style the item when I'm finished. Sometimes seeing them with the item can help me make those decisions that come up in the midst of the project.
For this desk I brought in my Son's silver BAROMETER lamp from IKEA- not for a color match, but for the proportions and size. IKEA now has it available in gold, and I'm excited to pick one up next time I go.
And that's that!
Once I make a final decision on the color, I'll add a coat of tough coat sealer by Miss Mustard Seed to help protect the desk top from wear and tear.
Overall for a new technique, I was really pleased with the results from color washing! I think it gave the desk an interesting artistic flare, and I'll certainly be trying it again!
Have you ever color washed anything before?
Before you head out, I wanted to share a fun resource that my friend Amy from 1905 Farmhouse graciously shared! It's her Furniture Transformation Guide and shares tips on painting furniture.
Pin This For Later:
xoxo,