It all started with me just wanting to do some decluttering on our kitchen porch… and turned into a full porch refresh!
If you remember, our 1906 farm house has 3 porches. The main one is featured here on the blog often, but the side porch and the kitchen porch aren't nearly as photogenic.
The side porch needs some actual structural work, so it's still out there, looking un-photogenic… But the kitchen porch, now that's another story!
It had been neglected the past 10 years we've lived here. Sure, we'd sweep it every once in a while, but not much else! We originally had big plans to tear it off and start again, and since we weren't ready to do that work right away, it became a bit of a catch all for garden supplies, and other things that were easy to just leave out there.
There was a large dilapidated table that I got for free that ended up being the perfect spot to hold all that junk.
Fast forward to this past week when I was resolved to simply de-clutter the porch and all that stuff that had collected on the table.
Well, one thing became another and soon we were off on a grand adventure of giving the porch a mini makeover.
Isn't it funny how that works?
In my Behind The Scenes Design Group, we start each month off with decluttering challenges, and this once again proves to me why that is so effective!
Being able to make decisions and keep just the items that we love (and that spark joy) makes our entire space more functional and easier to want to invest our time and effort into!
Here's the link to join the wait list if you'd like to join our group once we open for registration again!
As I was making our porch over, I came up with this list of 6 steps for a quick and inexpensive porch refresh!
*This post contains affiliate links to products I know &/or love.
6 Steps for a Quick Porch Refresh.
Step Number One | Clean It All Off
As I mentioned above, decluttering is probably the single best way to start any project! I removed everything off the porch and took it into the yard so I could spread it out and see each item.
I love using the Konmarie method where you hold each piece in your hands and if it sparks joy, you save it. If not, you don't keep it around!
While I was going through all of the things that had accumulated on the old table, my husband pressure washed the entire porch.
I ended up not keeping any of the items that were already on the porch except the woodpile and a smaller table that needed some work (more about that later.)
Some items just needed to be put away in their designated spots, and some needed new homes all together.
I didn't end up giving away the big table, but it did get moved until I can make some decisions about how I want to refurbish it!
| Update | The Table got a big makeover, you can see how it looks now HERE.
Step Number Two |Add in your Big Pieces
Once you've got a clean and blank canvas, you can start by adding in your biggest pieces.
For me, I knew I wanted that to be a cozy seating area. (This may not be everyone's first thought, but I highly recommend it if you have space!)
I moved our two big IKEA AGEN wicker chairs with some cushions, pillows and a throw blanket to create a functional and comfortable area to sit. If you don't have an IKEA nearby, here's another option for wicker chairs.
Between those two chairs I saved space for a wooden end table that just needed a bit of fixing up first.
Step Number Three | Bring on the Paint
Because we hadn't put a lot of love into this porch in the past decade, it needed a bit of catching up.
My husband helped repaint the porch posts and the trim around the door and windows.
I painted the door using Artissimo milk paint by Miss Mustard Seed to match the front door on our other porch. Both doors are on the same side of the house, and I love that they match now! I went over the milk paint with both a clear wax and a dark wax.
I also decided to strip the paint off the little oval table I wanted to put between our wicker chairs. It was in BAD shape, and I was hopeful that removing the old paint would be an improvement.
I used my trusty citristrip product because it cuts through old paint like butter starting just 15 minutes after applying!
Like I've shown in some previous tutorials, I used my scraper tool to remove the bulk of the paint from the flat surfaces.
On the rounded edges and the legs, I've found that using a wet piece of steel wool over the citristrip works great! I add more product to the steel wool as needed while working after the initial waiting period.
Also, don't forget to wear gloves when working with citristrip. The product alone isn't supposed to contact your skin, and when working with steel wool you also have the possibility of steel slivers. Ouch.
Once the paint was all removed, I used a second product called Super Deck from Sherwin Williams to help remove some of the lasting gunk in the wood grain. After I scrubbed it down with that, I rinsed it off with my hose and left it out in the sun until completely dry.
I wanted to leave the raw wood, so I simply sanded down any rough areas with 220 grit sand paper (which by now, you know is my favorite!) and then coated it in "Tough Coat Sealer" by Miss Mustard Seed.
This is a different product than what I used recently when I did clear coat on our church pew, but I realized afterward that using the urethane left a bit of a peachy discoloration. *sigh
The tough coat sealer doesn't change the color at all, and has a nice matte finish, and also works well for higher traffic furniture like this piece will be, since it will be used on an outdoor porch.
Step Number Four | Wall Decor
If you have the wall space, adding some cute wall decor really helps boost the look of your porch refresh.
I looked through the art pieces I already owned and settled on a cute sign that says "Fresh Cut Flowers" with two vintage tennis rackets hanging below. It felt very summery!
Step Number Five | Add your Contrast Pieces for Interest
Next, add some pieces and colors that pop! My suggestions for a farmhouse look are to add accents with gold, any antique pieces you have that might work, pops of black, and glass pieces!
I did that with an old hanging basket that I hung on the door with faux tulips.
And a black and gold clock which will be especially helpful when my friend and I sit out here visiting – it's easy to not know what time it's gotten to!
For my glass piece, I used a really cute citronella candle I had on hand. If you didn't know, citronella not only repels mosquitos, but also helps keep wasps away!
They're great for outdoor areas, but should never be burned indoors! (I learned that a bit ago after posting on my Instagram story that I had one inside because they were so cute! Whoops!)
Step Number Six | Bring on the Plants
You must have known that plants would be included here!
While I do love real plants – my focus on real plants is currently all used up with our garden, and keeping plants alive on the porch is just a bit too much. That's one of the main reasons I love faux plants for applications such as these.
I found 2 galvanized tin pails at Michaels a while ago, but have also seen them while out thrifting, and new at feed stores!
I put one pail up on the table between the two chairs and I added faux peonies and olive branches – I love that the artificial olives also bring in some of the black pops of color I was wanting!
On the ground I have the second pail filled with faux ferns.
I always try to have my plants on different levels, and can imagine another layer of plants in cute hanging baskets – some day!
[show_shopthepost_widget id="4111010″]
I hope this porch refresh gives you some fun inspiration for your own porch! If you do a mini make over like this one, I always love hearing about it and seeing your work! You can comment below, or share with me over on Instagram using the hashtag #sheholdsdearlyinspired .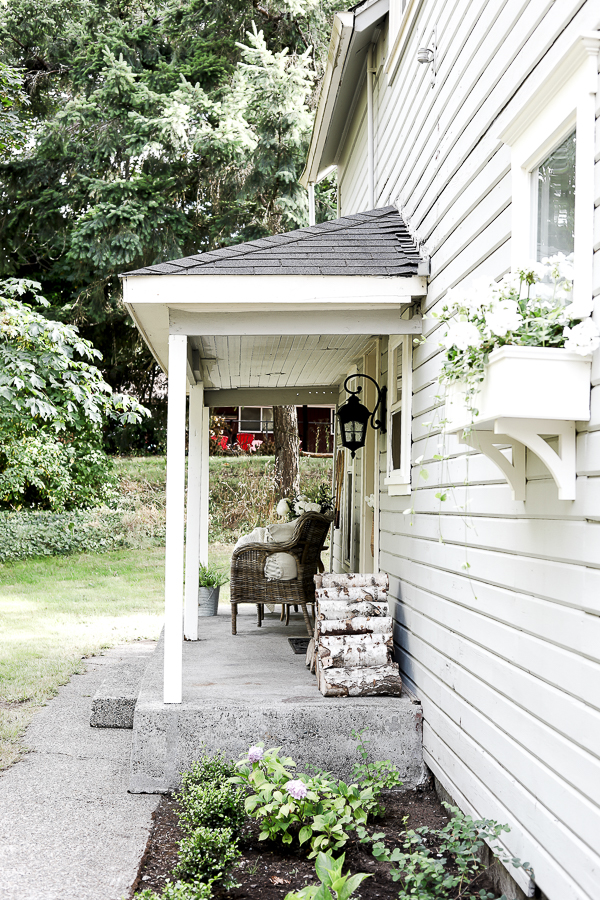 Save this for Later: