Come along as we visit IKEA and see their summer decorating finds for 2021!
It had been a few months since my last IKEA visit, so I was overdue! I had a few specifics on my list, which I actually didn't find this time, but I found plenty of other things I'm excited to share!
This time I remembered my water bottle, but forgot my IKEA bags (you win some, you lose some).
One of the first things I noticed walking in was that their restaurant area was opened again, and they had the cutest decorations that were so summery looking – perfect for the 4th of July!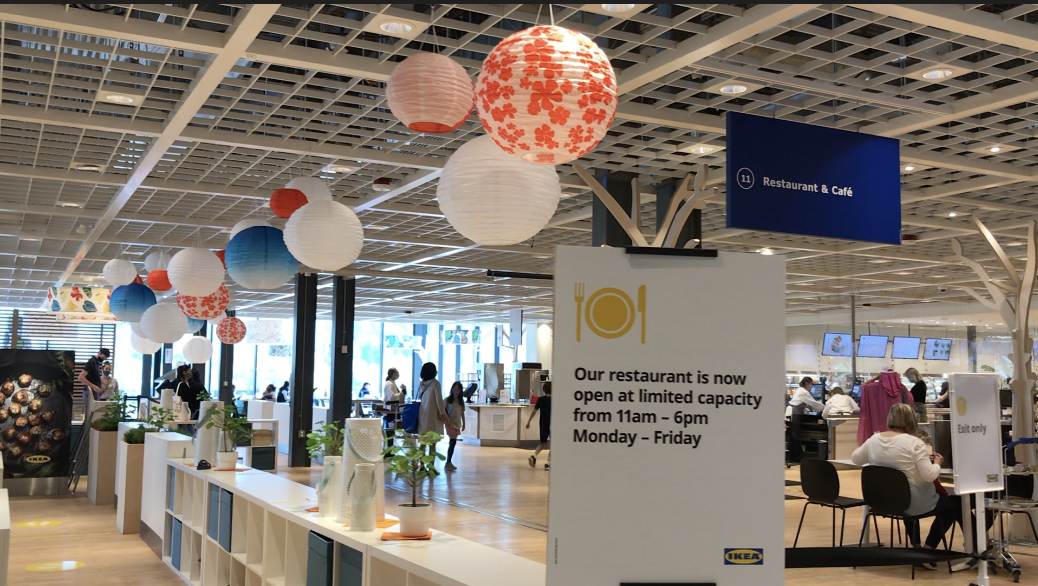 *This post contains affiliate links to products I know &/or love.
How fun are those patterned lanterns?!
Next I'll just jump right in to some of my favorite decorating finds for Summer 2021!
INVANDIG | These tiny terrariums are super sweet!
I love how they showcased this room that looks to be a transitional family room/homeschool room. The details like the EILIF divider wall, NISSAFORS rolling carts, artwork displays, and tons of functional storage (like KVISTBRO coffee tables that can store extra blankets and toys) make it an ideal solution!
FLADIS | This is what is called a "belly basket" and they've been popular for years! I've seen this exact same size and style on Amazon for $25, but they're $10 at IKEA!
ASPEROD | I was a big fan of this sleek black circular end table with gold dipped feet! And considered getting one for the nursing mom's room I'm working on for my church. I knew I wanted a round end table to offset some of the other rectangular options I already have going in the room!
ELDTORN | Oh my! These copper velvet drape curtain panels were just lovely! They had a great ribbing texture, and I don't feel like that copper color shows up in curtains all that often.
They're called "brown" in their description, and I saw them again a second time in a second area of the store and they did look much more brown than the first time, so if anyone has these or ends up buying them, I'd be curious to hear how they come across in your space!
I've said this about IKEA curtain panels before, and I'll say it again : For $39.99, you're getting a really quality, LONG (98″!!) set of panels, and you'll be hard pressed to find better value elsewhere!
JUTHOLMEN | What I first thought was a regular outdoor sofa is actually considered part of a modular sofa system with two end/corner seats set next to each other! Within the same system you can add or remove seats and loungers, it's a pretty well-thought out product! I absolutely love the large caned detailing, and think these would be lovely pieces on any patio!

VATTENKRASSE | This watering can was just so cute! There's no way around using that word. I love how sleek the lines are, and that it could easily be used in modern decor, yet still somehow fits well in farmhouse and cottagecore, too.
GLITTRAN | This gold faucet has captured my attention and been on my wishlist for YEARS. Someday I just know I'm going to come home with it. It's $99, but has such an authentic vintage look. I don't think many people would walk in to a room, see that on a sink and think IKEA right off the bat.
And I don't say that to disparage IKEA's design sense or quality – because I love a lot of things about both of those aspects. But you don't necessarily want pieces within your home to announce loudly where they're from. I think this a piece that would fit in well and shine through in a subtle and graceful way without giving away it's more humble roots.

SKARHAMN | I'm a sucker for tear drop pulls, and the SKARHAMN line is no exception! I especially loved the black ones!

OSTERNAS | These leather pulls are really on-trend, and would look great with a variety of dressers or cabinets!

PJATTERYD | I loved the way this boat picture gave a sense of realism to this children's room – to keep it from heading into the cartoony territory that so often accompanies anything made for children.
I also think the ombre blue shiplap wall is a clever and unique design choice!
RINNIG | I ended up buying 5 pairs of these cute rubber gloves! I think they'll make great Christmas gifts, probably along with some of my favorite Mrs. Meyers Soap!
BEROMLIG | These cream tins would be so fun to fill up with cookies this summer, and I'm sure my children and their friends would be happy about it, too!

UGILT | I saw this little striped rug and immediately thought how cute it would look in front of a door or kitchen sink.
RORKAR | And this red and white runner just screams to be used for summer (fourth of July, anyone??) and or Christmas decorating! It has so much fun character!
LANGSTED | This is another small throw rug that had the prettiest shade of green!
SOLKUR | What's not to love about lacy metal lights? I love that they have both a table lamp and penant option, and think these would be beautiful in a nursery!

TROLLBO | This is another light that would be great in a nursery or children's room! Fashioned after a circus tent, this light has loads of color and character.
I couldn't pick just one of IKEAs current clocks to highlight, so I'll share a handful! They've got a selection to make even the mad hatter happy!


PJATTERYD | I love how classic this black map of the US is! This could easily look right at home in either an office, den or children's space.
STOCKHOLM | You might recognize this lovely round mirror from our recent Boho Teem Bedroom Reveal that we did for my Daughter's 15th birthday! I love it and highly recommend it for anyone in the market for a round mirror!

KRISTINELUND | I just LOVE the braided frame on this oval mirror!

SUNNERBY table mirror

SKURAR & SAMVERKA | Both of these white candle holders are just beautiful! I could see them gracing tables at showers, weddings, receptions, etc! And at only $1.99 each, they're really affordable!

SMYCKA | IKEA has some of my favorite faux flowers, and these white peonies I found were no exception!

KAMOMILL | These large navy and green pots are a great size for their $12.99 price tag.

ASKHOLMEN | My own set of this little wooden folding patio furniture has been well-loved at our house for over 4 years now, and it's still going strong! I can't say enough good things about it, and with a $60 price tag, you just can't go wrong!

BERGSKRABBA | Last but certainly not least, I hit the "as-is" (ie. clearance) section before heading to the checkout and found these CUTE blue and red striped curtain panels that I've been eyeing the last few times I've visited! I am pretty certain I will not use them as actual curtains (because they're just a bit much), but for $15, you get a lot of yardage of material, and I can easily repurpose them into something fun for this summer! I'm thinking maybe a little patriotic bunting!
I hope you've enjoyed this look through my favorite IKEA Summer 2021 decorating finds!
Pin this IKEA Decorating Finds Post for Later: