Do you remember a little while back when I shared our Bohemian Teen Bedroom Plans?… Well today is the Big Reveal!
I love it when I get the chance to share upcoming plans with you, my dear – and you end up being as excited as the project as I am!
I've even gotten quite a few emails and even some friends at church following up on this room excited to see the end result!
I first shared our plans for my daughter's 15th Birthday Bohemian bedroom redo a month back and it's been fun these past few weeks to gather up what we needed and finally to put it all together.
As a reminder, here are some of our goals for the space:
Bohemian Feel
Incorporating Horses
Desk space for studying
Pallet Bed
And here's the mood board I put together for the space:
And here is the finished room!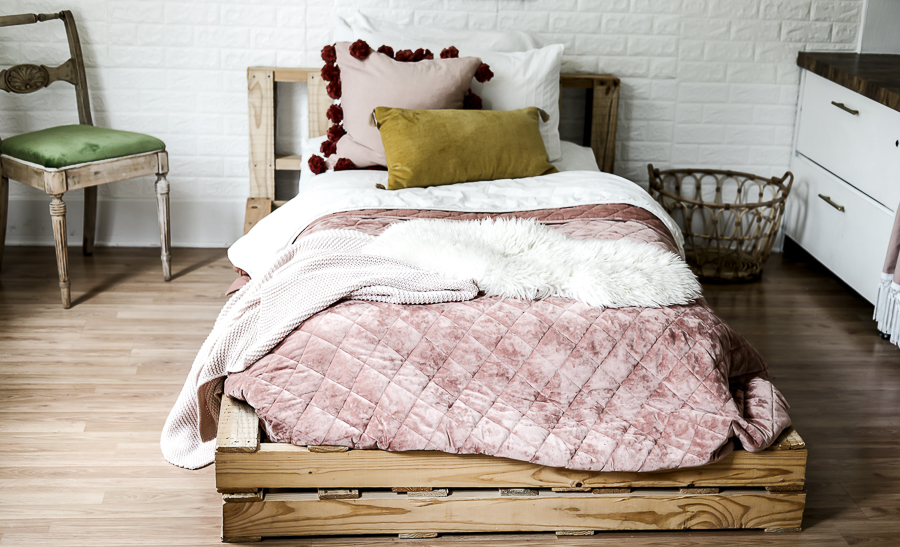 Isn't it just dreamy? I just love it! And most importantly, my "client" (aka: daughter!) is really pleased!
*This post contains affiliate links to products I know &/or love.
The Process of Creating a Boho Teen Bedroom:
Here's how we brought the room together!
Wall Treatments:
First things first we got the walls all painted bright fresh white using "Silos White" from Magnolia.
Then on the 1/2 wall below the slanted ceiling, we added these neat foam faux brick stick on panels that added some great visual interest in a space that is otherwise pretty difficult to utilize.
On the partial wall near the built in book shelves we added a neat faux wall-paper accent wall with horse sketches taken out of a Walter Foster book I had found for $2 at a garage sale years ago.
If you're ever looking for some a) neat drawing inspiration as an artist, or b) looking for some fun drawing related art – I'd highly recommend checking out his other "How to Draw" art books! There are different themes like animals, scenery & portraits. On etsy most cost about $10 a piece.
This gorgeous round gold mirror is from IKEA, and I especially love that they created the frame to have a tiny shelf at the bottom lip.
I used two more horse prints on the opposite wall near the window under this new galvanized shelf.
All the prints are just attached to the walls with tape on the back!
For the curtains, I used a pretty lace panel I got a goodwill a few years back.
The Bed:
If you remember from our plans, my daughter had been inspired by some pallet style beds she had seen on Pinterest and had included it on her list of things she'd really love in the room.
We were able to get the pallets we needed from a friend for free, and simply stacked 4 together on the floor with 1 standing upright as the headboard and laid her mattress down on top!
Simple, free, and it turned into the perfect low platform bed!
I have found that in rooms like this with low and or slanted ceilings, being able to keep a main focal piece like the bed nice and low helps to give more "air space" in the room, making it feel much less crowded!
Bedding:
The beautiful pink velvet quilt was a Target find, and I just loved how there was so much dimension in the color!
I wanted to highlight the different aspects of the colors with a pink pillow but I couldn't find a ready-made one that I loved.
So of course that meant a trip to Hobby Lobby where I found some great pink material and a coordinating shade of pink yarn (both shades could be found in the different parts of the quilt).
I whipped up a quick pink pillow case* and used my pom pom maker to create the pom poms for the pillow trim!
(If you've wanted to learn to sew, pillow cases are one of the easiest things to start with! I show you how HERE.)
On the end of the bed I added a pink throw blanket and a sheepskin rug, both from IKEA.
Lastly for the bed, the mustard yellow pillow was another Target find.
Built In Shelving:
Next we focused on the wall of built in shelves.
Honestly, these shelves are a little "home-made" looking, and could probably benefit from being remade, but at this time we figured we'd work with what we have and style them up to help draw the attention away from any parts that are less than perfectly finished.
I used this great medium tone wood grain contact paper to cover the desk surface to make it look like a solid wood counter top – I just love how it turned out!

You might recognize these chairs from late last year when I recovered them with this beautiful green velvet. Or you might remember them from the blooper reel video I shared at the end of the year. Yes! They survived the paint spill incident of 2020 and are living for another day!
My husband helped us cut out the bottom section of the opened shelf out so that we could fit the chair inside to use as desk space (something my daughter has never had previously in this room!), and I created a cute curtain with the extra fabric from the pillow and some fun trim I had leftover from a different project. That way she can still store some items underneath there while having a functional desk!
The glass lamp is another Target find!
To style the shelves we used lots of my daughter's modified model horses, and a ton of faux plants (aloe, succulents, & grass).
For the drawers and cabinet below the desk we added really pretty modern gold pulls.
Final Details
We included one of my favorite IKEA products, the SNIDAD basket for her laundry – these things are built so well and I just keep getting more for our house!
We also included a corner shelf that we found at a garage sale into a tiny corner that it was perfectly sized for. The medium wood tone looked great with what we already had as well, and it was fun to style it with mostly pieces from around the house.
The letterboard was one fun addition, and we were cracking up as we searched for a good quote to start off with.
There's one last surprise that we still need to add… if you saw our original planning post or video, you might remember the one element I talked about that's missing from this reveal!
Take a guess and then click on over here to our Styling Thrifted Decorations video #7 to see how we finished up the cherry on top of this room!
Tips for a Boho Room of your Own:
I might not have given it much thought before, but adding the equine aspect to this boho inspired room ended up working out so well!
If you're wanting to style a boho room of your own, I'd suggest using:
Lots of plants
Baskets
Plenty of layers on the bedding
I think of today's boho as being a mix of the 1970s and modern! Having touches of both those elements meshed in a lovely way. For instance the gold pulls are super sleek and modern, while the pillows feel like 1970's throw backs.
But together – they blend exactly right to create the perfect Boho teen retreat.
Shop This Look:
[show_shopthepost_widget id="4390400″]
Here's a final look at the room & some details!
Bohemian Teen Bedroom Sources:
Room Design:
If you're wanting to re-design a room and need a way to see your inspiration and plans come together, I put together this video on creating your own Design Board/Mood Boards! I hope it's helpful!
Pin This For Later:
Until next time,