One of the things I have loved about being a mother is getting to plan each of my children's birthday parties. Give me a themed party to plan any day of the year and I am a happy camper!
I have planned over forty parties in the last sixteen years and while each of them has its own special place in my heart, there will always be my favorites. My son's Where the Red Fern Grows party is one of them.
Honestly, I think it is because it was during a financially stressful time and I managed to pull it off for a whopping $25.00!
The money went towards some candy and food and the rest was created out of thin air and the utilization of our little farm.
Where the Red Fern Grows is such a unique and classic theme for a little boy and fall is the perfect time to set the stage.
For the invitations, I just used a cute fall themed e-vite and skipped my usual custom hand-made invites.
I encouraged each guest to come in flannels and coonskin hats. And set up a simple table outside with some rustic decorations I had on hand. The paper pendant is just a paper grocery bag cut into triangles.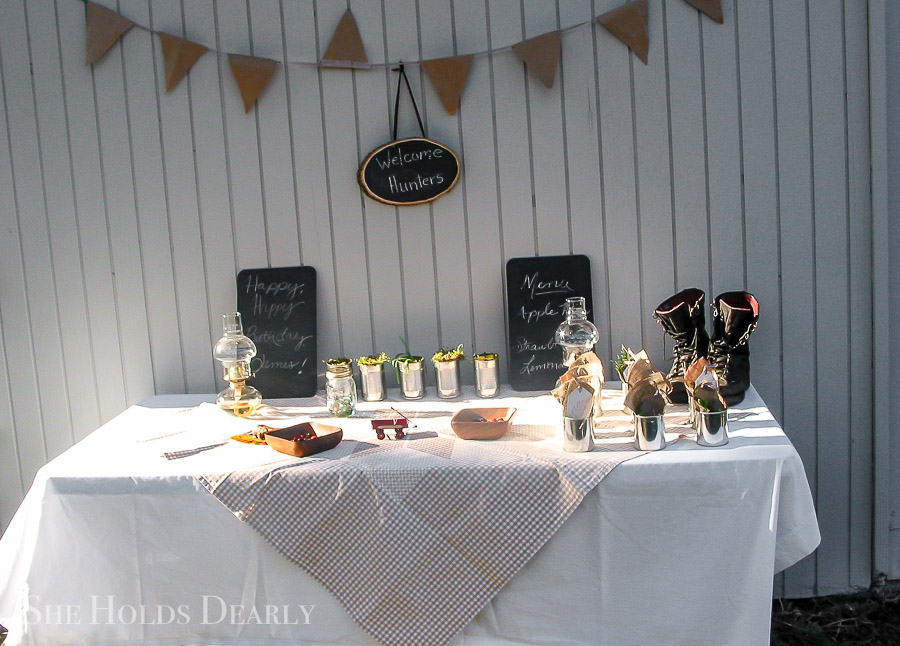 Trying to roughly follow the story line, I set up a sort of scavenger hunt with stations. Once the kiddos arrived, I divided them into pairs and handed them each a hand drawn map, also taken from paper grocery bags.
At station one they had to feed the chickens, i.e. earning money to buy their dog.
Station two was a pile of firewood they had to stack, still "earning money."
Next, they had to successfully count some money in a can and tell the adult the correct total.
This meant they could buy their dog, actually they just got to play catch with my friend's dog.
For the coon hunt, I just made them run all of the yard, down the creek. . . .
Go for a wagon ride
Then, they got to stop and shoot a BB gun at a pop can with the dads
And chop some firewood with a hatchet.
Finally, they ran around the back of the property to find a red fern (I spray painted it!) and some treats in a treasure box underneath.
The only food I served was individual apple pies, for the cake and homemade lemonade. I learned to play Happy Birthday on a harmonica and played it for my boy, as we all sang.
For presents, they all sat around on stumps and ooohed and awwwed over each gift.
We finished with a bon fire, popcorn and the original movie.
We even had our neighbor bring over his pet snake. Whoever wanted their picture taken with it, got to do that. I will spare you the photos of that, though! It still gives me the willies a little. My picture is just me cringing really bad as it hangs over my shoulders.
I had saved tomato sauce cans for a few weeks, cut up a burlap bag and stamped little red ferns on tags. Each child received their own little can with chocolate gold coins to remember their day by. So sweet!
So, for only $25 we still got to have a special day for my little guy.
Use what you have, put your money into a little bit of special food and choose a theme from a favorite book and you will never be without options for celebrating a birthday!
Watch this video to see how easy it was!
You can subscribe to my YouTube Channel here.
GET YOUR COPY OF 10 STEPS TO A PEACEFUL CHRISTMAS
Click on the image below. . .
Pin This Where the Red Fern Grows Party for Later:
Related Posts: