Each year, it is always a challenge to reinvent my space for the holidays. A challenge I quite enjoy.
And while there will always be some classics incorporated for family tradition, picking up a few new pieces of decor is something that I prioritize in the Christmas budget every year.
Even if you are only able to hit the thrift store (hello, Christmas tree) or accept hand-me-downs from a friend (hello, ice skates) keep your eyes open, my friend.
The checked pillows are "new" this year, made with some fabric I found in a free box at a yard sale. And the Christmas tree pillow is made from a dish towel.
Another place you may not have thought about checking for holiday decor is your local feed store. That's right, Tractor Supply Company now carries two home decor lines in their stores and online! One is by Trisha Yearwood and the other is called Red Shed. Scroll to the end for a $50 giveaway from Tractor Supply!
My favorite thing about these two lines is the quality! Everything feels really well made and like it will last for many seasons. This year I found some beautiful pieces for our front porch.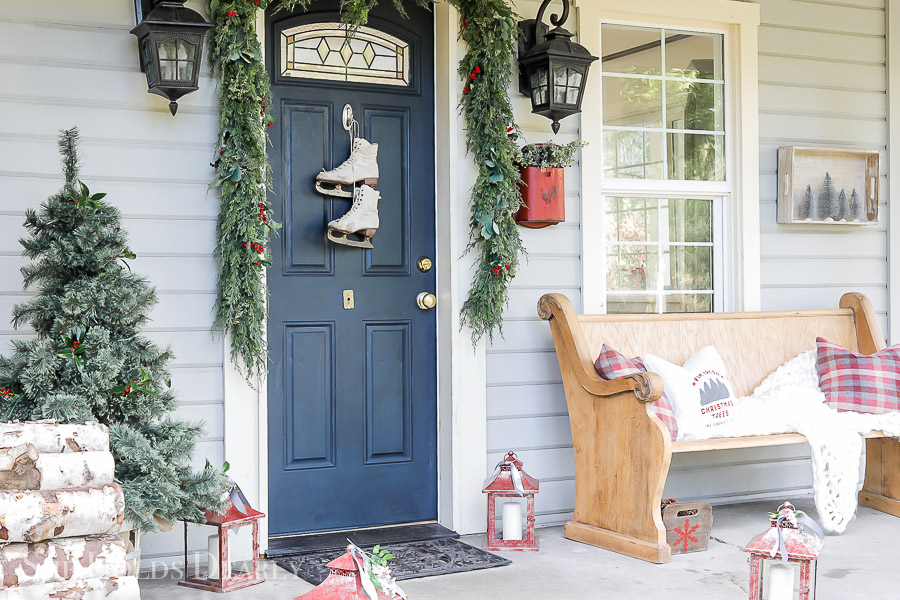 Starting with the lanterns creating a pathway to the front door, I added some cream pillar candles, two colors of gray ribbon and a sprig of greenery to the middle lanterns.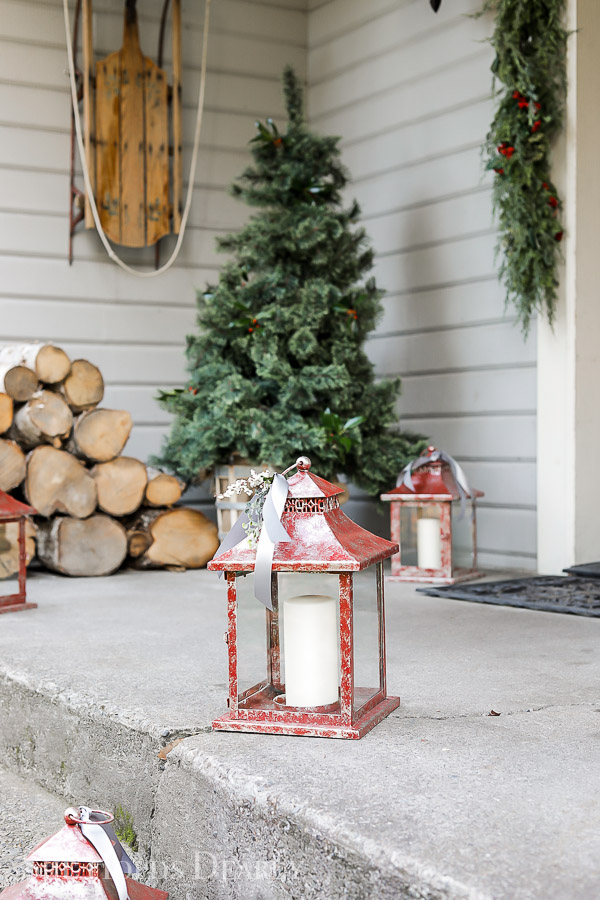 I always like to think outside of the box with wall decor and this year, my favorite Craiglist sled got to be the focal point on the main wall.
My Goodwill tree got an upgrade by having its stand removed and being displayed in this wood and galvanized basket.
If you decide to use a container for a tree stand, stuff the container with towels and if the container is see-through, use fabric to wrap the towels, I'm using burlap here.
To hang garland around the door I used command strip hooks and even the large silver hook for the ice skates is just a command strip one that will come right off after Christmas! Note- check the weight limit when purchasing command strip hooks.
I replaced my regular mailbox next to the door with a cute red one from Tractor Supply and filled it with greenery. It would be really cute with candy canes, too, but I thought my dog would have too much fun with that. (!)
( Update : This mailbox is no longer available at Tractor supply, but here is a similar one from Amazon!)
After adding the homemade pillows and arm knit blanket to my church pew, I felt like I needed a little something under it, the wood caddy with a pile of pinecones gave the little texture and detail I was looking for.
Finally, I needed something to hang on the wall to the right of the window. I adore the side of the Frosty tray and will use it flat another year, but I frequently use trays as wall decor by adding a saw tooth picture hanger.
The little silver bottle brush trees were a quick addition to finish off my "Christmas shadow box".
A special thank you to Tractor Supply for sponsoring this post!
GET YOUR COPY OF 10 STEPS TO A PEACEFUL CHRISTMAS
Pin for Later
Related Posts
10 Ways to Reinvent Your Christmas Decor