Christmas decorating never gets old for me!
It's truly a decorator's paradise, if you ask me. And every year, I love the challenge of redecorating the house just a little bit differently then I did last year. I thought it would be fun to "invite you over" to the farmhouse living room and show you around.
I always love it when decorators actually explain why they are doing what they are doing when they decorate, as well. So, I will be letting you into my thought processes as we go along.
I have always believed that the view from the front door is the most important one in the house. Why is that? Well, because it gets the most views, even the Fed Ex may know what your entry way looks like. So, I like to start with our living room for this reason.
My husband loves a real Christmas tree, but with blogging deadlines in November, it is real challenge to get a real tree so early. And I don't even want to think about what the tree will look like by Christmas Day!
I picked up an inexpensive tree from Walmart and since it was a little small feeling, I added in the little baby one from Goodwill for a forest feel.
The tall tree has a round tablecloth with a slit in it for a tree skirt. It was laying a little flat, so I bunched a white sheet on the floor under it. Trees in creative containers is all the rage these days, so I took the stand off the little tree and crammed it in my rolling basket with some towels and burlap.
I skipped the ornaments this year and just hung several garland on the trees. There are glittery pinecones, pom poms, frosty sage green leaves and a homemade music pendant all strung on the trees. I don't always circle the whole tree. If I am short on garland I will just zig zag it across the front of the tree.
Off to the right of the trees are some green vintage books and my nativity scene that I painted white last year.
The couch and window seat are piled high with white and cream pillows and blankets. All the textures give a snowy feel to the room.
The piano is always a fun focal point and I continued my snowy vibe, by adding a sheepskin run to the bench. My favorite sheep art and macaroni tree from my childhood pull the viewers eyes across the entire room when they first enter.
Along the very top, I added a collection of thrifted gold frames with a couple of music sheets to match the music garland on the tall tree.
To finish it off the texture and details, I added a little flocked tree in a champagne bucket, two mason jar snowglobes, a candle and a vintage style pail.
One of the best ways to bring in some instant vintage charm is the add one or two vintage style toys to the mix. This dollhouse on the coffee table was built by my then eight year old son and entered in the state fair.
Yes, I will keep forever, if you are wondering.
And last, but not least, over on the Lego dresser, I set up a quick cocoa bar and added some sage greenery in the chandelier above.
That about does it for our Christmas Farmhouse Living Room Tour, I hope you got some inspiration and can stop by again!
Watch this video to see how easy it is!
You can subscribe to my YouTube Channel here.
GET YOUR COPY OF 10 STEPS TO A PEACEFUL CHRISTMAS
Pin This Christmas Farmhouse Living Room Tour for Later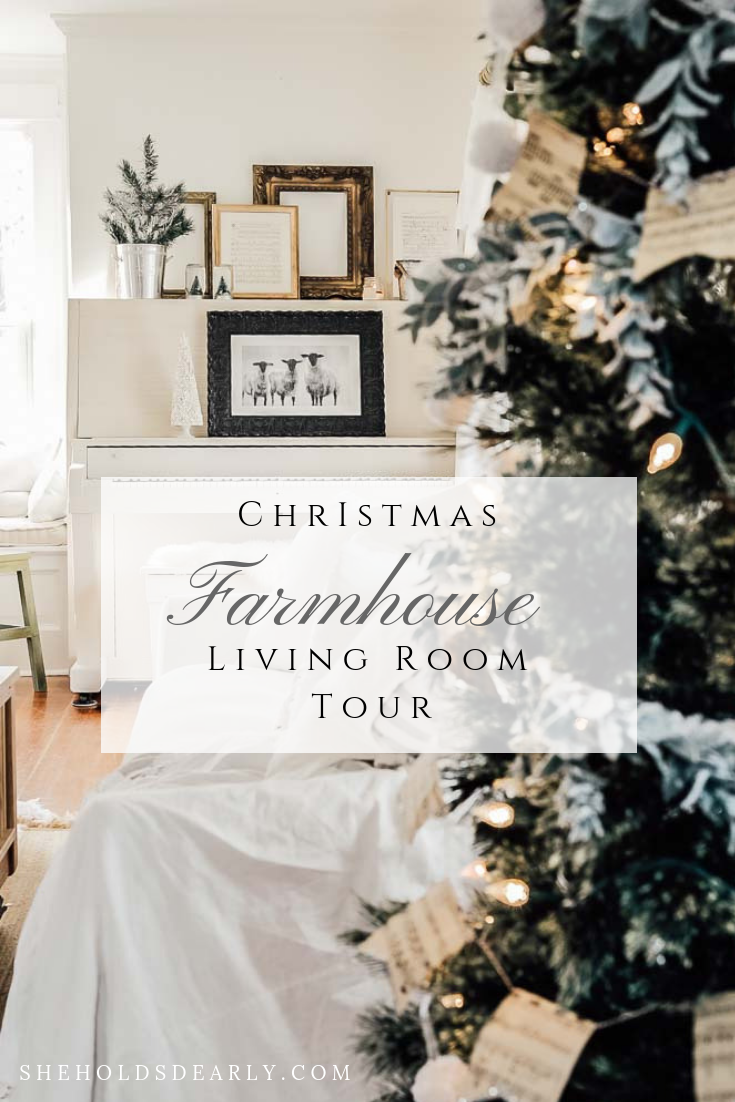 Related Posts