If you're looking for some bathroom remodel inspiration, let this Master Bathroom Reveal be the beginning!
After squeezing all five of us into a 3/4 bath . . . . all the way downstairs . . .. for a whole year, I am pleased to announce that the upstairs bathroom is officially finished.
We are now calling this bathroom the "master bathroom" in hopes of inspiring the offspring to continue using the downstairs bathroom.
Our plan has only been mildly successful.
In case you missed the previous post with the before pictures, let me enlighten you.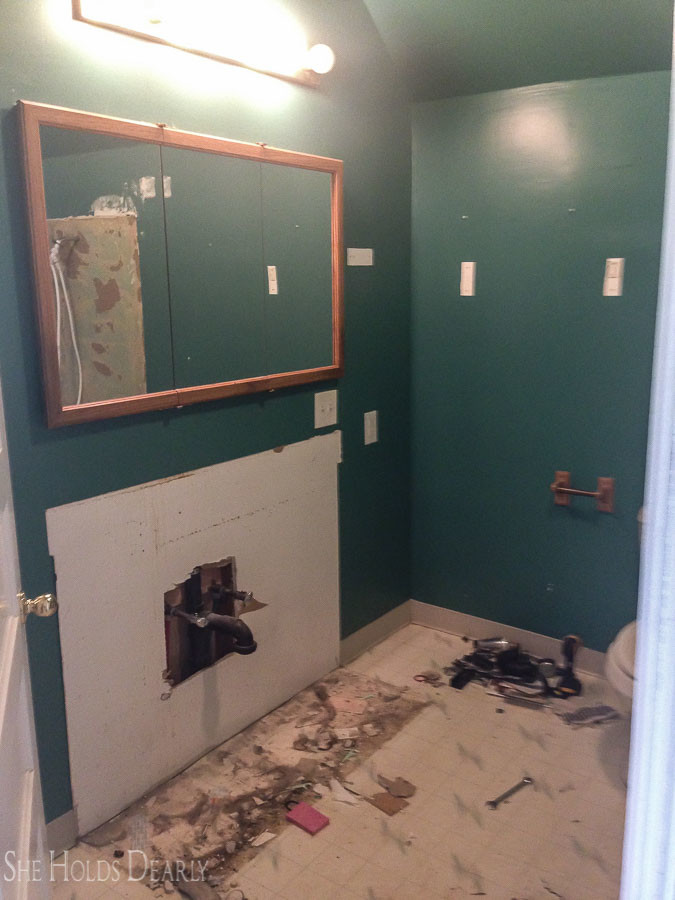 The transformation has been dramatic, to say the least.
Basically, it went from gas station restroom to turn of the century luxurious Italian hotel lavatory.
This post may contain some affiliate links for your convenience. Click here to read my full disclosure policy.
The Master Bathroom Reveal
And without further ado,
I give you the finished Master Bathroom.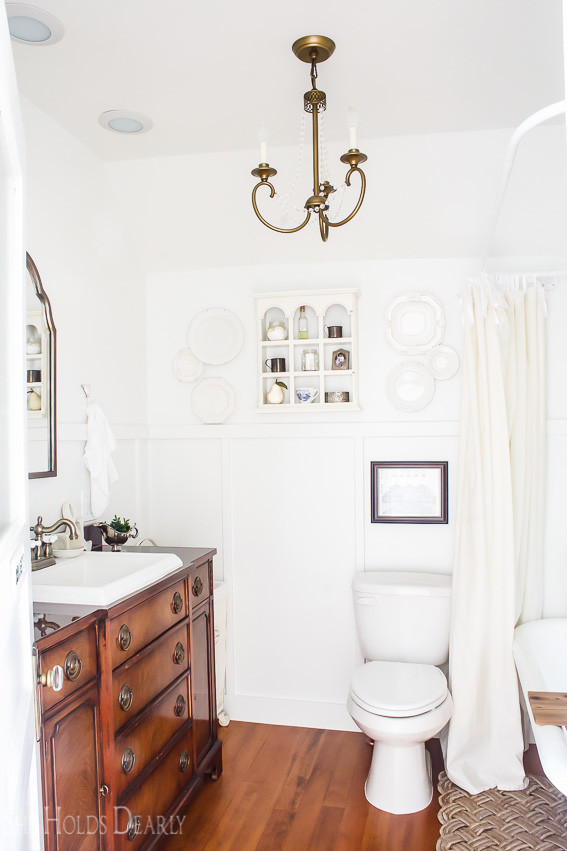 The Door
We kept the original door, for obvious reasons, while changing out the door knob and adding that charming cast iron "toilette" sign. I receive frequent inquiries concerning the functionality of the frosted window on our bathroom door and let me assure you, it provides plenty of privacy. I highly recommend frosted windows in vintage doors.
One of my favorite aspects of the bathroom door is the transom above it, this must have been how the original family ventilated the room in the early 1900's.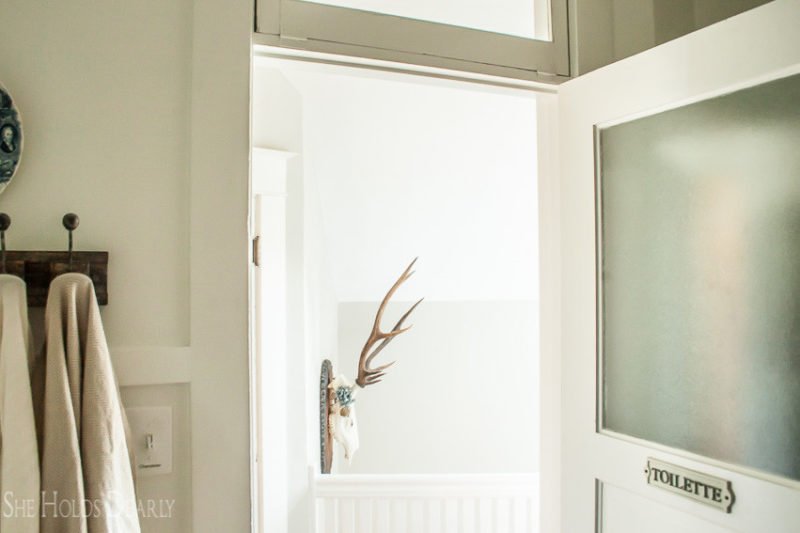 The Tub
We were fortunate enough to be gifted a vintage claw foot tub by dear friends. After patching and refinishing this beauty with an epoxy acrylic product, she is as good as new. I cannot tell you how lovely a cast iron claw foot tub has been, it is definitely one of the highlights of this house.
The Shower Curtain and Rod
Finding an oval curtain rod in our price range proved to be a challenge. The tub had to be right up next to the wall, so the curtain and rod were crammed, as well. In the end my husband bent and soldered together copper pipes to make a custom curtain rod that hung from the ceiling. You can purchase a similar one here.
I also had to make a custom shower curtain. I needed something very thin, but water proof. Half of the tub could only have a liner because of how the tub sits right up against the wall. But, the side next to the toilet needed something a little more layered and aesthetically pleasing. I ended up buying three shower curtain liners at the Dollar Tree and cutting/ sewing them the way I wanted them. The "shower curtain" outside the tub is an old duvet from a rummage sale.
All this was hung with satin ribbon instead of curtain rings. I tried several rings, but they just didn't have that c. 1900s look I was going for.
The Hardware
I had $1000 bohemian beauty of a shower head picked out and scoured Ebay for a knock off version. I found one for under $200 and was ecstatic.
However, when it arrived we were a little alarmed- no instructions, missing parts, all labels written in Chinese and the box looked like it had been run over by a truck.
Sigh.
Such is the life of a frugal decorator.
My tenacious husband made several trips to Home Depot, got it all up and running and I am happy to report we have had no leaks to date.
It doesn't look like the shower head is still available, but here is a similar one, if you are brave enough to try this.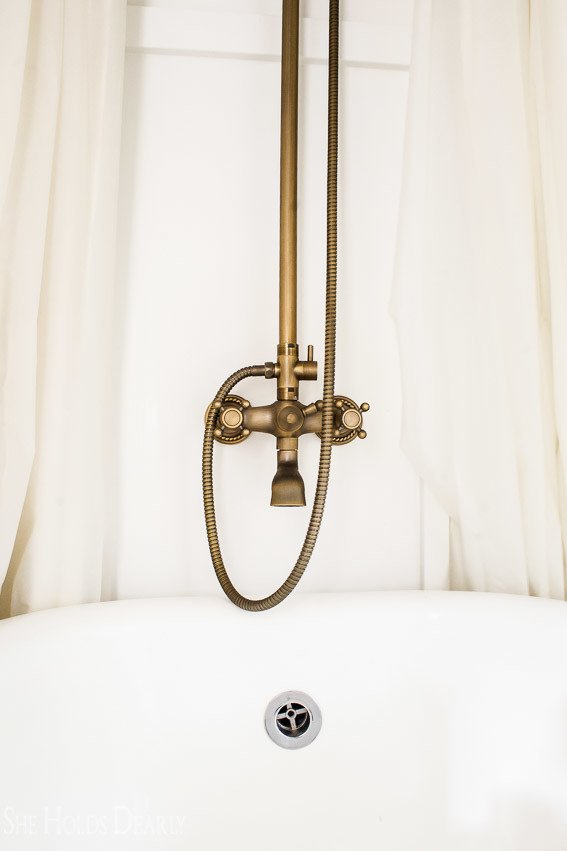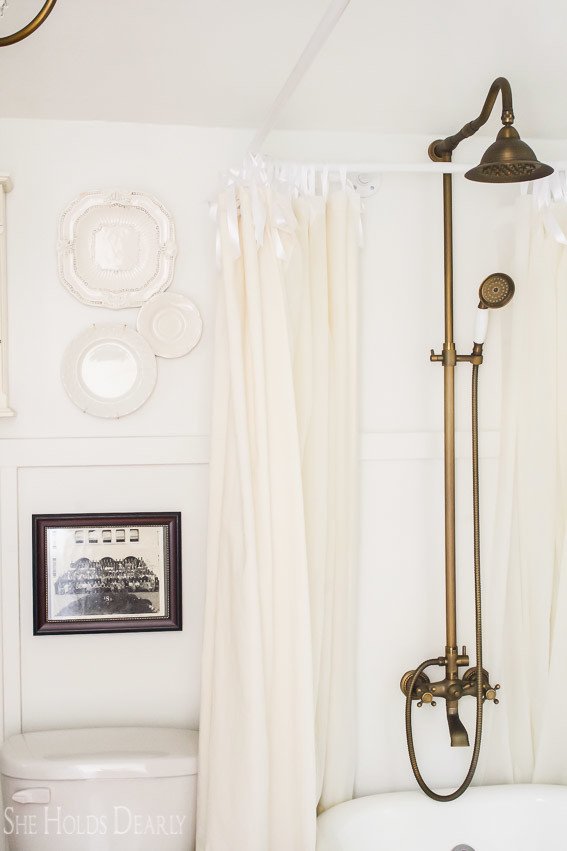 I also found the sink faucet on Ebay.
The arrival and installation were both less dramatic than the shower head.
.
The chandelier is from Home Depot.
The Estelle line by Hampton Bay has a six light chandelier and matching wall sconces, as well, if you are interested.
The Vanity
I adore vanities made from antique furniture almost as much as I adore freestanding tubs. I think I looked at over 3,000 dressers and buffets on Craigslist before finding this one. I wish that was an exaggeration.
Eventually, I found a vintage buffet that was the right dimensions, in the right location, at the right price, etc.
We had to make a matching backsplash and seal the top to make it water proof. Most of the drawers had to be cut short and rebuilt to make room for the plumbing underneath.
Storage
To make up for the storage space we lost when we tore out the make shift cupboard in the demo, I brought in a beautiful, antique curio that my grandmother left me. I have had it since the first grade. The back is mirrored and I have always thought the light inside to be so beautiful. We gave it a couple coats of white paint and it sits in the corner behind the door, it seems happy to have a second chance at life.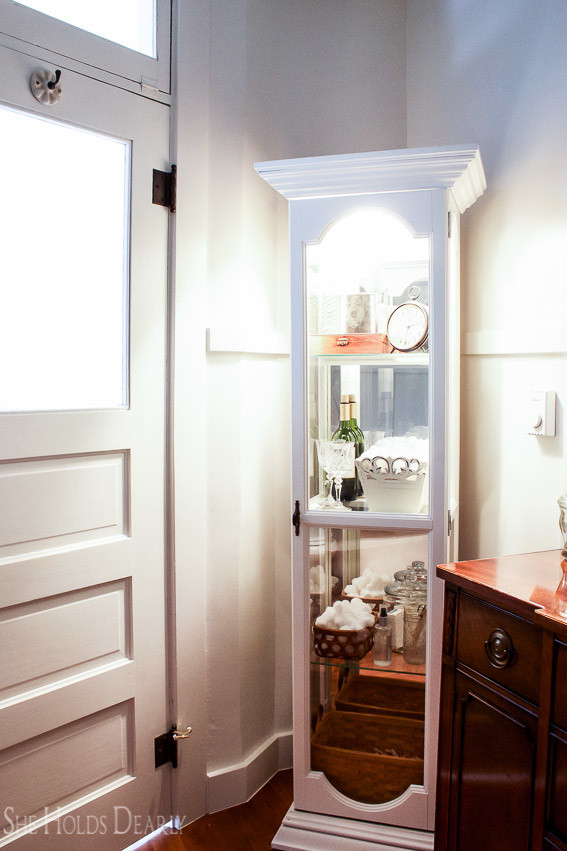 There is no place to keep soap or conditioner in this shower, so the basket hanging on the hooks holds those things.
We made the simple butler tray and coated it with Miss Mustard Seed hemp oil for storage during bath time.
The hamper and wooden towel hooks are both from World Market.
Details, Details
All art, dishes and storage containers are from yard sales.
The mirror proved to be even more difficult to procure than the vanity. The first one my husband and I had a miscommunication on and it was hung incorrectly one evening. At 2AM that night, it came crashing down and scared the living daylights out of everyone! The second one was a Craigslist buy that I doubted at the time of purchase and should have walked away from. I resold it on Craigslist. The third one was discontinued, so I made it my life mission to contact every company I could find online that used to sell it. Surely, someone had one in their back room. Nope. Sixteen mirror orders later, I chose this one. And I still ended up painting it to the match the sink faucet. Good times.
The woven bathmat is actually a door mat from JoAnns, it is discontinued, but any soft woven doormat would do. It is by far the best bath mat we have ever had! No more dirty white bathmats.
The turkish towels are from Etsy. (These exact towels may be sold, but the seller has many similar ones to the towels I purchased.) They are really beautiful, but were very expensive and the jury is still out as to whether they absorb water very well. I've heard they get better after several washings.
The darling "toilette" door sign was a birthday gift from a friend and can be found on Amazon for only a few dollars. It is cast iron and the most excellent quality.
The door knob and plates are off Ebay. The glass knob was listed as very rare and unique. Sounded good to me, so I bought it. Then, I went next door to my neighbor's house and she had the exact same knob on her pantry door! So, what does that mean? Are we both suckers or are we both just awesome?
Shop this look:
[show_shopthepost_widget id="2945340″]
Source List:
Amazon
(to refinish tub)
(to waterproof the vanity)
Ebay
Shower Head (similar one)
Home Depot
Overstock
World Market
Etsy
Paint Color
I have had several inquiries on Instagram about our paint color.
It isn't a "real" color, we just had Rodda paint take their white base paint and add a couple shots of black, hope that helps.
Save this Master Bathroom Reveal for Later:
SaveSave
SaveSave
SaveSaveSaveSave