Our latest renovation is one that really should have been done years ago. I have gone through over 15,000 photos of ours and I cannot, for the life of me, find a true "before" picture. The new blogger in me, will never let that kind of thing happen again! Apparently, we were so disturbed by this room, we just wanted to forget it ever happened.
Let me just paint a picture for you. There was an original vintage door with a window in it and transom above it, but the charm stopped there. Once you entered this bathroom there was a makeshift, awkward cabinet wedged between the crusty old tub and the wall.
The shower surround was cracking and falling off the wall. Did I mention the mildew? The cheap, ugly faucet handles kept falling off, so there was a pair of pliers conveniently located for the user to turn the water on with.
The toilet was new, thank goodness.
The vanity was something that looked like it was found free on the side of the road, and I'm not talking about the good stuff! The sink faucet didn't fit, so it was installed backwards, hot was cold and cold was hot. The lighting and mirror were all of equal quality- crap.
Now, the floor was the best/ worst. It would seem that the peeling, bubbling linoleum was irritating a former home owner, so he very logically hammered it down with huge nails. But, the house is over a hundred years old, mind you. The nails had since rusted out and disintegrated, leaving large holes in the floor. Which, in turn let tons of water get to the sub floor and rot out it out. The floor was sinking in places and I had these visions of the tub crashing through to the downstairs one day, like in Cat in the Hat or something. All this was topped off with a thin, rubber "base board" around the entire room.
Oh yes, its true.
Before we moved in, I tried to clean it. I did. I spent three hours in there, with bleach! I didn't even make a dent. Since living with that kind of a bathroom, I am convinced that bathrooms should be kept absolutely spotless. It's a bathroom, for crying out loud! It's were people go to get clean.
Well, we made it. Four years of just enduring, plus one year where all five of us used it because the downstairs bath was under construction.
2015 was our year.
I know by now that remodeling is not for the faint of heart. It gets much worse, before it gets better.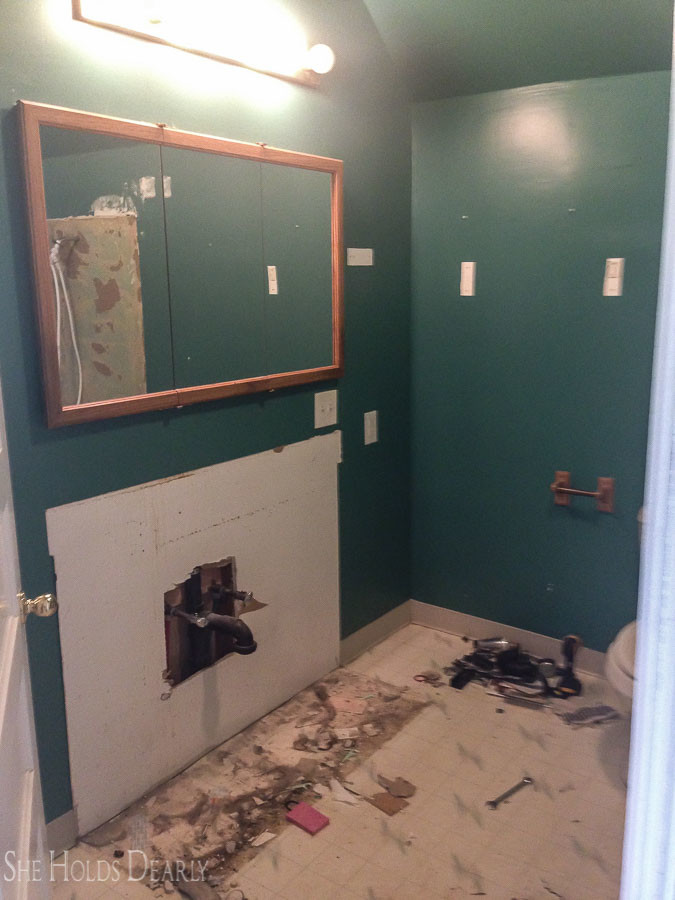 We ripped out the lath and plaster, the wretched vanity, the crusty old tub and surround and the makeshift cupboard. It was a great day!
We started by rebuilding the ventilation system and installing a fan with some turbo power. Streams of water running down the walls whenever you took a shower was getting really old. My husband/ miracle worker moved light switches and outlets, installed two recessed lights and a spot for a chandelier. A chandelier on a dimmer switch, at that! Ooohlala.
I kept busy scouring Craigslist for a mirror and vintage buffet to turn into our vanity.
We already had the sink from another Craigslist purchase that we decided not to use in the downstairs bathroom.
Once we had the sheet rock, board and batten, new paint and installed new subfloor and fir to match the original wood floors throughout the house, we were able to move on to the fun stuff.
So, while this is definitely the ugly stage and I really don't even want to post the pictures, I am very encouraged to be moving forward!
Related Posts
SaveSave