One of my favorite things to change in my home is the seasonal decor.
I think it's such a fun way to try new things, whether that's new pieces you find while thrifting, or new colors you don't use in your everyday designs.
I tend to not do a ton of color in my home, just the standard- whites, woods, blues and greens, with a pop of black.
However, this doesn't mean that I don't love color. I actually do, but I've found that by keeping our background home decor more neutral, I can change out the decor seasonally with lots of freedom to try new colors and patterns.
Changing out the decor in our home is one of the great joys in my life and it offers the perfect opportunity for giving those colors and patterns a place in our home for a few months out of the year.
And, BONUS, this is a super economical way to update your home without breaking the bank or feeling overcommitted to a space because it was such a big deal to create.
When you find fun pieces to incorporate temporarily for different seasons and occasions, there's no regret when it comes time to pack it away carefully for the next time it's needed. Unlike bigger more permanent projects that you might look back on and decide you wish you had done them differently.
This Year's Summer Dining Room
So, that being said, let's get started! I wanted to take you along with me for a look at this year's Farmhouse Summer Dining Room.
I have been keeping bees for about seven years now and classic bee themed decor has a soft spot in my heart.
I cleared off my gallery wall and leaned a old louvred bi-fold door against the wall. It looks like an oversized shutter to me.
These doors are one of my decor staples around our house! They get moved all over the place when I'm making new designs they might fit along with!
Then, I started layering with a simple bee picture that I stenciled at a craft party. Along the top I draped two garlands I found at Joanns. The little bee skeps were the deal breaker for me!
The cashier at Joanns mentioned that someone else ahead of me in line had purchased the same ones for a child's Winnie the Pooh themed birthday party – can you even imagine how adorable that probably was?
While out thrifting, I had a found a single curtain panel in the brand Fieldcrest from Target. The soft buttery checked pattern is perfect over this window.
I painted the curtain rod a creamy white so it wouldn't detract from the original molding surrounding the window.
On the other side of the window, I hung a simple vintage sign that I made from a piece of wrapping paper. You see the tutorial for that here.
For the table, I laid down a couple of IKEA dish towels to form a makeshift runner and added some faux sunflowers to a metal container.
I do love using fresh flowers – but I find there is a time and a place for them! Real sunflowers from the store are expensive, and they don't bloom around here until later in the summer.
In cases like these, where I want the flowers to really last a while – faux is the way to go! Plus, these will be stored after summer, and I can potentially use them again next year or for other parties!
My neighbor loans me her bee skep drink dispenser whenever I want and I have had the darling bee glasses for many years from a birthday gift my sister gave me.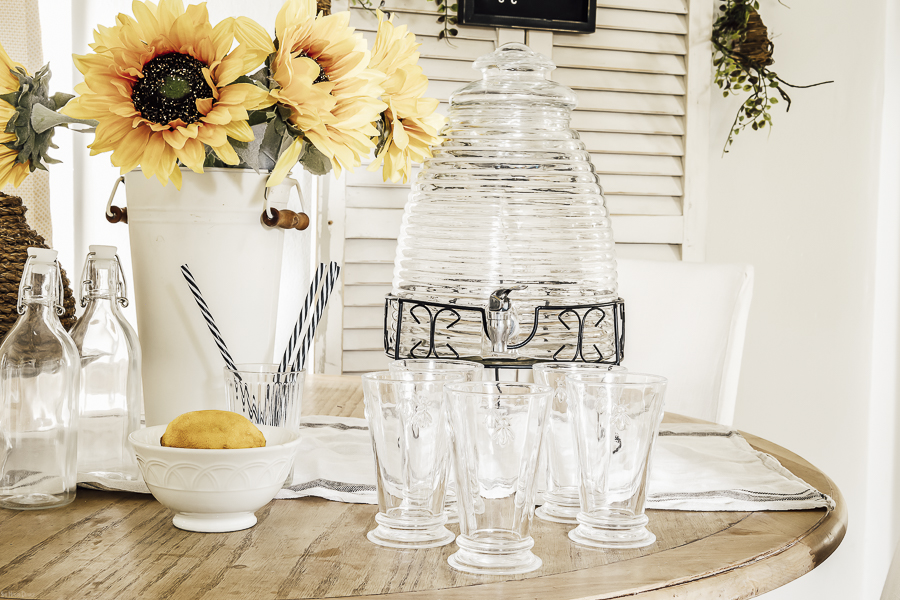 The little honey jars in the window were from a dear friend and the bee skep is one that I made using rope and my Kitchen Aid mixing bowl. Here's a tutorial for the Easy DIY Bee Skep if you'd like to make one!
Some black and white striped straws and lemons in a bowl add the finishing touches to my Farmhouse Summer Dining Room.
I hope you were inspired to use some yellow in your summer decorating! And maybe even a couple of little bee themed items, as well.
Let me know in the comments below which part was your favorite! Or if you have a favorite summer theme, I'd love to hear about that, too!
Here is another summer dining room look I used previously : Blue and White Summer Tablescape.
Or if you're still clinging to spring, here's the same room with subtle Spring decor!
Shop This Look
*This post contains affiliate links to products I know &/or love.
[show_shopthepost_widget id="3804157″]
Source List
Pin For Later