I think decorating kids' rooms is so much fun! Do you know why? Because anything goes!
I really do love the topic of Kids' bedrooms, and would be happy to share some more specifics on the different categories under the umbrellla of Kids' Rooms, such as:
Nurseries
Teen Rooms
Boys Rooms
Girls' Rooms
School Rooms
Playrooms
Please let me know in the comments below if those would be topics you'd be excited to hear more about, and which one I should start with!
For today's post, I'm going to share an overview and my general tips for decorating a Kids room.
I'm hopeful this will be enough to get you started in the right direction for designing a space for a friend, child or grandchild!
As I mentioned at the beginning of this post: Anything goes in a child's room!
It doesn't matter if your entire house flows and has a specific theme or color scheme, in kids zone you can do whatever brings you both joy.
This is the time to break out new colors, patterns, and themes that you might not think to use in a main area within your home, like this colorful room by Brooke from Nesting With Grace.
Having so much freedom to design completely based on the passions and desires of the child creates a space that is truly their own when you're finished. A world all for them, between their four walls.
This beautiful armoire turned Narnia themed reading nook by Bless'er House is a perfect example.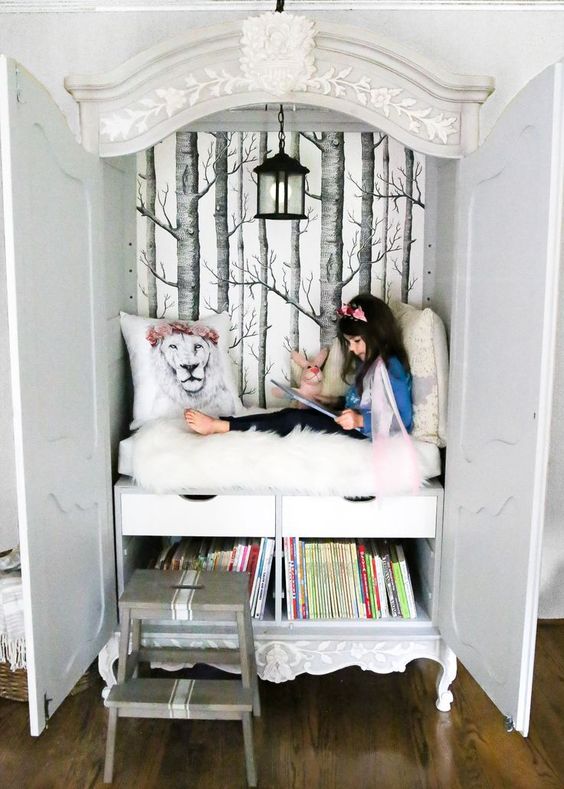 Special Elements in Kids Room Decorating:
Because a kids room and space gives you such freedom for bolder choices, this is really the best place to add that whimsical large scale wall paper, that painted mural accent wall, the patterned furniture, neat built in hide-aways or ethereal canopies.
These are the types of things that make these design projects unique and so enjoyable to work on!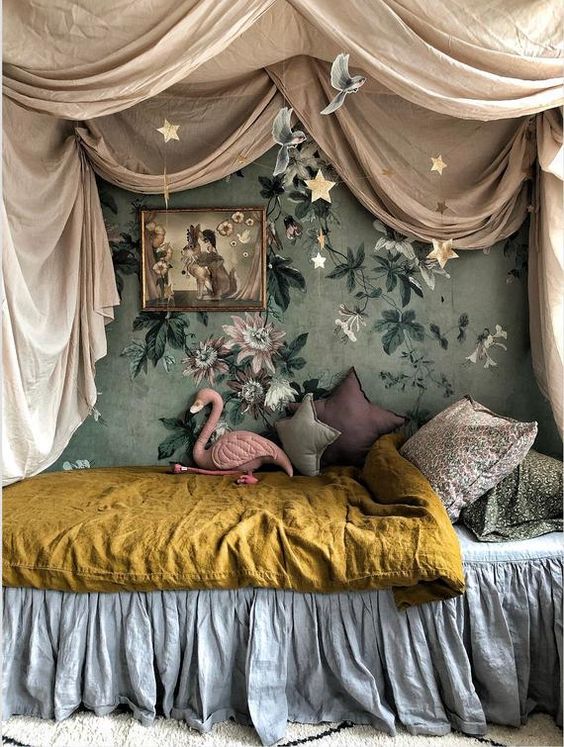 This photo credit of LinenFromB on Etsy.
*This post contains affiliate links to products I know &/or love.
My Three Tips for Getting Started on Decorating Kids Rooms:
Tip Number One | Lighting
I already think of lighting as one of those details that brings huge impact when finishing a room, but I think that's especially true in a child's room because you can bring in even more whimsy and fun.
Take this pendant light for example from IKEA (Do you remember seeing this back in my Decorating Finds from Ikea post?).
It has SO much character and brings such an element of joy and youthfulness to the space.
A chandelier or pendant work light also follows my big lighting tip for kid's spaces: A light switch itself is plenty of power! Don't add extra responsibility in the form of lamps (table or floor) when designing spaces for younger children!
Use chandeliers, pendants and/or wall sconces to meet your light needs! And hardwire them in whenever possible to avoid having extra cords accessible in your child's room.
Tip Number Two | Toys
Ah, toys. I know I can't be the only one with a love/hate relationship of them! Early on in my mothering I decided I wanted to do my best to gate keep the types of toys that came into our house. I wanted my children to have fun and to learn through playing, but I did not want those toys becoming an eyesore.
Due to that, I stuck with mainly vintage styles made from materials like: wood, cloth and metal.
Most moms can attest that it's never a perfect science, and sometimes colorful plastic makes its way in through the doors of your home. Then comes my second piece of advice! Use toys that double as decor where possible, and get agreeable containers for anything that you don't want readily seen.
Marynn from Wildflower Home Blog has done such a lovely job styling fun toys as decor items in her daughter's room.
And for those other less pretty toys, I've mentioned it often before, but we have an entire Lego dresser in our living room to disguise our brightly colored plastic blocks. 😉
Other great toy taming containers are baskets, crates, wooden toy chests, shelves, etc! I have an entire board on Pinterest dedicated to Vintage Organization! Check it out for more ideas.
Tip Number Three | Beds
My last tip for decorating kids rooms is to get a great statement bed (or matching set of beds for a shared room).
Some of my favorite types of beds are:
Wrought Iron – they look great for either gender and along with a great variety of styles and themes!
This cute boy's room by Heidi from Home of Rus & Co is a great example!
The next type of bed I love for children's rooms are the Jenny Lind style beds!
They're easily recognizable by the knobby frames that are used on both the beds and cribs in that style.
My mother in law has told me how popular they were almost 50 years ago when my husband was born, and they're still so cute now!
Look at this one in this travel inspired room. So cute!
Another type of fun bed to keep an eye out for when designing kids rooms are truly vintage beds. Often these are one of a kind and home made and there can be some really beautiful craftsmanship involved.
Speaking of craftsmanship, look at this beautiful growing bed! What a smart idea and beautifully completed!
And the last type of bed that I think finishes off a child's bedroom well is the custom/built in bed!
This beautiful bunk bed has gold accents and a set of true dark wood stairs leading to the top bunk. So nicely done!
This option is much more simple, but still beautiful!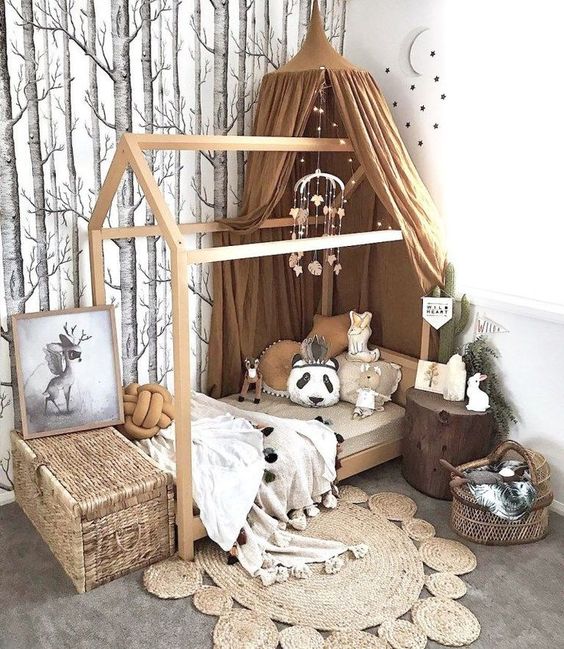 And then there's this adorable house bed that my friend over at Faux Farmhouse made for her daughter.
And my last children's bedding related tips: Go all out with the bed coverings! This is one of those places where you can have some fun! One of my personal favorite Amazon finds are these pom pom pillows. They'd look cute in so many different types of kids rooms.
I also found this really wonderful website, Bed Threads that lets you customize your sheet sets! You can mix and match colors, and you can also buy just fitted sheets or flat sheets separately. I love that idea since when my children were younger we skipped the flat sheets completely until it was a little easier for them to use them and make the bed with them.
I hope these tips get you started off in the right direction! Let me know which topics relating to kid's bedrooms you might want me to cover first!
If you are wanting more one on one help with your space, I am now offering Zoom consultations called Power Hours! Click here to learn more about them!
Pin these Tips for Later:
Until next time,