Do you have a student in your life looking for tips on decorating their dorm room? Read on for my best tips!
The season for students beginning college and returning to college is upon us, and I had more than one request for dorm room decorating advice in the comments of my last post where I started a mini-series on decorating vintage inspired kid's rooms!
It seems there are a number of you with grown-up/college kids' rooms that also need decorating, and I'm excited to jump right in to share how to add the vintage flair we love to your basic dorm room.
*This post contains affiliate links to products I know &/or love.
Before We Jump In:
One of my current favorite ways to gain inspiration for smaller spaces right now is to look at RV makeovers! There are some really creative and beautiful renovations out there that are full of great ideas for tight spaces like dorm rooms and other small living quarters. My Friend Cami from the blog, Tidbits put together this great round-up of RV makeovers if you'd like some inspiration!
I also have some tips specifically for Small Space Decorating Solutions in a blog post I wrote last year.
Today I'm excited to share my three biggest tips for dorm room decorating, but before I do that, I think we need to celebrate that this really is the best time in history to be decorating dorm rooms!
I don't think any of the previous generations had near the options we have now to make these smaller spaces homey and comfortable.
Some design companies are really capitalizing on this market and have entire design lines dedicated to dorm decorating! These are a few of the companies I found when I was doing preparing for this post:
If you know someone heading off to college this season, you'll certainly want to check out these sites to see what is available!
And now, My Dorm Decorating Tips!
The single most important tip to getting your dorm room looking professionally designed is to: pick a color palette and stick to it!
Being consistent with the colors throughout your room, even down to household items where possible, will really help make your space look intentional and cohesive!
This is an example that is done really well! The mix of cream, white and black makes for a serene, clean and beautiful welcoming space!
If you take away just one tip from this post, remember:
Decide on a color palette and commit to it fully!
The Three Main Logistics of Dorm Decor:
Furniture
Walls
Storage Solutions
We'll look at each one more in depth now!
Dorm Furniture:
| Dorm Furniture – Beds |
The biggest and most obvious piece of furniture to tackle first in any dorm room is the bed!
This great graphic from U-Loft shows their specific dorm beds and configurations, but is also a great general overview of some of the different ways to layout the biggest pieces of dorm furniture to best suit your student's needs.
What I notice with each of the different configurations is that the bed is used for dual purposes in each option.
Whether that means there is storage underneath like in the image labeled "twin", or a "full open loft" with desk space or other usable space underneath – making the most of your space and using furniture items for dual purposes is a great dorm tip!
A couple of clever dual purpose design decisions that I saw were the long dust ruffle that both added charm and hid storage below the bed, and using a storage ottoman that doubled as a step stool to get up into the taller bed, both of which are pictured here:
I think the loft bed option also gives you a lot of flexibility in how you might use the space underneath.
Savvy College girl decided to hang a hammock under her loft, and I think that's so fun & cozy! And you just know I love the boho vibe!
Another loft bed benefit is that you can create a living space underneath the bed!
In this example they created both an area to sit and do homework – using that cool trunk as desk space, as well as a mini kitchen space with a tiny fridge and microwave.
If you choose to go with a single bed against the wall instead of the loft bed options, there are these really inventive headboards that can be attached to your dorm room wall with velcro!
Pottery Barn has faux leather , carved wood and white options that would look lovely in a number of different spaces!
| Dorm Furniture – Appliances |
In addition to the mini appliances I mentioned above when showing the loft bed with living space below, I have to again restate that there's never been a better time to be outfitting a dorm room! There are so many options now that we did not have in former years.
There are even vintage-look options like this Galanz fridge from Home Depot:
There are also mini-fridge options from Smeg & Magic Chef, and this Nostaliga Retro Microwave!
How cute are they?!
| Dorm Furniture – Textiles |
Earlier I hit on dorm beds, but I'd be remiss to not also mention the textiles you'll need to outfit those beds!
One of my current favorite places to get sheets is a website called Bed Threads. Not only do their sheets feel lovely (which is a MUST for a self-proclaimed fabric snob), but they're also customizable, meaning you can mix and match your fitted sheet, flat sheet and pillow case colors to be the best fit for your space!
I also LOVE Target's jersey sheet sets. They are incredibly cozy and comfortable.
| Dorm Furniture – Desks & Chairs |
I know some dorm rooms come with their own standard desks, but if yours doesn't, or if you have the option to swap it out, adding something with some great charm like a vintage or vintage look secretaries desk is a wonderful option!
If you don't have the option to switch desks, a fun way to add some character is to pull in a really cool desk chair.
Your options are truly endless, and will of course depend on your style and the overall feel for the room, but a personal favorite I came across is a cool Mid Century Modern Swivel desk chair that would help add a finishing touch to a number of spaces.
Dorm Room Decorating | Wall Decor
After you've got your furniture in order, it's time to focus on the walls!
One of the tricks with dorm rooms is that often you'll have rules about what you can and can't hang on the walls, or at least the methods you can or can't use to hang those things.
For the sake of this post, we'll assume you cannot hang anything on the walls that would require screws or nails. (Which makes these tips all great for renters and other temporary spaces as well, too!)
| Wall Decor – Leaning Items |
I think sometimes we forget the power of leaning an item against a wall. If you aren't able to hang a mirror, you can set a full length mirror on the floor and lean it against a wall or get a smaller one and set it on top of a desk or dresser or table to get it to a good height.
There are also leaning shelves that can be used for the dual purpose of storage and decor. These metal baskets are attached on a faux ladder shelf that is simply leaning against the wall.
They're chalk full of functional space, but also give room for some creative pieces and pops of color.
For larger wall surfaces you can use removable wall paper & contact paper, similar to how we did the faux white brick in my daughter's boho teen bedroom.
Speaking of boho – this dorm room by ooliviajane is FULL of character and coziness due to to the string lights, macrame, plant and wall hanging poster.
I have a tutorial for making a similar wall hanging out of cavallini posters that gives you the freedom to make a similar look but with a poster of your choice!
Something else I noticed in this cute room is that she's using my beloved command hooks for damage free hanging on her dorm walls!
Another product I've found that works well for hanging without nails is Nano Tape. It's like a super strong double sided tape!
I first learned about it a few years ago while working on our Kids Camp decorations for church. It's advertised as being able to hold up bricks – but I've never tested that, and I'd rather use it for decor, anyway!
This is another great wall decal option from Pottery Barn Teen that would be perfect for a football loving student.
And this one is a literary quote transferred onto drop cloth, which is a great scaled up wall decoration if you have a big space to fill!
I especially love this wall tarp because it reminds me of the matching quote on my book page wall!
Dorm Room Decorating | Storage
Storage is one of the resources you will usually have in limited supply during dorm living, so we have to do our best to maximize the space we have that can be used for storage.
One of the tricks for that is to use a over-the-toilet storage shelf behind furniture pieces like your mini-fridge. The footprint of the shelf won't take up much additional room, but it boosts the storage space above your fridge to be much more useful.
Rolling carts like this one are super popular right now, and for good reason! It's nice to be able to keep things close when you need them, and scoot them out of the way when they're not needed.
You could use a rolling cart as a night-stand and then push it away during the day when you need the floor space for other things!
If you've got wall space to spare, a shelf made from crates like this one could be both a statement piece and a large bit of useful storage!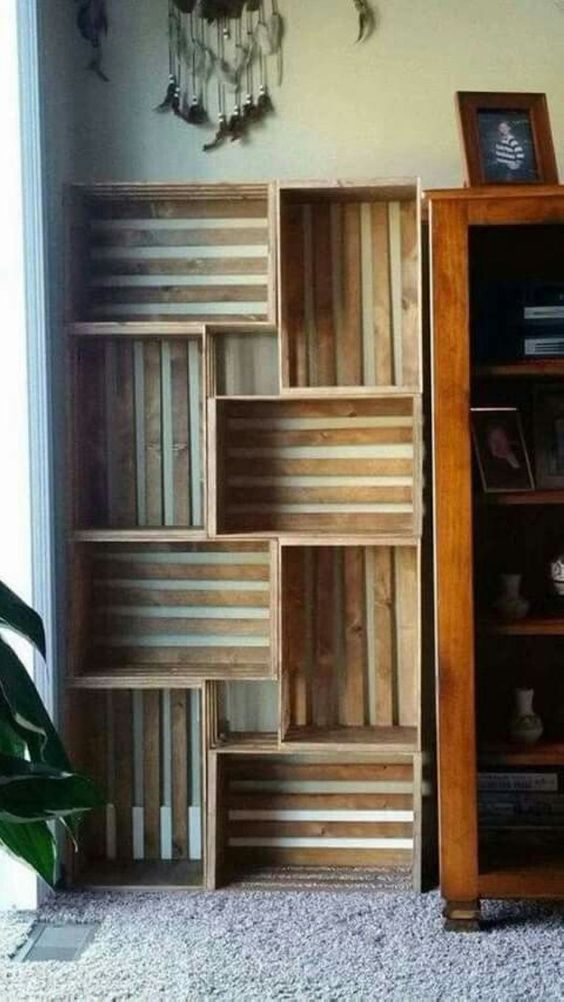 There are any number of other supplemental small storage and organizational pieces that you can add to a dorm room to increase your style and functionality, but I've rounded up a small list with some of my favorites here:
I hope these tips and lists get you started on your dorm room decorating journey!
If you are looking for more dorm room inspiration or other temporary decorating solutions, I cover those in specific classes as part of my Elite Decorating Academy!
Find out more at elitedecoratingacademy.com:
[show_shopthepost_widget id="4535492″]
Pin these Dorm Room Decorating Tips for Later:
Until next time,