A teenage boy bedroom can be a hard one to get right. Follow along for some inspiration!
Well, I can hardly believe it, but we finally finished this thing. AND both my son and I are happy with the finished look.
It's kind of tricky sometimes getting a kid's room to jive with the rest of the house.
Actually, one of the best things about decorating kids' rooms is the fact that you can work "outside of the box", using fun colors and pieces that you don't have in other areas of your home.
But, sometimes when you give NO guidelines, you can end up with a real mess. (Not that that's ever happened at my house, eh-hem.)
The other challenge I was up against was the size of this room. Our house was built in 1906, i.e. there are a plethora of tiny, odd shaped rooms to deal with.
I adore the old, quirky character of the rooms, but it challenges me as a designer to figure out how to meet the practical needs in each space.
I knew my son would need a desk, bed and dresser of some sort. But, each piece was too large for our floor space.
After much deliberation, we decided on lockers, instead of a dresser because they are tall and not very deep. You can read more about how we painted them in the Fusion Mineral Painted Lockers post.
The desk couldn't have legs or be very deep either. Enter the Bar/ Desk solution- its basically a huge shelf. We did a whole post on how we built the simple bar/ desk to help you out.
For the bed we gave up on having a bed frame and just slid the mattress (with box spring and little metal frame) back into the only space that was really left to use. I guess you could say the walls act as the be headboard.
Shop This Look
Now, I know we all love seeing Befores and Afters, so here are a few for ya. . .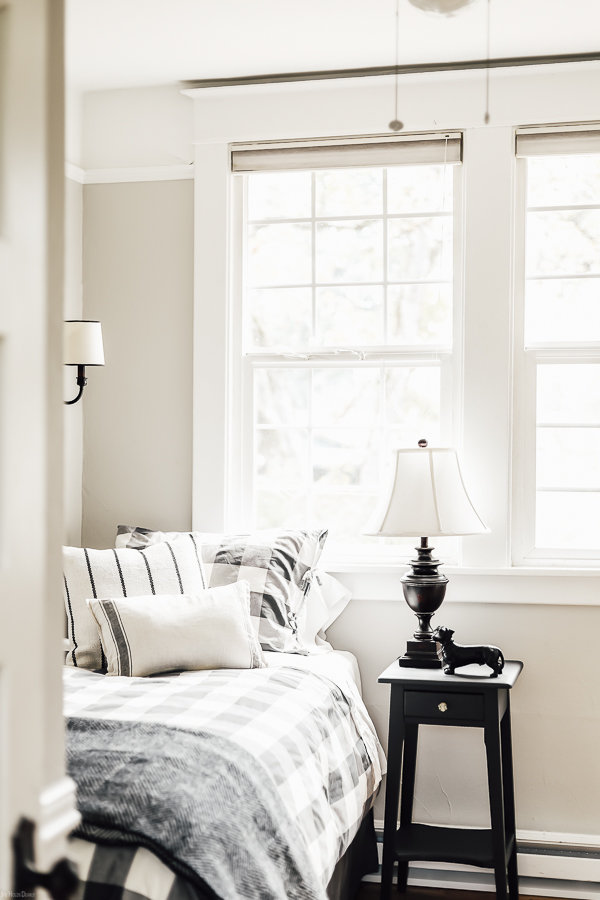 As for the Sources. . .
*This post contains affiliate links to products I know &/or love.
You can learn more about the room and design process in the video below!
Be sure to subscribe to my YouTube channel!
Pin This Teenage Boy Bedroom For Later!