Let's style some thrifted items for Christmas decorations and gifts!
For the past few months I've been doing this series all about styling thrifted decorations, and this month I'm going to do a Christmas edition!
The fun thing about thrifting is that you can easily find decor AND gifts for family and friends! I've got a mix of both of those to show you today.
Thrifted Items as Gifts:
I saw something recently that said "normalize second hand gifts" and really liked the idea! It's something I've been doing for years, but I love the idea of it spreading and becoming a more normal thing to do!
My favorite thing about gifting thrifting items is that they don't have to feel second hand! Often you can find great items that just need a little clean up or a special touch to feel the same as a brand new store bought item.
*This post contains affiliate links to products I know &/or love.
Here are some of the things I've found recently that I'll be gifting:
A really cute knit romper with a hood. This was only $5, and I'll be giving it to my niece!
A cute set of colorful containers. They're heavy and seem to be made well. I'm going to give them to a Homeschool Mom friend of mine, I think she'll like them for organizing homeschool supplies like colored pencils!
Two pairs of cute new socks. When I saw that one had hedge hogs on it, I knew right away I had to get them! They'll be going in someone's stocking this year!
A chic white & gold calendar white board – I think one of my daughters will really like this. She currently uses a printed calendar that she has to reprint multiple times through the month, and this seems like it might work well for her!
An "A" Mug for my daughter, Abigail…. but shortly after I got it, she made the following comment in an un-related conversation:
"I don't get people who like mugs. I don't really like mugs."
So now I'm not so sure anymore… I might end up keeping it for myself!
A cute checked Eddie Bauer mug, an Anthropologie "weekly list" notepad, and a pink candle that I'm going to gift to my sister in law.
Grouping Thrifted Items Tip:
This is actually something I think is helpful to point out when putting together thrifted gifts!
Use different pieces that coordinate or follow a similar theme or are in the same color family to group together into a bigger gift for a greater impact!
For my sister in law, the cute mug, paper pad, and or candle wouldn't be nearly as fun on their own, but when they're grouped together and presented in a cute way, it has the same wow factor as any store-bought gift!
A few more gift ideas…
Next I found this cute little wooden caddy. It's from the brand Crab Tree and Evelyn, which I actually love – but I'm going to use it for a new purpose! I'm creating it into a little gardening caddy for my nieces and nephews.
I grouped it together with Joanna Gaines' book "We are The Gardeners", a cute little "bug house", a little bird house my daughter painted, and some sweet raspberry and blackberrie candies I found.
We actually had these same kinds of candies growing up – which I love!
All together it makes for a fun outdoor/garden themed gift!
I also found these cute kitchen towels that felt brand new! They were $1.99/each, which is about the price I'd typically pay at IKEA as well.
I paired these up with cute candles that I also found at the thrift store. These make a simple but cute gift for teachers gifts or for neighbors!
I rolled the towels nicely and tied them off with a cute piece of velvet ribbon that matched the candle!
And the last gift I found was actually for myself! I found a really cute cream pea coat with bell sleeves and beautiful pleats for only $6! It's going to be the perfect finish for my Christmas eve outfit. (You can see it hanging up in the picture below!)
Now Some of the Thrifted Decorations I Found:
I found a cute set of what look like vintage cream globe ornaments.
There will be LOTS of ornaments available this time of year, but if you're willing to search through them, often you can still find really great neutral and vintage look options!
I also got a few different sizes and styles of hanging snowflakes. At first glance they appeared a little bright and maybe a smidge cheesy, but I knew that after I spray-painted them all a single color – they'd be perfect!
How I styled them:
I took both the cream globes and the newly painted snowflakes and used fishing line and scotch tape to hang them from the ceiling above my sewing cabinet near our back door to create a winter scene.
For some of the heavier stars, the tape wasn't quite strong enough, so for those I'd recommend using either a thumb tack or a command hook!
I love the look of this little area so much that I'm going to use the remainder of my globes and stars to recreate it in another part of the house.
And you know I can't pass up a beautiful vintage-look book! I found "Stories for Christmas" by Charles Dickens with a beautiful green linen cover.
I think the best books for decor look great from all angles, and this one fits the bill! The binding is gorgeous, and even the pages inside are lovely with a little holly motif on the bottom of all the pages.
I also found some more red transfer ware! This set of three tea-cups actually has little strawberries on it, which I think will be great for summer – but I'm going to sneak them in for Christmas as well because the color is just so pretty.
I found one little red and white saucer as well, with a different pattern.
I added them to the top of the shelf in my fireside room along with some of the cute mini pinecones I got in my first Thrifted Decorations Haul from a few months ago.
I found some fabric as well. One a green plaid with a tweed feel that I was thinking to make into a lumbar pillow with ruffles (similar to this one), but I haven't quite tackled that yet – it might show up here soon in another post!
The other fabric I found was a grey and red plaid which I liked because it felt like it was a more vintage plaid than some you find in stores now.
I used it to make pillows for our Kitchen porch Christmas Tour which I shared a few weeks ago!
Another crafty supply type material that I found was a quilting hoop and an embroidery hoop.
I used the larger quilting hoop to make a really cute wreath with kind of a Swedish feel. I used a hot glue gun to attach some faux cedar, some cute woodland animals and some bottle brush trees.
Then I tied on some red and white ribbon to make a hanging loop and a bow. Really cute, simple, and trendy!
The only thing I will change when I do it again is that I would face the little deer toward the trees instead of away from them!
I think I'll recreate a similar look on the smaller embroidery hoop as well!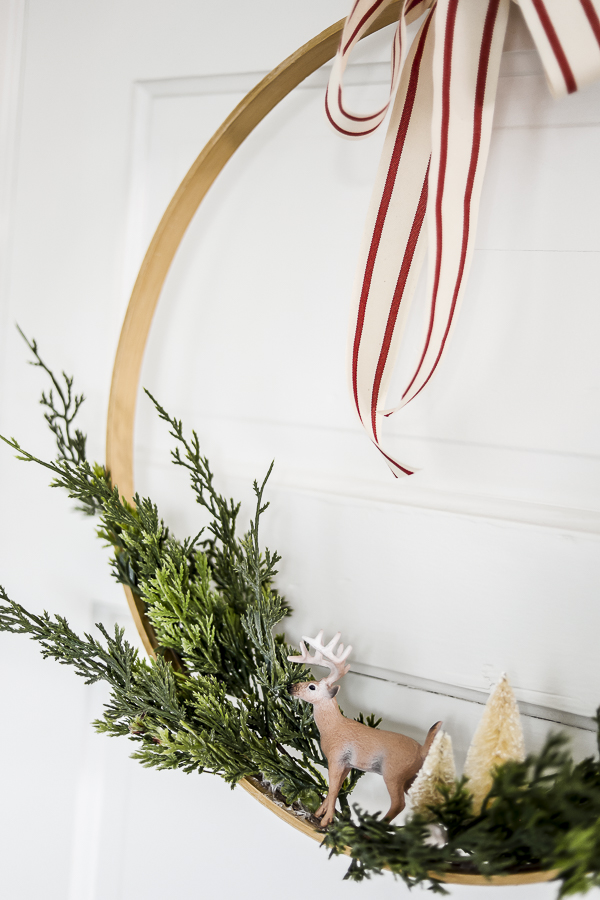 And the last items I got were two big chalk boards.
You might have seem them showing up in their original form in the background of my DIY Pom Pom Garland post, but I wanted to give them a slightly different feel.
I've shared before how much I love patent prints, and that you can find them for nearly ANY item – well Christmas is no exception! I found these two cute prints for a sleigh and tree lights!
I actually got them last year, and just now found the perfect way to display them.
I just used packing tape to attach them to the chalk boards, and I wanted them to have a more authentic/scroll feel, so I left the edges curled!
They look really cute styled on the piano!
And that's this months' thrifted decorations and gifts!
What about you, do you have thrifted items in your "to wrap" pile this year? Have you ever been the recipient of a thrifted gift that you loved?
Related Posts:
If you're interested in seeing the other posts I've done in the Thrifted Decorations series, you can find them here:
And if you're looking for a handy thrifting resource, click here for my Thrifting Checklist! I share some of the items I always look for when I'm out, my approximate price points and some other handy tips!
Pin These Thrifted Decorations For Later:
Until next time,