Some people feel like lath and plaster walls are a selling point when they look for old homes. While I can agree that it testifies to a legit vintage home, it does mean that hanging pictures in going to prove to be quite the challenge.
And heavy things like mirrors- well, let's just say, you better be strategic.
Here are some of our best tips for hanging a really heavy piece of wall decor.
I found this gorgeous mirror at a garage sale for $10 (I know! Right!)
It is abnormally heavy and isn't something I can quickly hang on the wall, but neverthless, it can be done.
How to Hang a Heavy Mirror
*This post contains affiliate links to products I know &/or love.

First, you will need to see if there are any studs that you can anchor into. This is the vest best way to hang things. I once knew a guy who would ONLY hang things where there was stud so his wife had to put up with oddly placed wall decor. I was kind of miffed at him. So, don't do that, just use the stud if you can.

To find a stud, you can use a stud finder or just tap on the wall, listening for a change of sound.
Usually, you will find a stud 16 inches from a corner and every 16 inches after that.
Don't be afraid to hammer a nail in to test it and see if there really is a stud.

I suggest purchasing a picture hanging kit, so you have braided wire, D-rings, molly screws and brackets.

Add a screw and bracket to the stud, if you have one.
Then, add another bracket by using a molly and screw(s). Using two brackets will help to keep the mirror/ picture level.

Now, turn your attention the the actual piece you are getting ready to hang.

Check to ensure that the D-rings are in good condition and replace, as needed.
Add a length of braided picture wire between the two D-rings, as needed. Cut it extra long for some lift and 6 inch tails on either side. Wrap these around the center piece until they are completely entertwined.

Now your picture should be ready to hang! If you find that it too low or too high, just unwind one side of the wire to make the adjustment.
Watch this video to see how easy it is!
You can subscribe to my YouTube Channel here.
Pin These Tips to Hang a Heavy Mirror for Later: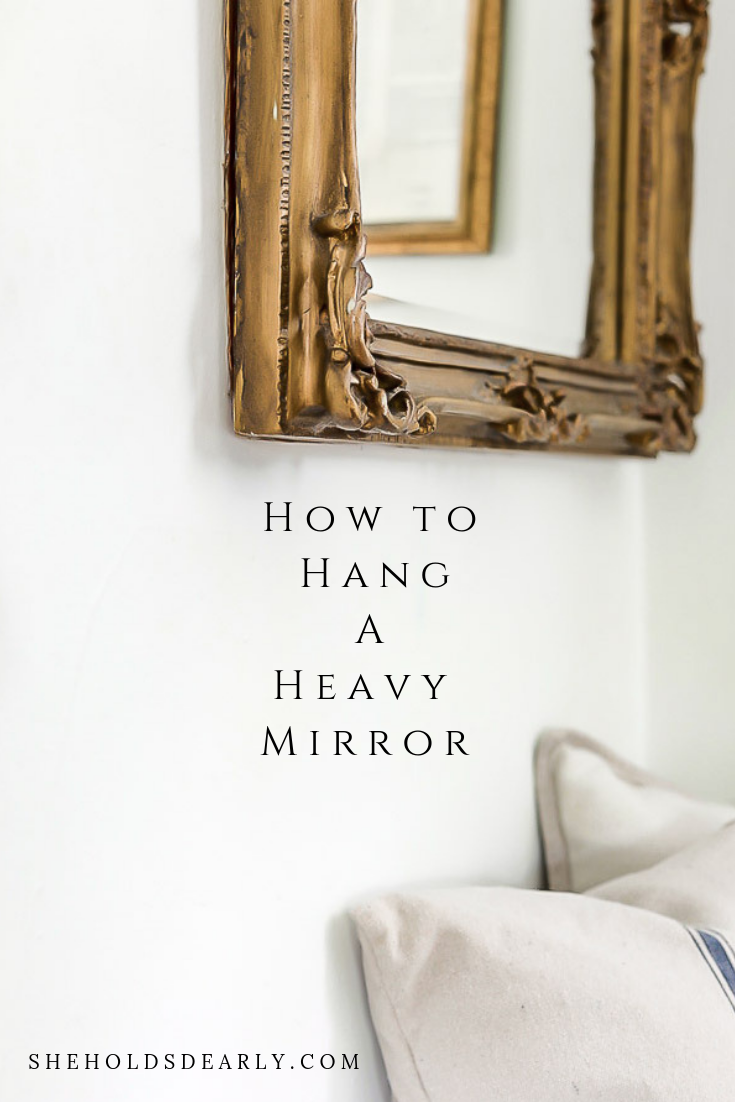 Related Posts:
10 Inexpensive Framed Art Ideas