This bathroom in our 1906 farmhouse was actually completed a while back, but I recently realized I never showed it to you.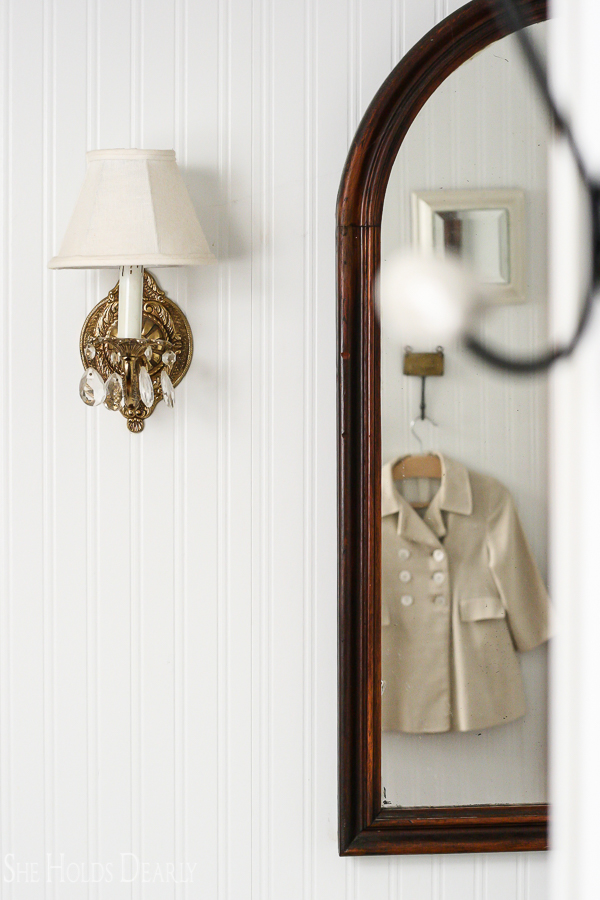 Two aspects make me especially proud of this little room. One, the befores and afters are a stark contrast and two, 99% of this farmhouse bathroom renovation is either second hand or DIY.
The other 1% are those Vera Wang towels I bought, BUT I did get them discounted a TJ Maxx!
This little bathroom is actually my favorite room in the house, but it wasn't always that way. I called it the "scary bathroom" and never once took a shower in it for the five previous years we lived in the house.
Besides being really old and low budget, the walls had holes in them from when we re-wired the house. I had this fear that a raccoon or something WORSE would be peering down on me if I used that bathroom.
Talk about freaky!
This is a shot in the midst of the renovation. As you can see, things get worse before they get better.
Once we started, it took us a year to complete. During that time, we crammed all five of us into the upstairs bathroom.
But, looking back, I think the fact that we took so long on this room is one the factors that made it turn out so well. We really poured over every square inch until it was just right.
Bathroom Remodel Checklist
Rebuild the window frame
Replumb the shower and sink
Rewire for sconces and ceiling fan
Sheetrock
Wallpaper
New wood flooring
Crown molding, baseboard, corner trim
Paint
New toilet, shower head
Upcycle Craigslist dresser to create a sink vanity
Find vintage door and glass knob
Paint shower door
Find all the pretty details
*This post contains affiliate links to products I know &/or love.*
Whenever I show the bathroom to people, they want to touch the wallpaper. It is 3-D beadboard wallpaper!! Once it is painted you cannot tell that it is wallpaper.
We found the late 1800's marble topped Eastlake dresser on Craigslist. It came with a matching mirror and we managed to find the sink for $30 on Craigslist, as well.
Note: the sink pictured below ended up being to large and was used in the upstairs bathroom remodel.
Incidentally, this is my favorite look on my husband. Haha, this is the "I'm trying to figure out how to finish this project for my wife" look!
I was constantly hanging fabrics and setting up little decor pieces to try out while we worked.
The shower door I wanted was $800!!
That would have blown a significant portion of our budget, so we took the cheap route and spray painted it with a bronze spray paint.
It came out looking a little too dark, so on a windy day, I made my husband take the door out into our gravel driveway and spray gold spray paint into the wind. The overspray created a tiny gold flecking over the dark bronze color.
Perfect!
He is probably rolling his eyes right now as he reads this.
But, you know, decorating is an artform and the details matter!
Shop This Look





Source List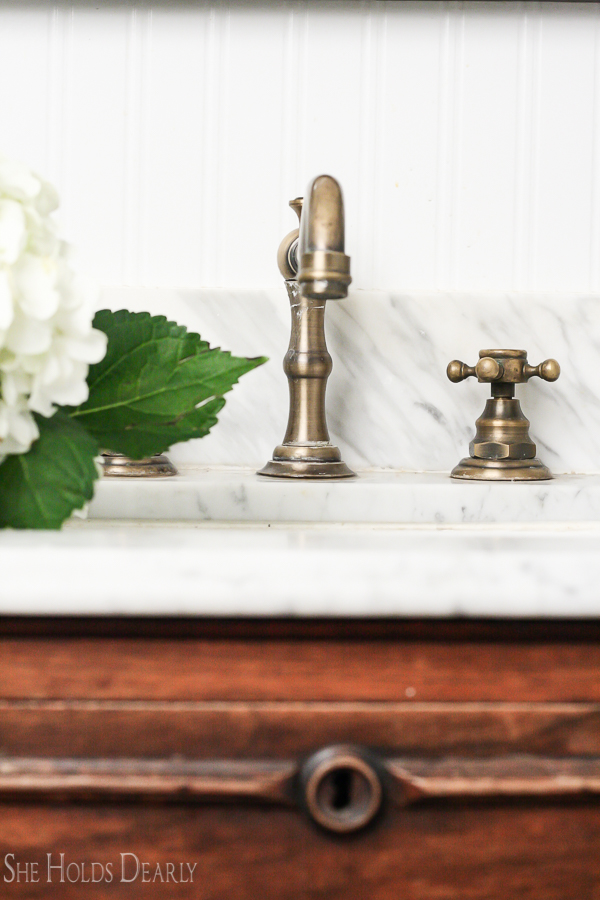 Pin For Later
Related Posts
Sharing at these parties!
SaveSave
SaveSaveSaveSave
SaveSave
SaveSave