Note from 2022: I shared this Farmhouse Bathroom post originally 4 1/2 years ago, and have come back to update you on how it's held up over the years! Scroll to the bottom of this post for the update and a few new pictures!
________________________________________
This bathroom in our 1906 farmhouse was actually completed a while back, but I recently realized I never showed it to you.
Two aspects make me especially proud of this little room. One, the befores and afters are a stark contrast and two, 99% of this farmhouse bathroom renovation is either second hand or DIY.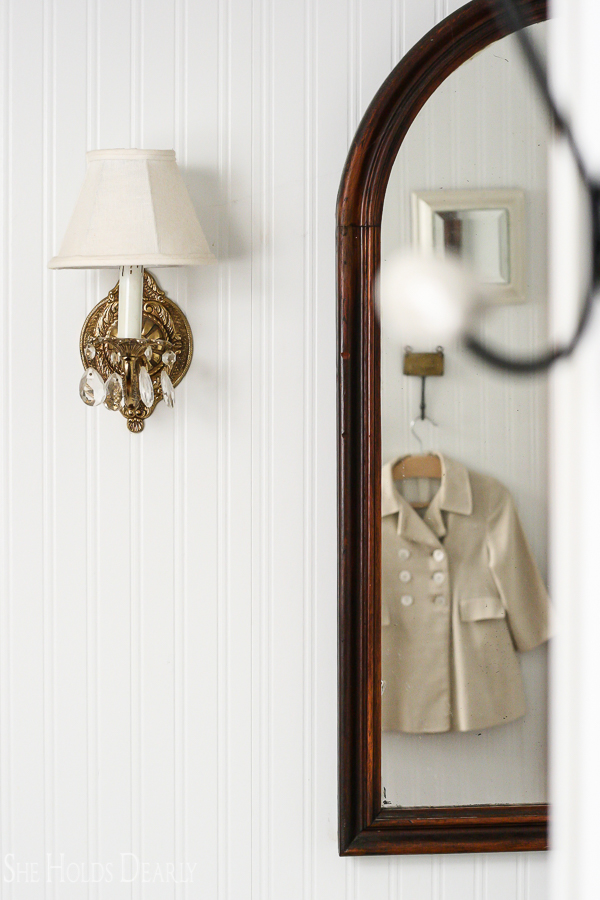 The other 1% are those Vera Wang towels I bought, BUT I did get them discounted a TJ Maxx!
At one point I calculated that about 95% of the decor in our entire house was also second hand or DIY!
This little bathroom is actually my favorite room in the house, but it wasn't always that way. I called it the "scary bathroom" and never once took a shower in it for the five previous years we lived in the house.
Besides being really old and low budget, the walls had holes in them from when we re-wired the house. I had this fear that a raccoon or something WORSE would be peering down on me if I used that bathroom.
Talk about freaky!
This is a shot in the midst of the renovation. As you can see, things get worse before they get better.
Once we started, it took us a year to complete. During that time, we crammed all five of us into the upstairs bathroom.
But, looking back, I think the fact that we took so long on this room is one the factors that made it turn out so well. We really poured over every square inch until it was just right.
Farmhouse Bathroom Remodel Checklist:
Rebuild the window frame
Replumb the shower and sink
Rewire for sconces and ceiling fan
Sheetrock
Wallpaper
New wood flooring
Crown molding, baseboard, corner trim
Paint
New toilet, shower head
Upcycle Craigslist dresser to create a sink vanity
Find vintage door and glass knob
Paint shower door
Find all the pretty details
*This post contains affiliate links to products I know &/or love.*
Whenever I show the bathroom to people, they want to touch the wallpaper. It is 3-D beadboard wallpaper!! Once it is painted you cannot tell that it is wallpaper.
We found the late 1800's marble topped Eastlake dresser on Craigslist. It came with a matching mirror and we managed to find the sink for $30 on Craigslist, as well.
Note: the sink pictured below ended up being to large and was used in the upstairs bathroom remodel.
Incidentally, this is my favorite look on my husband. Haha, this is the "I'm trying to figure out how to finish this project for my wife" look!
I was constantly hanging fabrics and setting up little decor pieces to try out while we worked.
The shower door I wanted was $800!!
That would have blown a significant portion of our budget, so we took the cheap route and spray painted it with a bronze spray paint.
It came out looking a little too dark, so on a windy day, I made my husband take the door out into our gravel driveway and spray gold spray paint into the wind. The overspray created a tiny gold flecking over the dark bronze color.
Perfect!
He is probably rolling his eyes right now as he reads this.
But, you know, decorating is an artform and the details matter!
Shop This Look
[show_shopthepost_widget id="2902822″]
Source List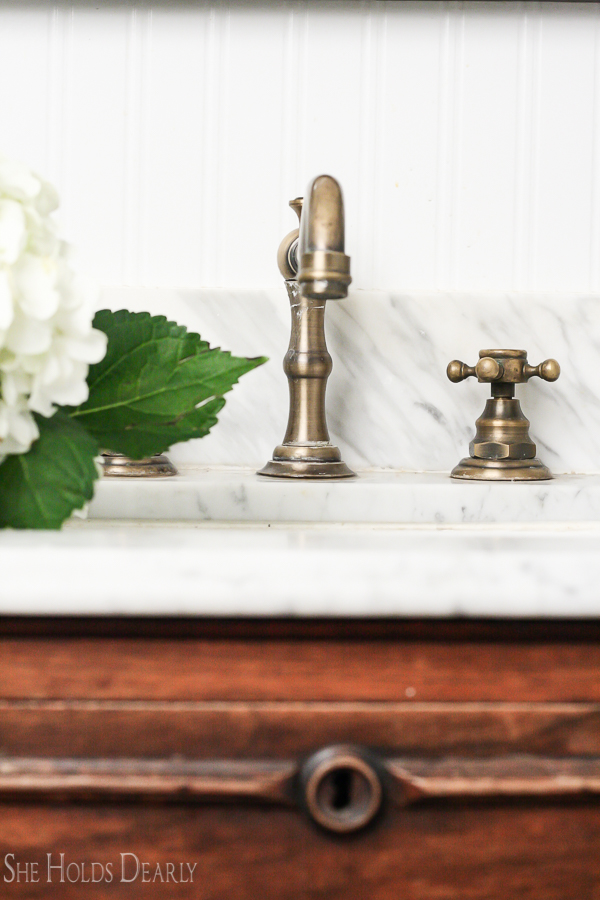 2022 Farmhouse Bathroom Update:
I get asked pretty often in the comments about specific items in my DIY projects and room reveals, asking how they've held up over the years.
So for this update, four and a half years later, I thought I'd run through our downstairs bathroom once more and share what's still looking great, and what needs a little sprucing up!
First things first, the wood floor has held up really well over these past years! I've noticed that some of the caulk on the floor trim boards needs to be replaced, especially around the sides of the shower door, though. Luckily that's an easy fix!
Overall, I'm still really pleased with the bead-board wallpaper! It is showing a little bit of age in just a few spots at the seams. But the majority of it looks great, still! I recommend this often as an alternative to installing true bead-board.
I still love my sconces, mirror and Eastlake dresser turned sink & vanity. The marble counter top has held up well after being sealed just once.
The drawers of the dresser are a bit hard to open and close, but I don't mind it because of how beautiful they are.
The only other problem we've run into is that while the faucet head isn't supposed to swivel, my children have used it that way more than once, and it's ruined the seal causing some leaks. It shouldn't be too difficult to replace, though!
As with any project, we've gotten a little bit away from the original look on the shelf above the toilet, and it's in my plans to do a quick refresh soon.
Having 3 teenage/20 yr old girls means that the basket of bathroom products has gotten a bit overfilled and doesn't look nearly as cute anymore. I'll be reminding them to use this for a smaller quantity of every day favorite products, and to store the rest in the drawers of the vanity!
The clock wall behind the door is still going strong…except that they don't have batteries and are all standing still. In this case, however, I don't mind it! Since they were added for their visual impact and not for their functionality; I actually kind of enjoy that they look almost like they're set to different time zones around the world.
My thrifted bamboo table is working great in the space still, and I love that it gives a good place to have a few spare rolls of toilet paper put away, but easily spotted by guests who might need it.
Our Vera Wang towels from TJ Maxx are looking as great as ever. I know I've shared about this in my Behind the Scenes Design Group, but if you haven't already heard our towel system: We keep one towel per person!
Once it's been used a few times it's washed and rehung in it's specific spot on the wall and it really helps cut down on the clutter of multiple towels that need to be washed, folded and stored.
Our inexpensive shower remodel (aka: a few cans of spray paint on the metal door frame) hasn't held up very well over the years. Especially the part where we touch it the most to open and close the door.
I am planning on taking the door off and spray painting it again soon. In the meantime, I usually pull this sweet white scarf over the rail and use it to hide as much of the wear as possible.
Inside the shower there is a real lack of shelf space for our products. I have a little basket that I've ordered that will hopefully help hold some of the items up on the wall, and I also found this cute set up for shampoo and conditioner that I found on Amazon.
I love that the bottles look like they're green glass (they also have an amber colored option), and give off a vintage vibe.
Pin This Farmhouse Bathroom Remodel For Later:
SaveSave
SaveSaveSaveSave
SaveSave
SaveSave
Until next time,