Anyone else unexpectedly working from a home office this year? Here are my home office must haves!
| Featured Inspiration picture above is from Pottery Barn! |
I know my husband and I aren't the only ones readjusting this year to an ongoing work from home status!
What began as a temporary measure that still has no end in sight, has caused us to have plans to set my husband up with a more permanent home office.
When he first started working from home we set him up with a small table and chair in the middle of our master bedroom.
Our house doesn't have any official separate office space, so we just make do with tucking in to places we can make work.
My office, for example, is tucked into one of the 3 closets in our master bed room.
My husband's temporary desk set up has actually been the reason I've held off on a final Master Bedroom Reveal – because it hasn't felt fully finished with that in the middle of the room.
So for this post, I'm going to share my thoughts on the direction of our own second office space, and I'm also going to share my 5 home office must haves if you're also looking to set up a space in your own home.
If you're looking for additional office inspiration, I have an entire board on Pinterest called Farmhouse Offices.
This post contains affiliate links to products I know &/or love.
My Husband's Office Space
We have a corner in our master bedroom between our new mantle and one of our bi-fold closets and we think that will be the perfect place to set up his more permanent desk.
Studies show that we're more productive when we have a set space for work, and I'm glad to help offer that for him!
My Five Home Office Must Haves
Number One | Privacy
I think of this as meaning a separate space to work that is quiet and allows for good focus.
Also in our modern world, we don't just need to work on our own things, we also need to have the ability to do things like zoom calls without distractions or noises in the background.
This also sort of relates to wanting work to be hidden and for it to have a place to be put away from family life after you're off the clock.
| For My husband's desk, we know that having his office in our Master bedroom will work well for the quiet needed to work during the day, and with the door shut, it's also "zoom friendly". (Who knew that would be a term we're almost all familiar with by the end of 2020?) |
For anyone else troubleshooting this same project, some of my best ideas are to use a closet whenever possible as the bones of your home office.
If you don't have an office, or closet space available, there are also great options for partitions and room dividers you can invest in to make a faux office space with some additional privacy.
Number Two | Work Surface
This one is pretty self explanatory – to have a workspace that gives you enough room for whatever work you're doing (and however many computer monitors that includes).
For my husband's desk, we have a few different options that we're debating between! I'd love to hear in the comments below which one you think would look best in our room!
This is a corner desk with hairpin legs from Etsy. I think it's really cute, and would give a pretty ample amount of table space.
This style includes butcher block tops (which I love), and file cabinets below. We'll talk about storage a bit more later on, but having a wooden file cabinet that serves a dual purpose to hold up the desk and provide storage seems like a great deal!
If we did this look, we'd build it in next to the mantle and paint the file cabinet to match the mantle so that it looked built in and very intentional.
We also have a piece of butcher block that could be used for this desk – which is always a plus, when you already have materials on hand!
This butcher block style is the same that we used for our son's room desk when we made him his simple bar desk.
I also love the idea of a secretary's desk – but I'm not sure if it would compete too much with the fireplace!
And I'm also thinking it might not work too well with my Husband's computer desk.
This really cute one is from Miss Mustard Seed.
Number Three | Comfortable Chair
Another "given" when it comes to having a home office – it's important to have a good chair!
Typical office chairs are wheeled, but some of those can be pretty spendy.
Some of the ones we've looked at are:
This charcoal upholstered chair from World Market
This Grey linen square back chair from World Market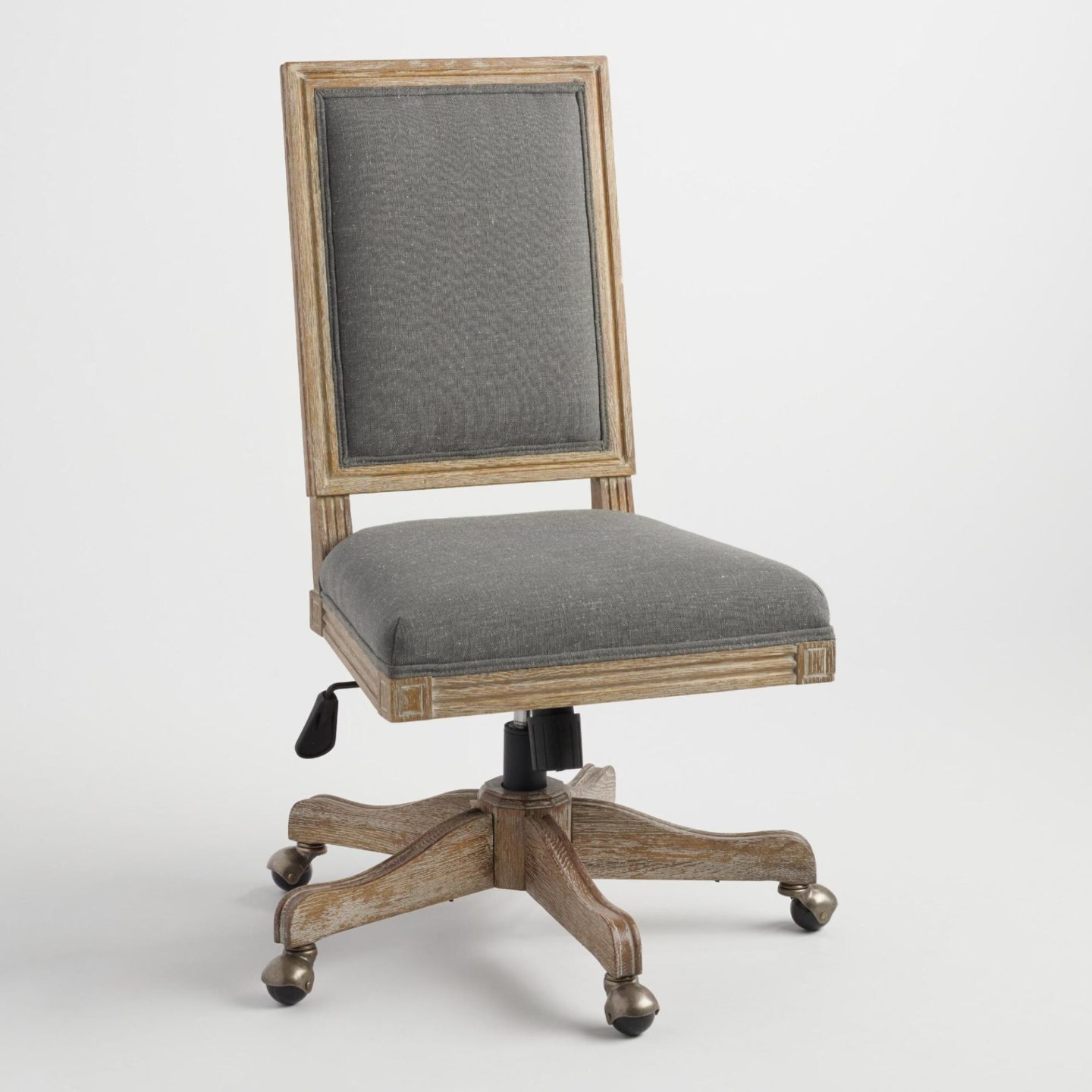 This leather chair from World Market .
This ivory upholstered chair – which looks so cozy and comfortable!
And finally this rattan chair.
We weren't sure if the wheeled chair options would ruin our wood floor, so we opted for a more standard chair.
This is the one we ended up ordering for now, but we'll see how comfortable it is once it arrives!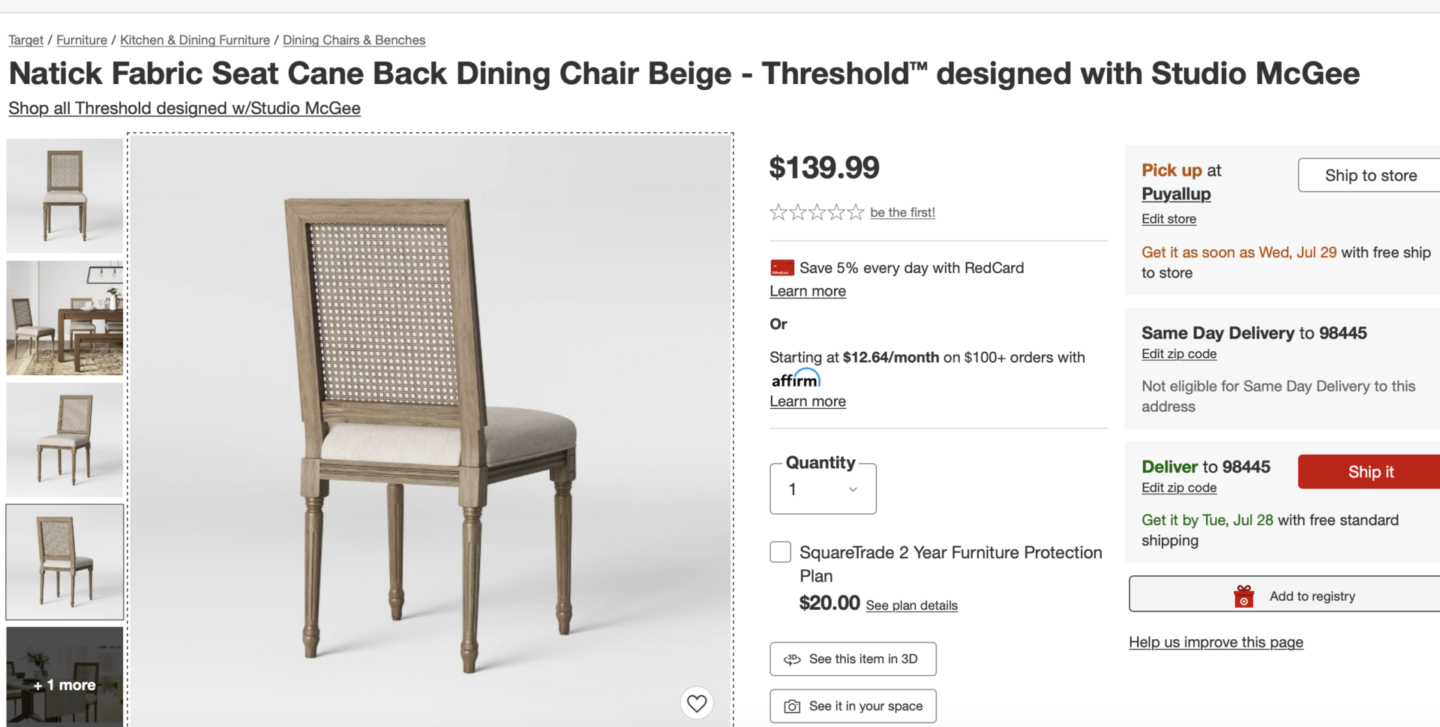 Number Four | Task Lighting
As important as work space and a comfortable chair are, it's also important to work in a well lit space. I highly recommend task lighting which is a specific source of light for a task or area.
In the case of a desk, I'd recommend an adjustable lamp that could be kept on the desk for use when needed.
We got a lamp for $30 from Walmart which I think is going to look really nice.
Number Five | Storage Solutions
If you know me, you'll know I love storage bins and organizers, and I'm a little crazy anti-paper.
I've got an entire Pinterest board dedicated to Farmhouse Organization here.
Having a desk cluttered with paper would be a real distraction for me, so the goal would be to give every item a place to be put away.
And that doesn't just include papers (which can be put away in the file cabinets which would tuck under the table.) but also all of the other necessities that come along with an office space.
I think a little bin like this tacks box for office supplies would look great on top of a desk.
Or this gold office supply organizer. I love how masculine this one is in both it's simplicity and shape.
[show_shopthepost_widget id="4169054″]
Recap
So that's my list:
Privacy
Work Space
Comfortable Chair
Task Lighting
Storage Solutions
Which do you you struggle with most? Which ones do you already have figured out for your space, and which are you still working on?
Pin this for Later: