If you are in want of some beautiful, not to mention, economical linen curtains, I have news for you! IKEA curtains are a great place to start and with a couple curtain hacks you can customize them to include some vintage flair.
Ok, let's talk basic curtains, first of all. If you are in the market for linen drapes like I was, you might like the Aina set from IKEA.
The prices are very reasonable. These were $59.99 per set.
AND they are super long at 98″, which is hard to find in my experience.
I went to the store so I could see them in person and feel the texture. I'm a fabric snob and fabrics have to feel a certain way. The weight was just right, but the color seemed too yellow.
I needed six, so I just bought them all right then and went home to try them out in my space.
Confirmed. The fabric was too yellow.
No worries, I could just bleach them and we would be all set, right?
But, as many DIY projects go, my idea worked in my head, but not in real life. Those darn curtains would. not. lighten. I bleached them for several days to no avail.
This meant war!
Finally, I went on my Instagram stories and asked for suggestions. My DMs were flooded (btw I just love the home decor community, they are such a wealth of information!)
*This post contains affiliate links to products I know &/or love.
I decided to try
It took many days and only one thing worked.
Drumroll, please! We have a winner!!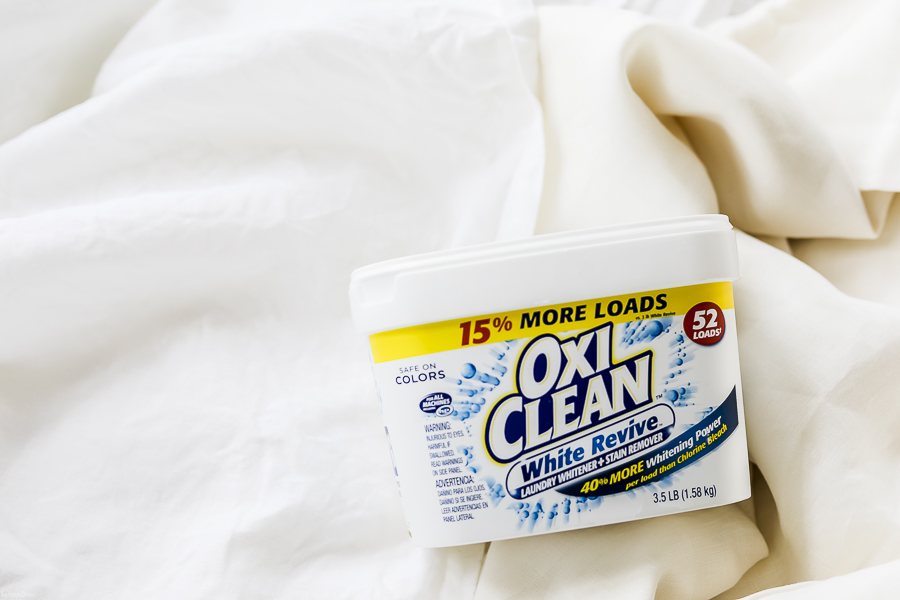 Yup, the OxyClean White Revive did the trick. See the original color on the right.
I soaked each panel in OxyClean White Revive for two days before it was the white I wanted. Soooo, let's do the math on that. After many days of experimenting, I still soaked curtains for ten more days.
I know you understand.
Decorating is an art form, is it not? You have to get it just right.
Anyhooo, once that was done, I decided to add just a touch of detail to them for more of a vintage French look. I found this tassel trim on Ebay and had one of my girls sew it down just one side of each curtain.
If you don't want to sew or don't know how, here are some similar curtains.
I love how the light catches them as it comes through the window. They bring just the right level of classiness to our master bedroom and I couldn't be happier with the finished product.
Let me know in the comments below if you have struggled to get fabrics the perfect color or if you have any great IKEA hacks that you have tried!! I'd love to hear all about them!
Pin These IKEA Curtain Hacks for Later: