If you're thinking about a farmhouse kitchen remodel – this is the post for you!
I'm sharing some of my favorite and least favorite aspects of my own kitchen remodel with the hope that it will encourage and inform you as you plan your own!
To be honest the kitchen isn't something I show a ton of in my blogs and videos, and you'll hear a little bit more about that later.
Before I begin, I want to make sure to share that I've got four great friends who are sharing their own farmhouse kitchen remodel stories as well – a true treasure trove of information!
Make sure to do yourself a favor and check them out!
Our Farmhouse Kitchen Story
If you've been around before, you may have heard this part already, but if you're new, hello and welcome!
Our farmhouse was built originally in 1906.
We bought it 10 years ago and have been renovating and remodeling ever since!
The kitchen remodel was the biggest change, and the biggest expense – which I feel is pretty typical of most whole home remodels. When you think about it, in the kitchen there are the cabinets, appliances and countertops which are all 3 lasting (and expensive) purchases!
When we originally bought the house we had planned on living with the kitchen as is for a while and starting the renovations later on. But as we got moved in and started living there, we realized it needed to be done sooner rather than later!
So just like that, we gutted the kitchen and started literally from the ground (3 ft under ground, to be exact) up!
Here's how it looked during the demolition process.
The big changes we made in the kitchen were:
Raising the ceiling
Moving the door to the laundry room
Reconfiguring the cabinetry
Taking out the wall between the kitchen and the fireside room.
As we've been living in the completed remodeled kitchen for a few years now, I've found both things I really like about what we did, and a few things that I'd change if I could go back in time.
Things I still love about our farmhouse remodel:
The calm and quiet color palette
The amount of storage space
The lighting (we added can lights when we raised the ceiling – which I have enjoyed, BUT I might someday add in a chandelier over the bar and add under cabinet lighting… we'll see!)
I also love the final layout of the kitchen
It's been said that a good kitchen layout should have your big main appliances in a triangle – and my stove, sink and fridge do make a triangle through the main part of the room!
Noticing Things I'd do differently:
It's so true that hindsight is 20/20. The things you learn, especially after living in a space for a while can really make a difference to decisions you might want to make during a remodel!
As a general thought, looking back I realize I got a little caught up in the idea of my "dream kitchen". What was trendy in the early 2000's is different than what I love now!
This was pre-pinterest, so my "old school pinterest" was a three-ring binder with cut out pictures from Better Homes and Gardens glued in with my notes.
My inspiration kitchen had a sort of Tuscany feel, and I ended up matching the granite and cabinets almost exactly. I almost did a gold glaze over all the cabinets.
I can make a short list about things I'm really glad we didn't end up doing – and that would be on top of the list!
Here are my top five "would have done it differently" farmhouse kitchen remodel items:
Number One | The backsplash
So our tile contractor at the time told me that this small 6″ section of granite that runs around the entire counter accounted for the "backsplash", and I took his word for it.
I've realized now after the fact that the 6″ backsplash like these is really intended more for bathroom counters. In a kitchen, it should be about 18″ or the full distance between counter and cabinet!
Along with looking more finished and professional, I'm also often disappointed with the missing wall protection.
It's about as fun as you would imagine to clean splashed spaghetti sauce off a white painted wall.
So my two tips about this: Go with the full backsplash, and double check contractor recommendations, especially if they feel a little "off".
Number Two | Cream Cabinets on White Walls
Now technically, this is OK design wise – it doesn't break any rules.
But what I've found is that it's really tricky to photograph this room well because of the two different tones! Remember what I said earlier about not sharing much about this room?
The problem is that it's hard to reconcile the white balance without tinting the cabinets yellow or the walls blue!
This might not be a big deal if you're just doing it for your own house, but as someone who loves being able to share quality pictures with you all… it has been frustrating!
Luckily – walls are easy to paint (easier than cabinets), so that's something that might happen in the not so distant future!
Number Three | Microwave Incorporated into Upper Cabinets
Being that I'm going for a vintage farmhouse feel, I'm wishing I wouldn't have mounted the microwave above the stove. It feels much too modern!
If I could do it over, I'd move it into a cabinet off to the side or corner of the room, and I'd fill that space with a beautiful custom hood.
Which again, is something I have hopes of doing eventually!
Number Four | "Knick Knack Shelf"
This shelf on end of our cabinets came about after not one, but two misunderstandings/missed communications about the vision.
The first, was that this cute built in hutch with open shelves was accidentally removed during demolition of the wall separating the kitchen from the fireside room.
I had been looking forward to it being preserved and came home after errands one day to find it removed and my son happily breaking it apart further with a sledge hammer.
To this day I think of it as a sad casualty of the remodel! But it happens, right?!
But all was not lost! For a while, we had nothing to replace the hutch with against the open cabinet backs.
But we ended up building this cute shelf to fill that space, and I do love it now!
The second miscommunication happened with my really kind cabinet maker who decided to make me this knick knack end cap as a surprise since we hadn't discussed what to do on that end.
I've been styling it for years, and just haven't ever really loved it!
Part of me wishes I would have simply thanked him for the thoughtfulness, and gone with what I was thinking to do there originally.
Number Five | Granite Counter Top
If you take away just one thing from this list, I hope it's this: Be SO careful when selecting any stone or tile work!
Since selecting this granite – straight out of my "dream kitchen" and 2010 "old school pinterest" binder, I've come to realize that these stone counters will endure LONG after my love for them does.
If I could make the counter top decision today, I'd probably chose corian which is a carrera marble alternative.
In the meantime, since it was a very expensive investment and is still in great shape, I have an idea using epoxy that I might try – otherwise they'll just be left as is!
Some final thoughts to leave you with:
When you're making your home remodel decisions, keep these questions in the back of your mind:
Would I be okay with changing this in 10 years? 5 years?
How easy is it to change?
Don't forget to give yourself room to grow and adjust, and enjoy your space!
Pin this for Later: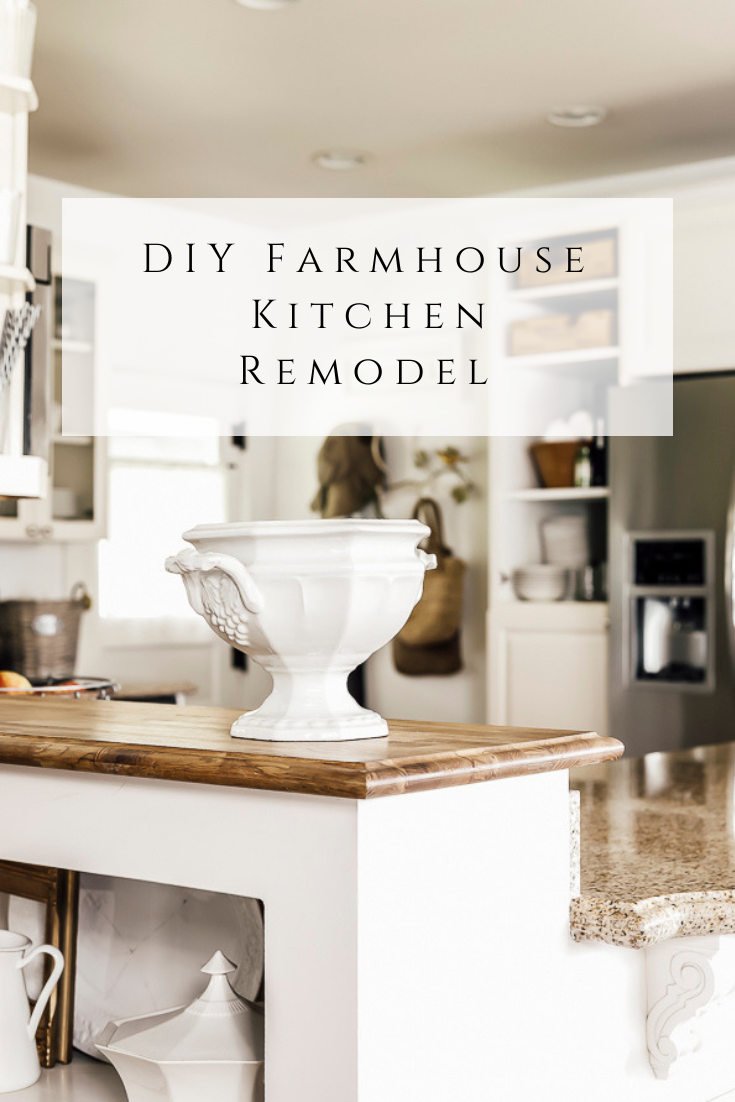 Until next time,