Do you ever struggle with coming to an agreement on design decisions with your husband while decorating? You're not alone! Today's post is all about just that and how to find compromise.
Feature Photograph Credit to Nordic Wall Decor
As a married women who loves design, I know well the tension that can arise over designs and project plans! And a few weeks ago over on Instagram, my suspicions that this isn't isolated to just my husband and I was confirmed!
I posted a story with a before and after of a kitchen remodel where the decision had been made to NOT paint the wooden cabinets, (more about that later) and had included a comment box where people could share their design dilemmas they've run across decorating with their husbands.
Comments poured in with a variety of design conflicts and I'm going to share about the ones I've heard most and saw the most in those story replies in this post!
Decorating with husbands is also a topic of conversation that comes up often in our Behind the Scenes design group, and something I discuss in my Elite Decorating Academy!
So how do we work with our husbands in our decorating?
The first part of this post I'm going to share a few of my overall design tips for married women working on finding balance with their husbands on decorating, design ideas and home projects.
I shared some about this same idea in a previous post called Remodeling and Marriage , and about how we had made remodeling work leading up to our 19th year of marriage.
Now we're around the bend of our 24th anniversary, and I've got some tricks I'm excited to share that will hopefully help you and your husband as well.
Then for the second part of the post I'll touch specifically on those four things that pop up the most when decorating with husbands.
*This post contains affiliate links to products I know &/or love.
Marriage & Design Tips When Decorating with Your Husband:
Designing & Marriage Tip Number One:
Most people can't visualize things like design changes, so it's best to come prepared with pictures (like from Pinterest or HGTV) to show what your idea looks like to make it easier for your husband to visualize it in your space. That really can make it easier for him to to catch your vision and understand why it would be important or an improvement.
Designing and Marriage Tip Number Two:
Capitalize on occasions and ask for projects as a gift!
I am well known in our household for asking for projects to be completed in place of other gifts for my birthday, anniversaries, and Christmas.
Next month I'm turning 44, and my request is to have new window screens installed where they're missing, and window repairs for the few that aren't functional.
I think my husband also enjoys things like this because it takes the pressure off of finding the perfect "gift", and home projects are already in his wheel-house! Plus I get something I'm looking forward to as well!
I heard somewhere that Ronald and Nancy Reagan used to do something similar and for Christmas each year they'd pick a room in their house to finish.
Designing and Marriage Tip Number Three:
Don't ask for too much! If you can DIY it yourself, do that instead of adding it to your husband's list!
Now we all have our limits whether it be knowledge or skills, but we know the things that we can do like painting walls and hanging pictures. If you can avoid asking for help for each smaller thing, it can make the bigger asks more spaced out and more impactful! If you can't do it yourself, and your husband can't help with your decorating task, you can always discuss having a contractor do it, also!
Designing and Marriage Tip Number Four:
Use the "1-10 scale of Importance" as the tie breaker when you're stuck.
The biggest detail to keep in mind when using this skill is that neither of you can be dishonest or even exaggerate your answers because you need to be able to trust each other in order for the process to work!
Here's how a typical conversation using this skill will go in our house.
Me: *Working on a Design*
He Holds Dearly: I don't really like that rug.
Me: I love it! How important is the design of this rug to you on a scale of 1-10?
He Holds Dearly: It's about a 3.
Me: It's a 10 for me! Here's why: *add details and reasonings if applicable.*
This is an advanced form of communication and has only been the standard for us in the past 3 years or so, but BOY! It has saved me from a lot of contention when decorating with my husband in those 3 years.
Designing and Marriage Tip Number Five:
3 By wisdom a house is built,
and through understanding it is established;
4 through knowledge its rooms are filled
with rare and beautiful treasures.

Proverbs 24:3-4
Bringing wisdom and understanding into the center of our design processes, especially where it relates to our husbands can ONLY be a good thing. We strive to bring beauty and peace to our spaces, and having strife and arguments overshadowing those tasks is the opposite of what we're after.
Designing and Marriage Tip Number Six:
Work to understand your husband & his preferences better.
If he has a favorite chair that he doesn't want to give up (see below for more on this exact thing…), do your best to understand what it is about the chair that he appreciates the most.
Once you know what that is, whether it's comfort, or a head rest, or space for his legs, you can help to meet those same needs in a potentially more agreeable way.
Most men I know value comfort and functionality over any other design choice that we might be putting our time and effort into (like colors, and the style or decade it's from).
Protect those two things for him in the spaces he likes the most, and you'll be able to make much more headway when decorating with your husband!
4 Common Issues when Decorating with Your Husband:
And now we're going to dive down into the four most often mentioned design struggles when I have designed for men or worked with married couples.
Number One | The Recliner
You know the one. It's probably big, padded, worn and leather. He's possibly had it longer than you've been together.
Recliners like this ARE comfortable. It's written all over them and built into each aspect.
But they leave a bit to be desired in the design aspect, don't they?
Or this one, the double seater – great for romantic evenings at home holding hands across the center console.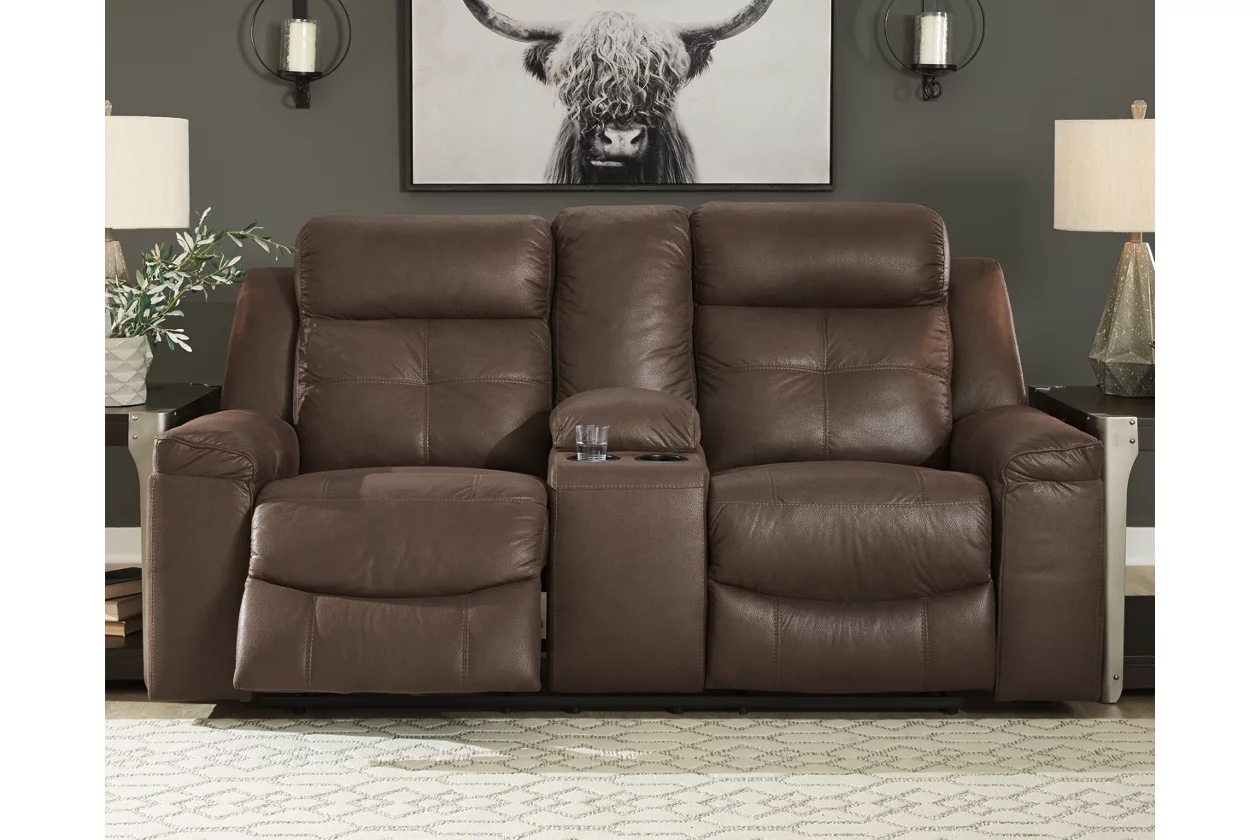 The good news is that recliners have come a long way in the past years and there are much more design friendly options available now!
Some great alternatives are:
Cognac leather with a slimmer profile like this one is from Pottery Barn.
A cream option with a bit more padding.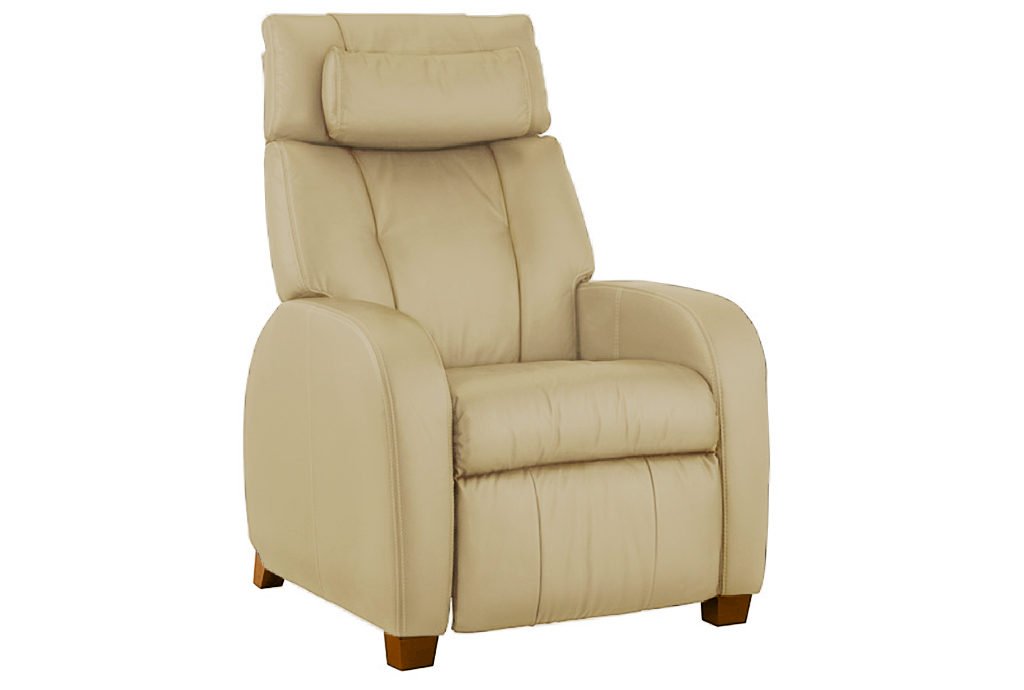 This white one – which is lovely!
I love this navy one that has just 1 tuft in the back.
Or this striped upholstered option!
If the chair just can't be parted with, don't lose heart!
There ARE ways to incorporate them into your designs without them sticking out like a sore thumb.
Look at this example from Chris loves Julia:
They've used great black and white accents to keep the dark leather from feeling over powering.
I've got an entire post on how to decorate with black that touches on this exact idea.
This is another lovely design by Jenni at ispydiy on Instagram that shows how using black, old books and vintage touches makes the chair feel right at home.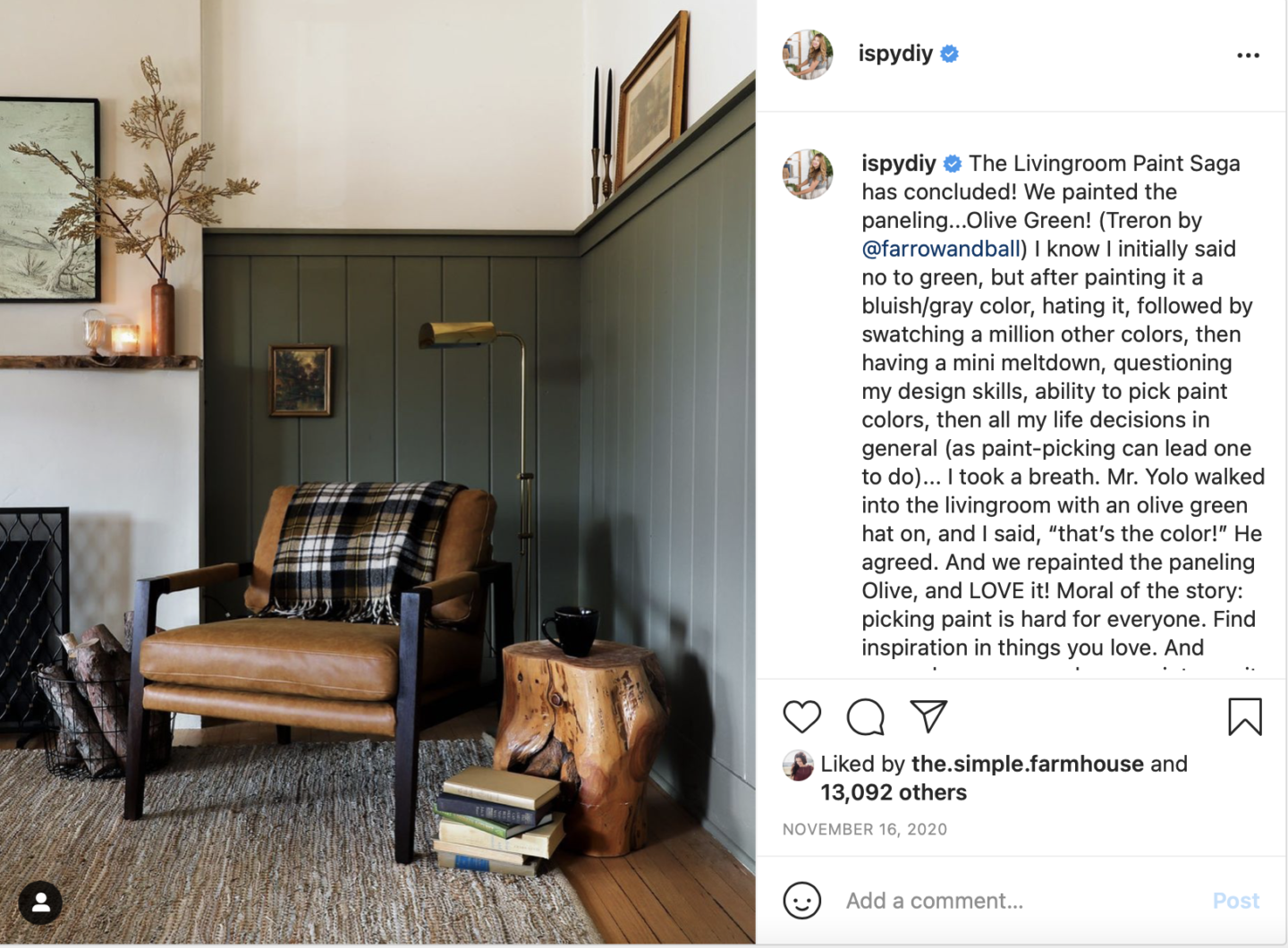 Also, don't forget (when deep in discussion with husbands about decorating with special chairs) that if the shape of the chair is OK, the color can be changed! For leather, I love using Angelus leather paint!
Lastly, if some of these alternatives are just too small for your husband, consider something like a chaise lounge that gives the reclined position and comfort (you can even add extra pillows) that are reminiscent of a recliner, but with LOTS more style.
Number Two | Wood Cabinets
Many of us have heard the phrase, "perfectly good wood", and I get it! Some cabinets are real pieces of workmanship and remain in good shape, but as designers, sometimes we're more focused on how dated they look versus their functionality, right?
If you're wanting a change without painting cabinets, there are a few things you can try!
Try painting just the island like Shea (Studio McGee) did in this kitchen!
These are the pictures that inspired this whole blog post. Dawn Marie Designs updated her kitchen without painting their wooden cabinets, and look at what a difference it made when she updated the counter top, painted the walls and added in a backsplash and custom hood!
Isn't that a beautiful transformation?!
Another option if painting isn't agreeable is possibly stripping them down to bare wood for a new look (often the stain used can be a big contributor to the era it feels stuck in). But that can be a pretty big job!
Removing upper cabinets to replace them with open shelving can drastically change the look of the room as well!
Number Three | Rock Fireplaces
This is another big one! Natural stone and rock fireplaces.
This one actually made me jump when I saw it, and the words "Welcome to Great Wolf Lodge" ran through my mind immediately.
There's just SO much stone here, floor to ceiling and all the way along the bottom edge as well. And because there's not enough contrast between the rock and the ceiling it just looks like it extends on forever at first glance.
There's a time and place for this lodge feel, but if you're NOT trying to design a lodge, this can be a lot to work with!
My first suggestion would be to see if your husband would be on board with white-washing the stone. It keeps the great natural texture, but tones down the colors for a more neutral feel that will match more potential design choices.
Otherwise I think the best way to work with stone is to go one of two ways:
Either using lots of modern furniture pieces that don't compete with too many textures or patterns, like this one from Apple and Oak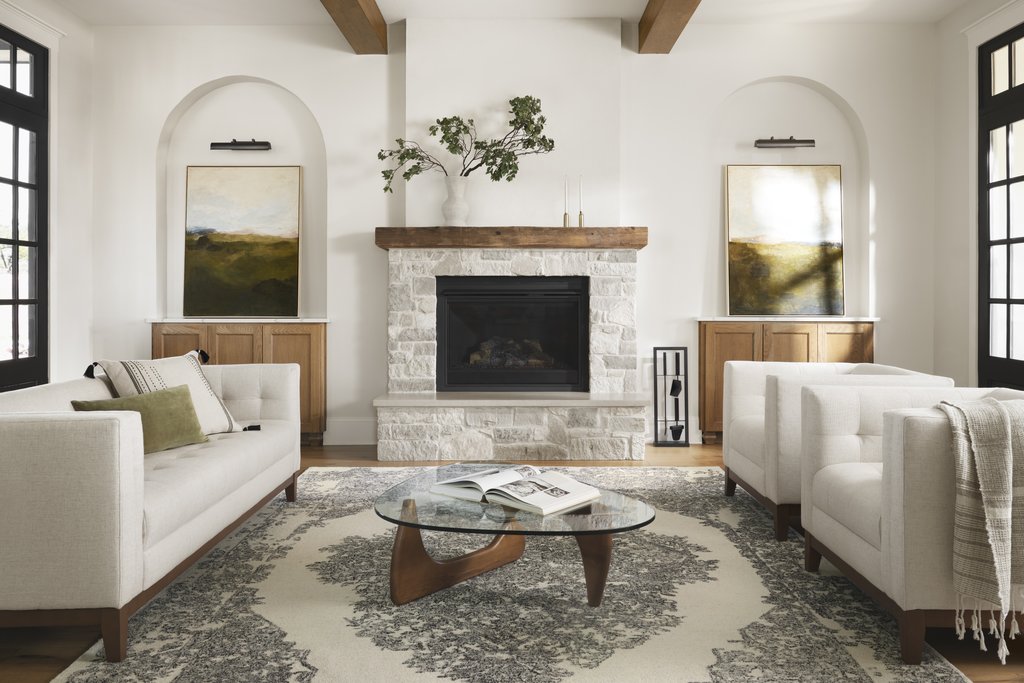 Or like this example from Studio McGee.
Or by going ultra feminine in contrast to create a "lost cabin in the woods" feel.
I couldn't find many interior inspiration pictures that felt exactly like what I was trying to share, but these exteriors give kind of the same feel!
And an unfortunate note… if you are working with stone, I would not suggest doing farmhouse designs in the same space. There's not enough contrast in the styles and it can come out looking less than ideal.
I can see where they were headed when they styled this beautiful mantle, but it's just a bit too busy for my tastes.
Number Four | Huge TVs
Last but not least, the TVs! There's nothing quite like the TV conversation when discussing decorating with husbands.
Recently my husband overheard on my Ballard Designs Podcast that the idea TV size is 40-50″ on the diagonal. He couldn't believe that! "Bigger is always better" when it comes to the game, he said!
So in the mean time, we work on making it blend. I have an entire post sharing 10 ways to hide a TV, but I'll review my favorite ways below.
The pull down map! My friend and neighbor made this one!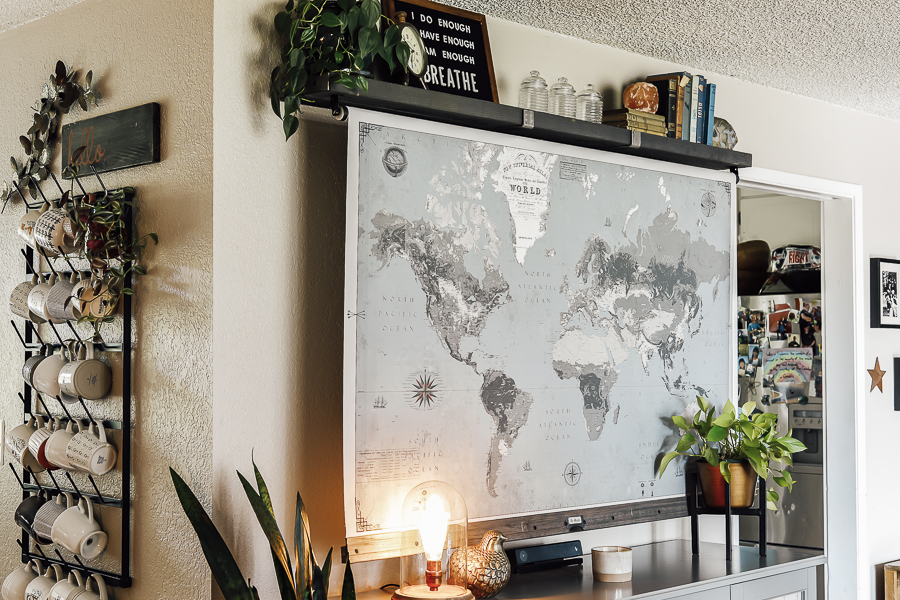 The Samsung Frame TV is a great option that can truly blend in and look like an art print!
This one from Dream Green DIY would never be mistaken for a TV!
And this floral artwork gallery wall by Pretty in the Pines is just gorgeous!
And if you really want to convince your house guests that your frame TV is art, add an art light above it like Laine and Layne did! So clever, right?!
Using a black accent wall like Emily Henderson did behind your TV can also help it blend in, even if it's an older version with a black frame and screen!
If you have a large TV and need something to help ground it, I think using a really wide credenza is the way to go!
MCM "low boys" are fantastic at doing just this. Shoot for about 1′ of extra length on either side of the TV.
I hope this has given you some helpful tips.
If you leave this post knowing that with compromise on both sides, you can make progress decorating peacefully with your husband, then I've done what I set out to do!
My husband previously gave me the best compliment which I treasure to this day:
I don't know what it is you do, but when you're done with a space, no matter how hectic it's been, I just want to be in there. There's something you understand and can pull off that makes it peaceful and my quality of life goes up when you have finished the room.

He Holds Dearly
That's what I hope for you and your family! That your husband can appreciate your decorating, even if he doesn't necessarily understand it all.
Here's to marriage and decorating with our husbands, and date nights at the home improvement store.
Cheers!
Open for New Students | Elite Decorating Academy
Go to elitedecoratingacademy.com to learn more!
Pin These Tips for Decorating with Your Husband: