Changing out throw pillow covers is one of the very best ways to update a room, especially as the seasons change. If you make your own, it is tempting to just skip the zipper and sew the whole thing closed.
But, what happens when you really need to throw that cover in the washer? Or its the Fourth of July in a couple of weeks? I know you would love to add a blue ticking grain sack pillow to your porch.
My first sewing project EVER, was a pillow. It was a weird, little animal with button eyes, but technically it was a pillow. So, pillows are a good place to start learning how to sew.
I actually wasn't planning to talk about this today, but I needed six white throw pillows to do the post I had in mind. So I got to work.
The first one was ridiculous!
I don't make throw pillows very often and I was a little foggy. I kept making mistakes on the zipper part. I did things that weren't necessary.
But, by pillow number six, I was flying.
10 minutes total, to be exact!
This post contains affiliate links for your convenience. Click here to read a full disclosure.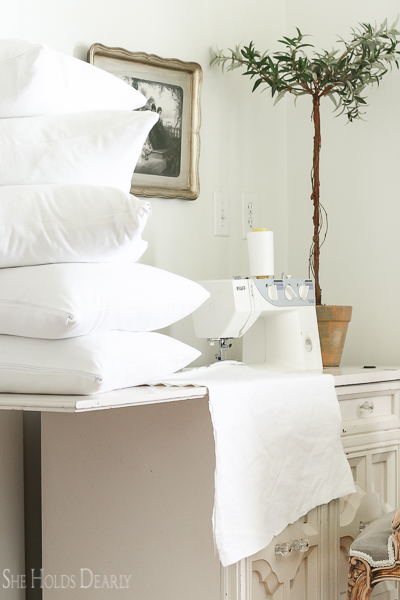 I decided I needed to document my zipper adding skills.
NOTE: This post is selfishly for me, so I don't repeat my pillow number one blunders in the future. But, I will publish it.
You might as well let me make all the mistakes (wink).
Or you can be even smarter than me and hit up Etsy in about two minutes for cute pillow covers.
Click on the images below to find these pillows.
But, for those of you who pride yourself on your DIY abilities, here you are.
Add a Zipper to a Pillow in 10 Minutes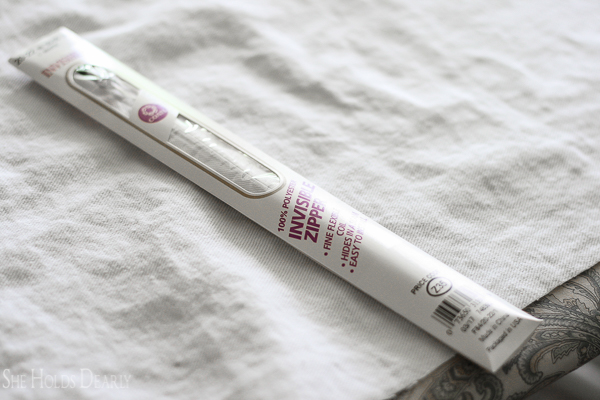 Supplies
Pillow Form

Feather pillows are my favorite and I get most of them at Goodwill for a couple of dollars. Just check the throw pillow section, it doesn't matter what the current fabric is. It is the pillow form you are looking for.
Feather pillows feel kind of crunchy and hold the shape you make with them better than the other types of pillow forms.

Desired Fabric

This step may take many, many hours for a woman, therefore, rendering my blog post title absurd.

Measuring Tape
Invisible Zipper

Use one that is 1-2 inches wider than your longest edge.

Sewing Machine
Matching Thread
Straight Pins
Sewing Scissors
Iron
Tutorial
Wash and dry your fabric and pillow form (if it is thrifted).
Start by flattening the pillow form as much as you can. Measure the two perpendicular sides.
Write down your two numbers.
Add one inch to both of these numbers to give you a 1/2″ seam allowance.
Measure out the square or rectangle and cut out two pieces of fabric, right sides together.
Iron the zipper flat and unzip.
Pin the right side of the zipper (BE CAREFUL HERE) to the right side of one of the fabric pieces.

Leave some of the zipper ends hanging out on each side.
Stitch the one side of the zipper into place.

Don't worry about doing a backstitch at the beginning and end of the stitching. Just stitch one straight line up close to the zipper teeth.

Trim the tails of the threads off.
Now line up the other side of the zipper to the right side of the second fabric piece and repeat on the this side.
Next, zip the zipper closed, leaving about four inches unzipped.
Stitch around all three unfinished sides of the pillow.

Skip the pins to save time. Just keep lining up the edges.
Use a 1/2″ seam allowance.
Sew right through both ends of the zipper hanging off the edges. This will keep the zipper from coming unzipped on either end.

Trim the tails of the thread and the extra zipper ends.
Turn right side out.
Finally, iron the pillow cover and insert pillow form.
Piece of cake!
Now you can have the luxury of a zipper in all your DIY throw pillow covers.
Let me know if you have any questions!
Sharing at these parties!