If you've ever wondered about selling your furniture on Craigslist, I am here to show you the way. I've been buying and selling on Craigslist for many, many years ever since it started. There are seven tips for selling furniture on craigslist that I think are important and I'm excited to pass them onto you today.
The best thing about this technique is that you can switch your furniture out every few years if you want and not spend any money. As long as you're buying and selling on Craigslist, you're just swapping your furniture out for new-to-you pieces that you love.
It's such a fun game to play.
The biggest stumbling block that I hear about from other readers is that they struggle with how much they paid for the original piece brand new.
So there is this sort of guilt /sticker shock that happens as you transition from the person who buys retail versus the one who gets into the cycling the furniture in and out of Craigslist.
The bed that I am listing today was that way for me. It was the first nice piece of furniture that we bought after we were newly weds.
We bought it on sale, but it was a huge splurge and we saved for a long time to get it. I love this bed, but at the time did not realize how trendy it was and how I was not going to be as excited about it in the future.
If you are somewhat trendy and really love to keep changing your decorations and furniture out, this is another reason to get into Craigslist. I can't believe I am ready to sell this bed after loving it for so long, but here I am.
If it were just the wood, I wouldn't mind on painting it a white or light gray and just having a French flair to the bed. But it's the upholstery that really stresses me out.
I know how to do upholstery, but this is so perfectly done that I just don't think I could replace it well enough.
I thought about replacing it with a linen, but then that would be really difficult to keep clean. So I am at an impasse.
Do I pay someone to reupholster it, do I leave it the way it is and not like it or do I sell it to recoup some of the money and just learn my lesson?
I have come to the decision that if I can make $1000 off this bed it will be the breaking point for me that will make me be able to let go of this bed.
So that brings me to you with my 7 Tips for Selling Furniture on Craigslist.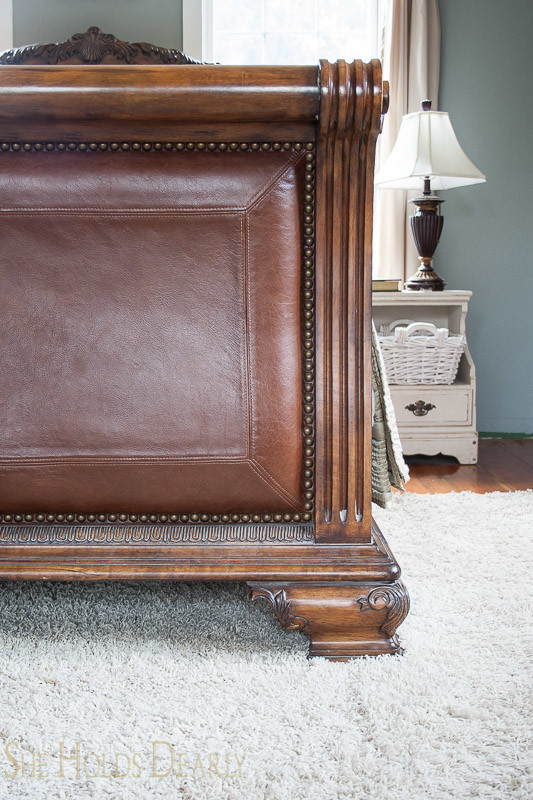 1) The first thing that I recommend is to get four very good pictures and be sure to get close-ups of any defects that need to be disclosed. Try to go from all angles, don't just take four of basically the exact same photo.
Take the very best one and use that as your cover photo when you set up your ad. You can watch the video to see more of exactly how to use the Craigslist platform.
2) Write a really good description in the description box. Give a little bit of the history, tell why you're selling it and use descriptions of the materials, give all the measurements. Talk about defects.
Even try to throw in a few keywords, maybe some brand names or a specific style that would help with this search optimization. Be honest and not spammy, but use this to your advantage.
Mention also if the item is coming from a smoke -free or an animal- free home, a lot of times this will help the buyer make their decision.
3) For the price, this is the guideline I like to use. I figure out what retail pricing is and I offer my item 40% off of that. This is a really good rule of thumb when buying off Craigslist, as well.
Be prepared to drop your price, but know how low you are willing to go.
If it is a really popular item plan to re-list every three days to put it up at the top of the listings. Otherwise it will sit there for a week and Craigslist will allow you to relist every week. Mark your calendar and stay on top of that so that it doesn't just disappear and never get seen.
If you haven't had any offers in two weeks prepare to drop the price by 5% and do this until you get down to 60% off retail, which is about eight weeks in my experience.
At this point you could reevaluate- is it worth continuing to drop the price or do you just want to donate it and be done with it??
On the bigger pieces I stick with it a lot longer but if I have an item down to say $50, I just don't wanna put anymore time into relisting it and taking phone calls and emails. So at that point I might just get rid of it.
4) Listing on Friday night is the best night, people are going into weekend mode and hanging out online. They're starting to think about their home projects and being able to go meet someone on the weekend to pick something up. Furniture can do really well Friday through Sunday.
Use a lot of common sense and use the first few conversations as the screening process. Anytime someone will not share their name with me or they can't use complete sentences or have manners, I am instantly turned off.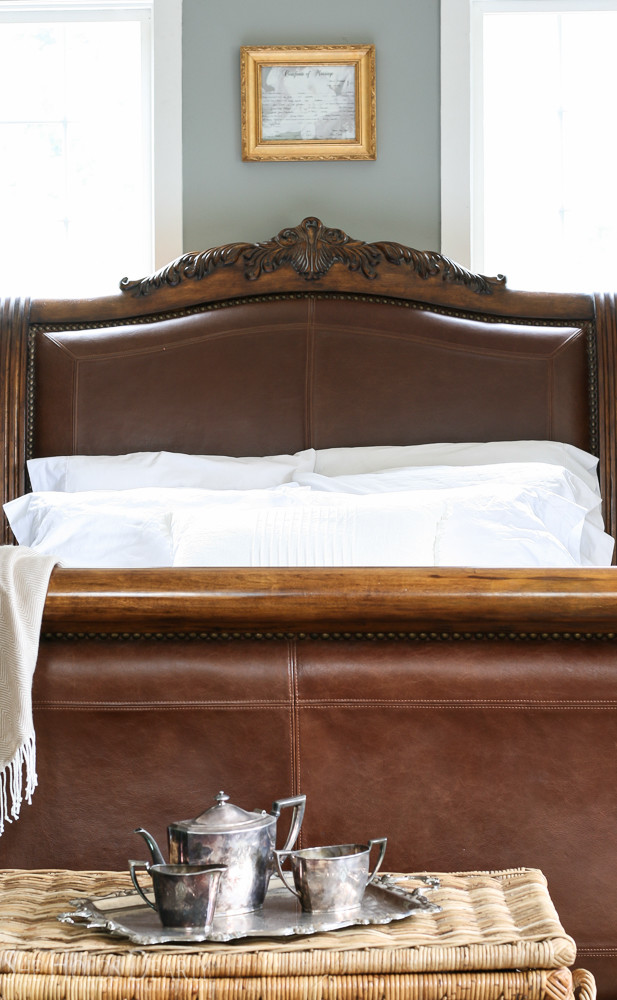 If things seem to be going alright via email, I'll give them my phone number so we can chat on the phone and I can answer any questions. I'm still trying to see how normal this person is acting.
After I have had a good phone conversation with someone I have always had a good selling experience after that. It's a great way to screen your customers.
Sidenote- Do not ever agree to wiring money. That is most definitely a scam artist.
5) Even when someone has passed the phone call "interview" stage, I still want to meet in a public place like Starbucks. Some place very public and we just meet in the parking lot.
The problem with this bed, that it's so large the buyer will have to come pick it up and at that point I will make sure that I have different security measures in operation and the bed will probably be sitting in the middle of the driveway. Make it super fast and straightforward, if they have to come to your house.
6) I don't even know if you need to mention this in an ad but only except cash. Count it on the spot and make sure it's correct.
The other thing that I think is wise to insist on is that your buyer look over the product you're trying to sell and agree that it is most definitely what they thought it was and that there's nothing wrong with it. They are happy with their purchase.
You do not want someone calling you two days later and saying they want to return it. Do not do returns unless it truly is not what you said it was in the ad.
For instance, one time we sold a stove and the guy got it home and couldn't get it to work. That was the only time ever that I was willing to take it back. In the end he got his brother to fix it and it was able to work.
Otherwise, I wouldn't have agreed to that.
7) Do not minimize the power of the other people that are hopefully trying to pick up the items you're selling. I'm all about first come first serve, but if anyone else asks about it I tell them that there's someone ahead of them, but that I will contact them if it falls through.
Usually, they are really grateful for that type of response and many times the first buyer will fall through. They just won't end up coming or they change their mind at the last minute and I have a back up plan at that point.
I just contact the other the next person in line and say, "Hey, it's available, you're in luck!"
And we just keep moving forward. Those back up buyers are gold!
And there you have it my Seven Tips for Selling Furniture on craigslist.
So, tell me in the comments below if you have anything you would add to this list.
Also, I'm curious. What is the very best item you have sold on Craigslist?
Pin for Later