I hope you enjoy this post as we revisit an old favorite and go on a Modern 1800's home tour!
A couple of years ago, my dear friend Tanya, found the most charming, unique house I have ever seen. We are kindred spirits through and through and I just knew how much this home was going to bless her.
The home was built in 1996, but get this, the original owner had it designed after an 1800's German cottage, but with all the modern amenities!!
Who does that???
It has the wide planked wood floors with hand driven square nails, an arched roof (!), wood ceiling beams and all the "door knobs" are vintage latches.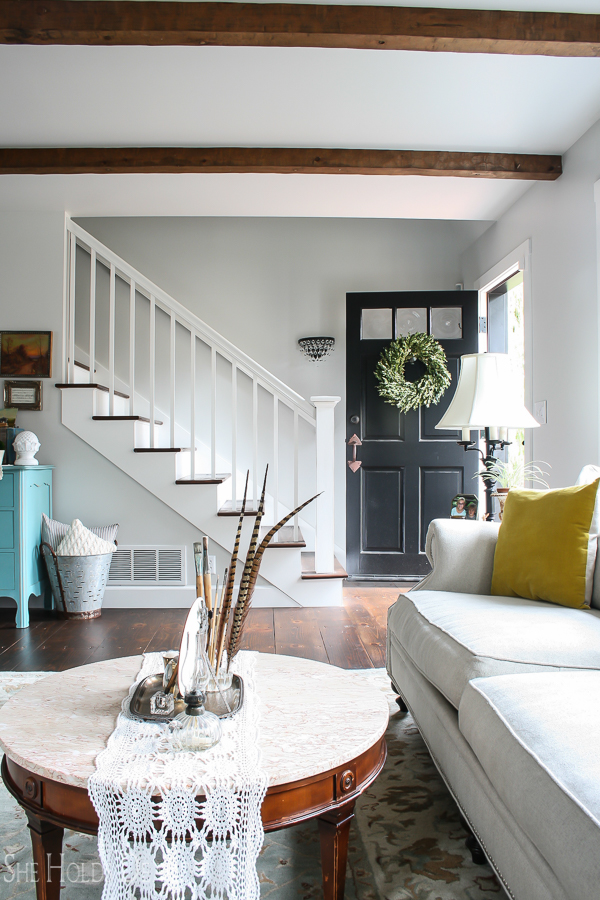 When you first walk in, you see this huge brick fireplace that runs into the kitchen and up through the center of the home.
I love how Tanya regularly has lavender drying from the beams just like they would have back in the day.
Right about the time Tanya and her family found this house, her Nana (grandmother) was not doing well physically and was, come to find out, on her death bed. Nana was full blooded German and was always drawn to this style of house.
Tanya wrote a sweet letter to the owner describing her love for her grandmother and how much it would mean to her to live in a home that reflected her German family heritage.
The seller ended up accepting Tanya's offer and I'm sure it had something to do with her sentimental heart.
When Tanya sat at Nana's bedside and told her the news, Nana cried.
Nana passed away soon after that conversation and never saw Tanya's 1800's style cottage.
*This post contains some affiliate links.
But, I think it was one of those sweet details in life that God sent to the both Tanya and Nana to comfort them before they said good-bye.
Even though the house was built in 1996 and so fairly new, there were things that were starting to get dated. Tanya and her husband got right to work, repainting, changing out the lighting and updating many things.
The kitchen got a makeover- all new appliances, tile, countertops, island, etc.
The island is from Crate and Barrel.
It was so fun for me to visit her during that time. The smell of fresh paint, tools everywhere, trying to feed people while your kitchen was demolished, the cold, echoing house due to the fact that you can't fully move in and the windows needing to be open to vent the paint fumes- it all brought back memories of our house renovation and made me smile.
One of the things I love about Tanya is her immaculate house keeping skills.
I have heard Dutch women are famous for their spotless homes and I jokingly tell Tanya she would have made a good Dutch woman!
As I was taking these photos yesterday, I kept asking where she had purchased this and that and you know what she said?
"Well, almost everything was thrifted."
Of course.
One more reason why I love her so!
Off the kitchen is their lovely dining room . . .
and that back door opens out into the most gorgeous yard- on a pond!
Um, yes, please!
I'm telling you, this house is what dreams are made of!
I just know the She Holds Dearly readers will appreciate getting a glimpse of such a charming abode.
Originally, I planned to photograph the whole house, but I was getting an overload of good material to work with.
So, lucky you, this will be the first of at least THREE blog posts. I would love to show you her yard in the spring time, just a hint- she used to work in a green house!
AND, I still need to show you all the bedrooms and bathrooms (one that is newly renovated) in this place!
I hope you enjoyed this little home tour as much as I did, it isn't everyday that you get to sneak inside a modern 1800's cottage, now is it?!
Continue the tour to see the bedrooms and bathrooms!
Shop This Look
[show_shopthepost_widget id="3012596″]
Pin for Later:
SaveSave
SaveSave
SaveSave
SaveSave
SaveSave
SaveSave
SaveSave
SaveSave