If you can't find heirloom pumpkins in your neck of the woods, you could always paint some foam ones.
Let me show you in this tutorial how I made faux heirloom pumpkins.
It all started when I was needing pumpkins at the end of August for the fall home tours. My family was driving back from camping. I was calling every pumpkin farm in a 20 mile radius trying to find something on the way home.
"No pumpkins yet, Ma'am. Not till the end of October, Ma'am."
What???!
That's Ok, I will just order some off of Amazon.
WHat???!
They are approximately $30 each? I need at least seven!
And then my thrift store habits kicked in. I hit Goodwill and filled my trunk with faux pumpkins.
And the price-
$25.00 for seven pumpkins!
Now let's look at how to turn these into something more like this. . .
*This post contains some affiliate links to products I know &/or love.*
I think it's easiest to look at the four "heirloom varieties" separately.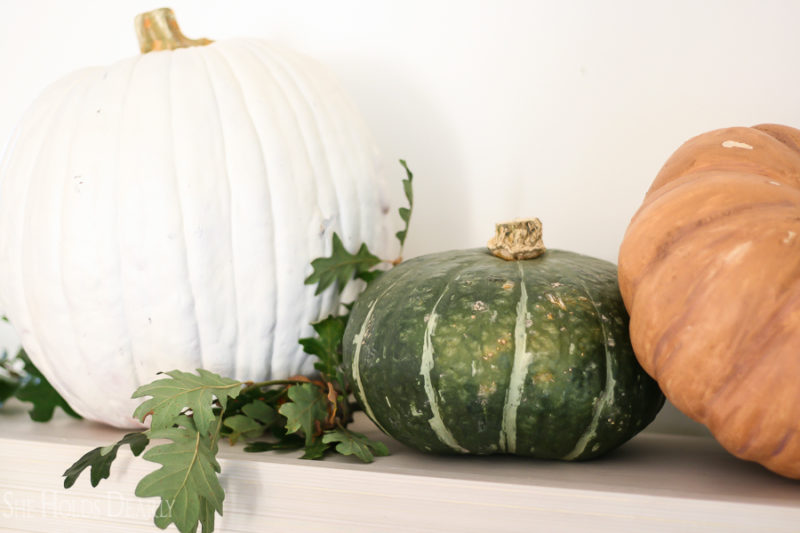 Look #1
Dark Green with Light Green Details
First off, check your local produce section! I found the smaller, dark green ones at our produce stand and didn't need to paint any.

These ones are actually a squash, Kabocha.

You can peruse my Farmhouse Fall Pinterest board for more ideas.
Look #2
Plain White
Start by masking ask off the stems.
Look #3
Sage Green
Look #4
Muted Orange
Again, start by following the directions for Look #2.
Cover in two coats with orange paint mixture, using a foam brush.
While still wet, go back and swipe in the tiniest touch of Purple Iris paint to the crevices.
Once everything is dry, finish by applying a coat of Miss Mustard Seed Finishing Wax, following the directions on the jar.
To display your new faux heirloom pumpkins, consider piling them up a little and turning some of them on an angle.
So, now I have some heirloom pumpkins,
for a fraction of the cost,
that will be around for many years to come!
Win, win, win!
Shop this look
[show_shopthepost_widget id="2852878″]
For those of you ambitious ones, who want to grow your own heirloom pumpkins, I have a special treat for you today. My dear friend, Kelly Wilkniss, has a beautiful new book out this year!
Her book, My Soulful Home: A Year in Flowers, offers twelve tutorials, one for every month of the year.
She shows everything you need to know to have gorgeous flowers year round to add to your own decorating.
In addition to writing this book, Kelly authors the blog My Soulful Home, is co-creator of the app bHome and is producer/co-host of the popular podcast Decorating Tips & Tricks. She is currently renovating an 1886 Victorian farmhouse. She shares this historic work in progress with her husband, two girls & dog Emmett.
Related Posts
Favorite Fall Decorating Trick