It's time! Time to take a peek at the Top Ten Posts of 2019 in She Holds Dearly land!
I'm so excited to be sharing with three of my favorite bloggers today, as we all delve into our analytics and learn what resonated with our readers. Scroll down to the end to visit their blogs, as well. I promise, they will not disappoint!!!
I love this time of year! I get to look over the previous year and see what it is that spoke to my readers the very most from the previous year.
I'm always surprised at the variety of topics that are highlighted. It helps me plan the next year and know what to focus on for my faithful followers.
Insterestingly enough, my blog used to be followed by women aged 40 and up but now there are a new group of 20s and 30s somethings that have been coming on board, so that is extra fun for me, too.
I thought we should countdown from 10 to 1 and save the best for last. Sound like fun?
Ok, here goes.
Top Ten Posts of 2019 | She Holds Dearly Blog
Number Ten
This was a time saving video and post that I made on how to simplify your morning routine. I share the different tricks and products that I use to only have to wash my hair once a week.
I love that you guys are interested in saving time, as much as I am.
Number Nine
I love that people are interested in decorating outside their homes and up cycling vintage pieces.
That's with this post was all about. There's a tea cup bird feeder, a concrete picnic basket turn the planter, my French utters and a concrete pot with medallion that you can make.
Number Eight
People love seeing our porch, it's always a big hit and I'm so glad that you enjoy it. The truth is we have three porches on this house and they all need to be re-done but it's so fun to decorate the one section that is in the best shape and have you guys appreciate it's beauty even it's brokenness.
Number Seven
I was really looking for extra long linen curtain panels, and these are the my favorite ones that I found. Ikea is a great source for super long curtain panels at a good price.
The only problem was they were yellow looking in my house and I could not bleach them.
I don't know if it was because they had some kind of a product on them to help repell stains or something, but I tried a whole bunch of different products and I ended up landing on my all-time favorite product for making fabric look extra white!
Number Six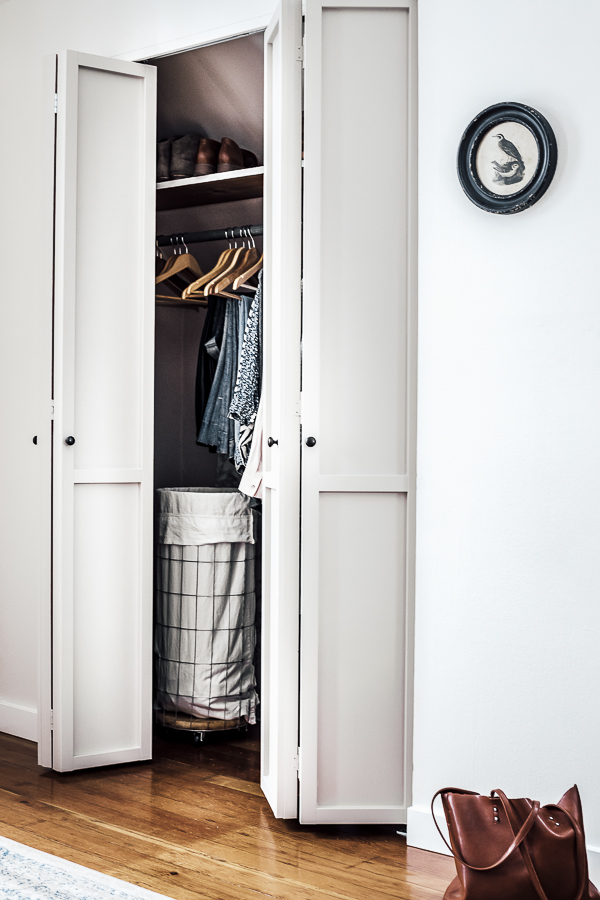 It took us a long time to decide what to do with our closets in our master bedroom and in the end we decided to up-cycle some cheapo bifold doors we found on Craigslist and give them kind of a shaker style look.
The way we positioned the knobs kind of made it look like a row of lockers and I'm really happy with the result.
I think they are still in step with the age of our house and yet provide some privacy to hide the clutter behind those doors.
Number Five
The more I thought about this one the more it surprised me. Sometimes I feel like the DIY crowd is not interested in buying anything.
But I don't think that's true, I find that they are interested in stores that are known for their discounted prices like TJ Maxx, Walmart, IKEA etc.
So this one does make sense and I will be keeping my eyes open for more great products along these lines.
Number Four
I've been wanting to learn about mineral paint and so I'm so glad that you guys loved it, too.
It almost goes on oily, not like an oil base pain,t but like oil. And it has a self leveling attribute to it so it dries extra smoother you don't need to use hardly any and you don't need to seal it, I love all of these factors of about fusion mineral paint
Number Three
When makes me so happy, I think, is that this was such a sentimental post for using someone's shirt that meant a lot to you.
I just used a free shirt I found at a garage sale and I instantly knew I want to turn it into an apron.
I show how to take the different pieces of a men's dress shirt and up-cycle them into a cute French bistro apron in this post.
Number Two
This tells me that people are interested in the latest decorating trends but they wanna know if there's a cheaper way to do it.
I've seen olive tree topiaries run $80 a piece. That was detouring me from buying them for a long time, until I figured out how to create my own for around $10. Yay!
Number One
That was so surprising to me, but apparently it was very thought-provoking for people.
I just talk about why we can't get rid of things by asking the wrong questions as we are decluttering. This causes us to not truly purge a space and in the end it just ends up getting cluttered again.
So in conclusion, I can tell you this. I will be doing more blog posts in 2020 on
frugal decorations
DIY products
simple creative upcycling
following the trends
decluttering and simplifying
gardening porches
and gift ideas
Sounds pretty great to me! I can't wait to get started!
Let me in the comments which post resonated the most with you from the list above.
OH, and don't forget to stop by three of my favorite bloggers below. They are also sharing their Top Ten Posts of 2019, I know you are in for a real treat!
They inspire me daily!! Enjoy.
The Ginger Home | Pine & Prospect | She Holds Dearly | Zevy Joy
Pin For Later
related posts