Is anyone else working on starting a vegetable garden right now?
This past weekend my whole family and I got out in the yard to get our 2020 garden underway! Even our dog, Kierra helped!
We've had this garden for the past 12 years, but it had been a long while since I had been out there when last season ended.
At one point we had it all organized and bursting at the seams with multiple plantings taking advantage of fall and winter crops, but it hasn't been like that the past year or so.
If I had my way and unlimited time and resources, I'd convert it to a dreamy french potager ("Po-ta=zhay") garden. Potager is french for a kitchen garden – consisting of mostly edible vegetables.
In the mean time, I curate my dream vegetable garden ideas in my pinterest board, the Farmhouse Garden while caring for my slightly less charming, but equally important current garden space.
I'm hoping to get a good yield of vegetables this year, so I wanted to get started!
Garden work we accomplished this weekend:
We had a weeding marathon in the existing beds to get them back up to snuff for new plantings.
There was an area with peonies that we needed to move in order to make spots for two new garden beds my husband made for the season.
He used un-treated 2×4″ boards, stacked 2 high and supported in the corners with 4×4″ posts. These should last about 7 years in the garden!
My husband was also able to use his tractor to level out the area beneath the beds, and to fill the new boxes up with new soil for the plants – much faster than needing to do it all by hand.
Our blueberry plants love lots of water, so we keep them in raised beds that have a full irrigation system. We add rabbit manure, which the berries love!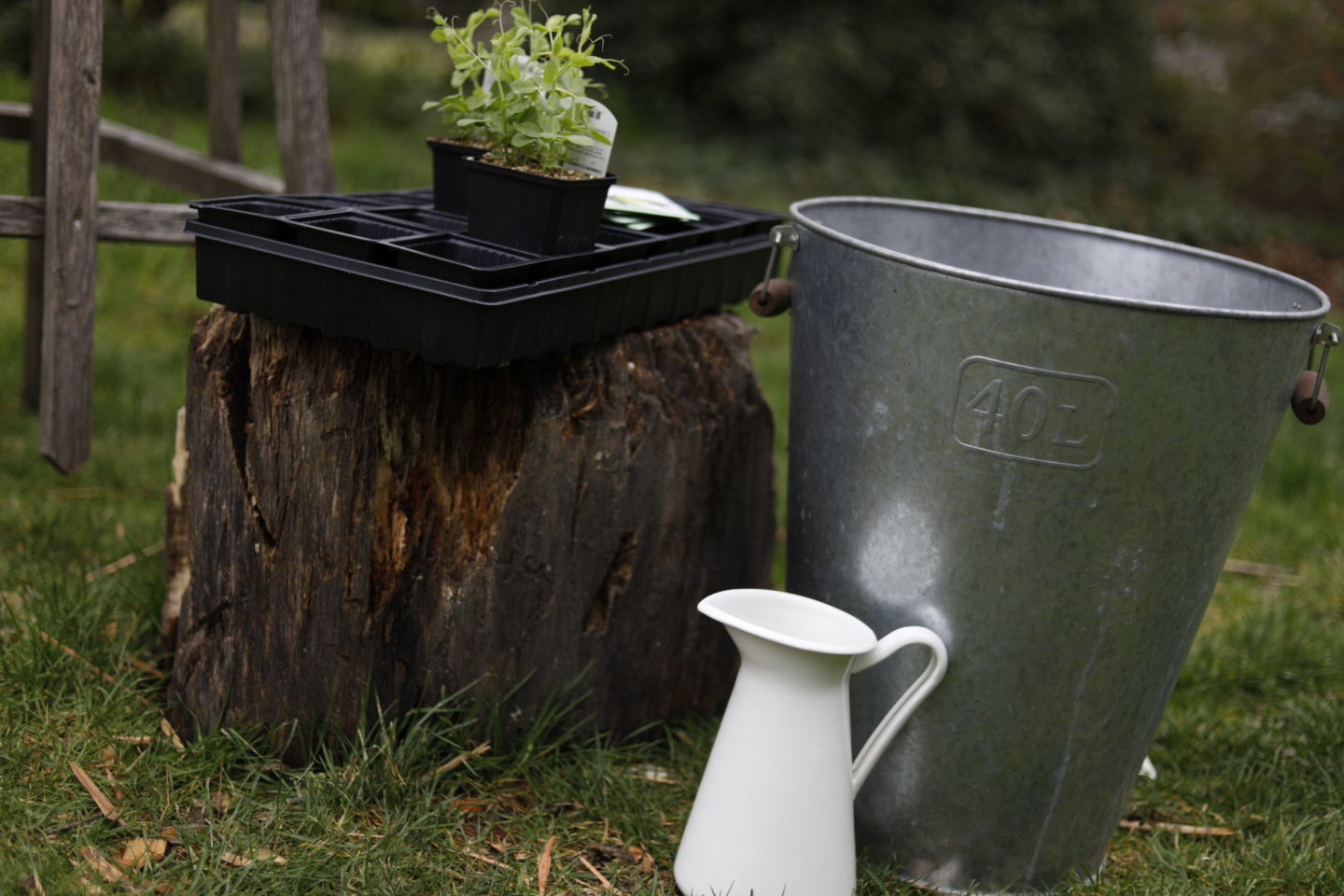 One of our big Garden Problems
When you're starting a vegetable garden, you're bound to come across some common garden problems.
Something that has caused us lots of headache and extra work in the past years in our garden is bindweed. It's a very persistent vining plant with white tissue-like flowers.
In the previous years we've tried simply pulling it up, and even got desperate enough to try chemicals at one point – all with no luck.
The one thing we've found to help get rid of them is to "suffocate" them by removing all leaves and flowers as soon as you see them.
I mean daily pruning of the leaves to starve the plant of any nutrients. It's tedious, but after 2 years of it, it really seems to have worked.
Keeping Track of my Garden
Over the years I've found that keeping all of my garden information in one place has been really helpful!
I've chosen to use a regular 3-hole binder so I can easily hole punch larger papers and add them as needed – or tuck smaller items into hole punched page protector sleeves.
In this binder I keep track of things I've planted (different varieties of the same vegetable, as an example), things that have gone well, things I want to try, etc!
I also love keeping a calendar for each year with detailed notes of planting dates, as well as information like the time of year I noticed certain pests becoming more active.
Having that historical data helps me make better decisions in upcoming years!
I also really love mapping out my garden beds on graph paper. I measure the beds and chart out with a 1 square to 1 foot ratio. Then I use sticky notes to mark which items will be planted in which beds.
It's actually very similar to how I design and plan layouts when I'm doing room designs!
If this is your first time starting a vegetable garden:
I always recommend that people starting out for the first time start with maybe 10 different plants their first year.
We've worked out way up and at times have had upwards of 50 different varieties of vegetables planted in certain years, but at the beginning, starting with just a handful or two can be really helpful.
Each of your items comes with it's own rules for germination, it's own pest issues to watch out for, and it's own rules for harvesting and preserving.
So learning those a few at a time can help the entire process feel much less overwhelming!
*This post contains affiliate links to products I know &/or love.
Starting This year's seeds:
Some seasons I simply wait until the point in our PNW Spring that the ground has warmed up enough to sow seeds directly out into the garden beds, but this year, I'm really wanting a decent harvest, so I'm starting seeds indoor to "baby" them a little more before transplanting them outside.
This year I'm using these seed starting trays which I love because they come with clear plastic lids that act as greenhouse domes that help the soil retain both moisture and warmth!
Once I plant the seeds in these trays and give them their initial watering, my plan is to keep them in our fireside room where they'll be nice and warm.
If you don't have a suitable room to keep the soil temp approximately 70 degrees fahrenheit, you might consider using these heat mats underneath your trays to speed up the germination process.
The Seeds we're using for starting a vegetable garden this year:
Here's a preview of what we're planting for this year!
These are some we had from previous years or from other various sources.
Red Seed Potatoes – I love planting these in our orchard in wood chips! The red variety is my favorite because they're pretty, and don't require peeling!
Asparagus
Garlic – we do a lot of garlic to preserve for the year!
Cilantro
Sunflowers – for the chickens
Chives
A good portion of our seeds for the year came from the Territorial Seed Company, which I love!
These are the new seeds for this year from there:
Cherry tomatoes
Basil – for pesto!
Brussel Sprouts
Spaghetti Squash
Variety Lettuce – which I can plant about 3x for a staggered harvest.
Carrots
Beets
Cucumber
Green Beans
Peas
Speaking of green beans and peas, I'm excited to once again move these DIY French Tuteurs back to the garden to let the peas and beans climb for the growing season!
These are adorable, easy to make, and cost only about $25 in materials! You can find the printable plans Here:
I hope this information is helpful as you set out to work on starting your own vegetable garden, and I'll update as the season progresses!
Pin this for future reference: