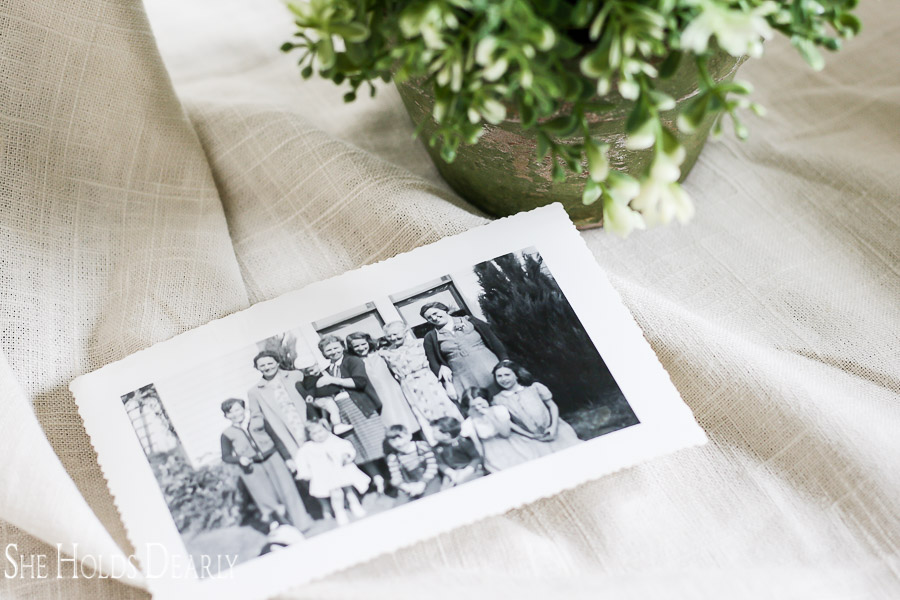 From the first day I laid eyes on the old farmhouse, I wondered about the family that started it all. What was their daily life like? Why did they design it the way they did? Was it a happy home?
If these walls could talk!
If you love these kinds of things, be sure to scroll to the end to visit my friend Kelly from My Soulful Home and Annie from Most Lovely Things to tour their old homes!
The realtor said the family's name was Swanson and they were turkey farmers, having purchased the land in 1906.
With that in mind I tried to research the family online, I talked to older neighbors, I made plans to go to the courthouse. I really wanted to find some originals pictures and details about life in our old home.
Well, unfortunately, I never learned much.
The best discovery was a diary that my husband found in a wall when we gutted the place. I kept it on display in the house.
However, one Saturday morning six years ago, my husband and I were working in the garden and the kids were playing in their fort. An elderly man came walking down our driveway. He found my daughter first and politely introduced himself.
He said his name was Mr. John Swanson. His grandfather had built our house (gasp!), he was in town and working on a scrapbook and could he, please, take a picture of the old house for his records.
Well, no need for stranger danger in this scenario!
She jumped right up and said, "My mom's been looking for you!! You come with me!"
Of course, I said, he could take a picture and then he turned to leave. I wasn't about to let him get away, so I asked if he would like a tour first. His eyes lit up and he said, actually, his wife and sister were up on the road waiting in their car.
They didn't really know what to expect, so he decided to play it safe and just walk in to our place. He went and got them and we had a blast going through the old house asking and answering all our questions.
As it turns out, the place used to be a chicken farm, not a turkey farm! At one point, John's sister looked out our window and saw our chickens. She got tears in her eyes and said that Grandma and Grandpa would be so happy to know that there were still chickens on the farm and that a sweet family was fixing up the place.
And get this, we don't just have chickens, we have Leghorn chickens. Notice the letterhead below!
We ended our visit, by giving John the diary we had found. As it turned out, it belonged to his aunt. And, a week later, John sent me a big package of photos of the family and house! My dream come true.
I keep this one of John with his little fish he caught from our creek in my kitchen and the one with Grandma Alma on the front porch is my favorite because it shows that the house is still the same style and that the trees have grown so much.
You have to look really closely, but there is a woman standing between the two pillars on the porch.
Notice the difference in size of that cedar tree on the left!
Here is me standing in the same spot as Grandma Alma.
And notice the family standing outside our window seat here.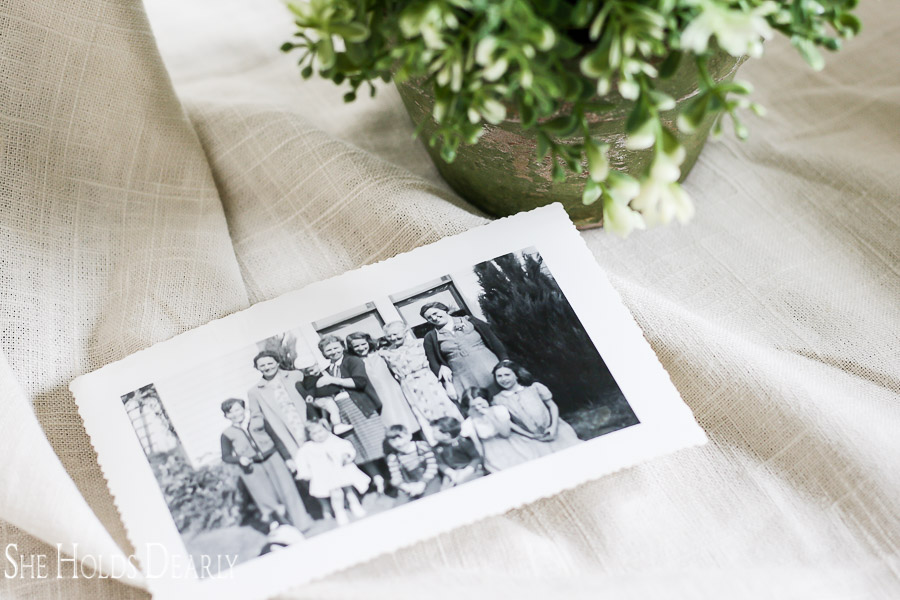 Well, six years have passed. The remodel has continued and the blog has taken off. The house has been in magazines and on YouTube.
We recently got back in touch again with John Swanson and had him over in June for another visit, this time with his two daughters. He brought me Grandpa Swanson's desk chair and I plan to turn it into a rocker for the porch, stay tuned for that tutorial.
We had a wonderful time and put the whole visit into a video for you. So, get cozy and let's visit with John Swanson, grandson of the original owner of our vintage home.
Watch this video to see the full interview!
Don't forget to visit the other two homes on our Historic Home Tour!