Let's take another deep dive into cottagecore decorating!
Someone shared with me recently that cottagecore aesthetic is the number one trending hashtag currently in design, and I believe it!
Last year I shared about this style for the first time on the blog and my YouTube channel, and it was wildly popular, so I thought we'd do another round appreciating all that cottagecore has to offer.
Cottagecore as a style has only been around the past few years, and really keeps gaining in popularity. If you're unfamiliar with it, you can think of it as being inspired by Holly Hobby, granny chic, and if you're an Anne of Green Gables fan, your time has come!
It's really popular right now among teenage girls and those in their early 20s. I think it could also be an absolutely beautiful little girls room; you almost couldn't go wrong.
If You Love Learning About Interior Design…
You'll be excited to know that my Elite Decorating Academy is accepting new students now.
28 Hours of Practical Interior Design Teaching
160 + classes (an average of 10 minutes each) covering a comprehensive interior design education
Available online 24/7 upon purchase
Includes video, audio & written teaching
Visit elitedecoratingacademy.com to learn more and to get registered!
Benefits of Cottagecore Decorating
One of the things I love so much about cottagecore is that it's so very doable, and especially for the DIY and thrift loving crowd I've got here in the She Holds Dearly community. It's also un-pretentious, and draws a lot of inspiration from nature. The combination of these three aspects means it's also very economical!
I've been considering a 3rd video in this unofficial cottagecore series about how to redo an entire room in cottagecore design with only $100.
If that sounds like something you'd enjoy seeing, will you please let me know in the comments below?
Today's Inspiration Pictures – A Instagram Round Up
One of the best parts of talking about cottage core decor is that we get to admire the many absolutely beautiful interpretations of this that can be found by designers world wide. The pictures I'm sharing in the blog post today come from these very talented ladies that I'm happy to highlight here! Make sure you follow them on Instagram and you'll continue to be inspired by their eye for beautiful feminine details.
The first account is Mila from @sunnyflowers_cottage on Instagram, and your_sunny_flowers on YouTube. The featured photo at the top of this blog post is one of hers! And you'll see more as you read along!
Next is Erin from @clark.cottage.gardens on Instagram, and her blog of the same name. She has famous gardens that really capture the essence of cottage core.
Then we have Jasmina from @jasminabylund on Instagram, and online at jasminabylund.com. She is Swedish, and an all around amazing designer.
@indooraworld, also on Instagram has the most beautiful close ups that show you the details of all that can be expected in cottagecore. Her account is very well collected and highly concentrated, so it's a wonderful account to study. You can find her elsewhere on the internet HERE.
Now, say you like some of the ideas of cottagecore decorating, but you want to add a little twist?
If you're a little bit more on the dark and moody side, you'll probably love Karen at @theoldpotatostore on Instagram. She's a British designer and she adds great drama to the typical cottagecore look. She also has a store that you can purchase great pieces from HERE.
What if you actually wanted to go cottagecore, but even more light and feminine? Adriana from @shabby_whites is your girl! If you were a shabby chic die hard back in the day, I think you'll really love her style. She also has an Etsy store you can visit HERE.
If dark, fall colors are more your vibe, you'll enjoy Talya from @cosyacademia and her rich deep aesthetic.
More Details to Love
If you haven't already gathered it by now, cottagecore is ultra, ultra feminine. Possibly the most feminine style I know of!
It's hopelessly romantic and straight out of the 1900s, English cottage era.
One thing it's not, though, is minimalistic.
This is actually the one thing that keeps me from jumping in to this style for my own home with both feet. I don't want to have to dust all those pieces! And I don't want to end up collecting too much and having it turn into clutter.
This is really a look for someone who likes a cozy feel, and enjoys having their things around them, and on display.
I said it before and I'll say it again, but I think covid had a hand in kick starting the popularity of this trend. People were already staying home more during that time, and realizing they wanted enjoyable things around them for comfort became more important.
Highlights of Cottagecore Decorating:
If you're getting excited and want to start incorporating some cottagecore into your own home, here are my best tips!
Everything on Display!
This is the time to embrace open shelving, peg boards, and keeping your pieces out for enjoyment. Hang your pots and pans, hang your aprons, you can even hang a cute dress or outfit you're planning to wear soon. Highlight & show it all off!
For textiles, this is when you can proudly display the needlepoint and cross stich pillows and wall hangings that your Grandma might have made years ago. Add curtains to your windows and under your sink.
And if you're wanting something to keep your eye out for while thrifting, the easy answer is lace! Layers and layers of lace are staples in cottage core.
For your walls, you can't go wrong with floral wallpaper! Because this look is very maximalist, it's hard to go wrong, and you don't have to worry about mixing your florals or having them clash.
If you didn't want to spend $500 buying wallpaper for an entire room, you could choose an accent wall and wallpaper it with book pages – you'd be 100% in style.
Millwork is also highlighted and celebrated, often in beautiful colors.
There are a couple of different collections you can start to look out for, and vintage books are of course the first! Stack them, pile them, line them up in rows on your shelves – there's no right or wrong way.
Florals aren't just for the wallpaper, either, you can add them in any textile or wall decor, and also in actual bouquets, either fresh or dried.
The imagery of fields of wildflowers is near and dear to the hear of the cottagecore fan.
This is also a great time to incorporate live plants into your decorations -if you're the type who enjoys them! I am a faux flower kind of gal, and often get criticized for it, but I figured out a while ago that I only have a certain number of hours in the day, and I would personally rather not spend them taking care of live house plants. It's something that can be cut, so it has been.
But if you like plants, go wild! You can line bookshelves with them, or line them clear across in front of your windows. (Again, part of this style is that it's really hard – maybe even impossible – to "overdo" it.)
For furniture, you can't go wrong with humble, simple old pieces. No matter how beat up they are. (You can find something on the side of the road and not do anything to it but give it a good clean.)
Lighting can have lots of fun elements like crystal chandeliers, candles, and delicate string lights.
Wall decor often consists of busy and collected gallery wall displays.
If you're looking for new art inspiration for a gallery wall of your own, I have curated a collection of 12 free vintage art prints and I'd love to share them with you for free HERE.
Another fun wall decor idea is to create a gallery wall entirely out of collected sun hats.
For your horizontal surfaces and vignettes, in addition to everything I've mentioned before, you'll also want to go ahead and pull out your Grandma's china set!
It looks great displayed on your open shelving and in open cabinetry, but it also holds a more special place in cottagecore.
There's kind of a continued theme through cottagecore that your space looks lived in. Not just that you can tell someone lives there currently, but that it's being lived in in the exact moment it's pictured in.
It feels like you walked in to a story that's already begun and is actively happening around you.
It's things like table settings for tea, and letters and an ink pad set out with wax seals. It's a really beautiful lived in, timeless fairy tale sort of feel, and it's no wonder so many find it so cozy and comforting.
I know I try to stick more with interior design, but I have to share a few outside ideas for the garden, too!
Add ALL the arches, and send things like beautiful climbing roses up and over them.
Swap out lawns for gardens full of wild flowers.
And add some great wicker furniture for entertaining family and friends.
And a clothes line for drying in the sun is another must.
As I bring this post to a close I wanted to share two more accounts that I've been following since nearly the beginning of my own Instagram account who not only embody beautiful elements of the cottagecore style, but also live it out daily alongside their families.
There's something so fun about seeing families living out the slow and peaceful kind of life that cottagecore style celebrates.
The first is Kerrie with @bonjourmoon. I love how she shares her sweet family, the captions on her posts, and how her style of writing is so detailed and appreciative of all the beautiful things there are to notice in life.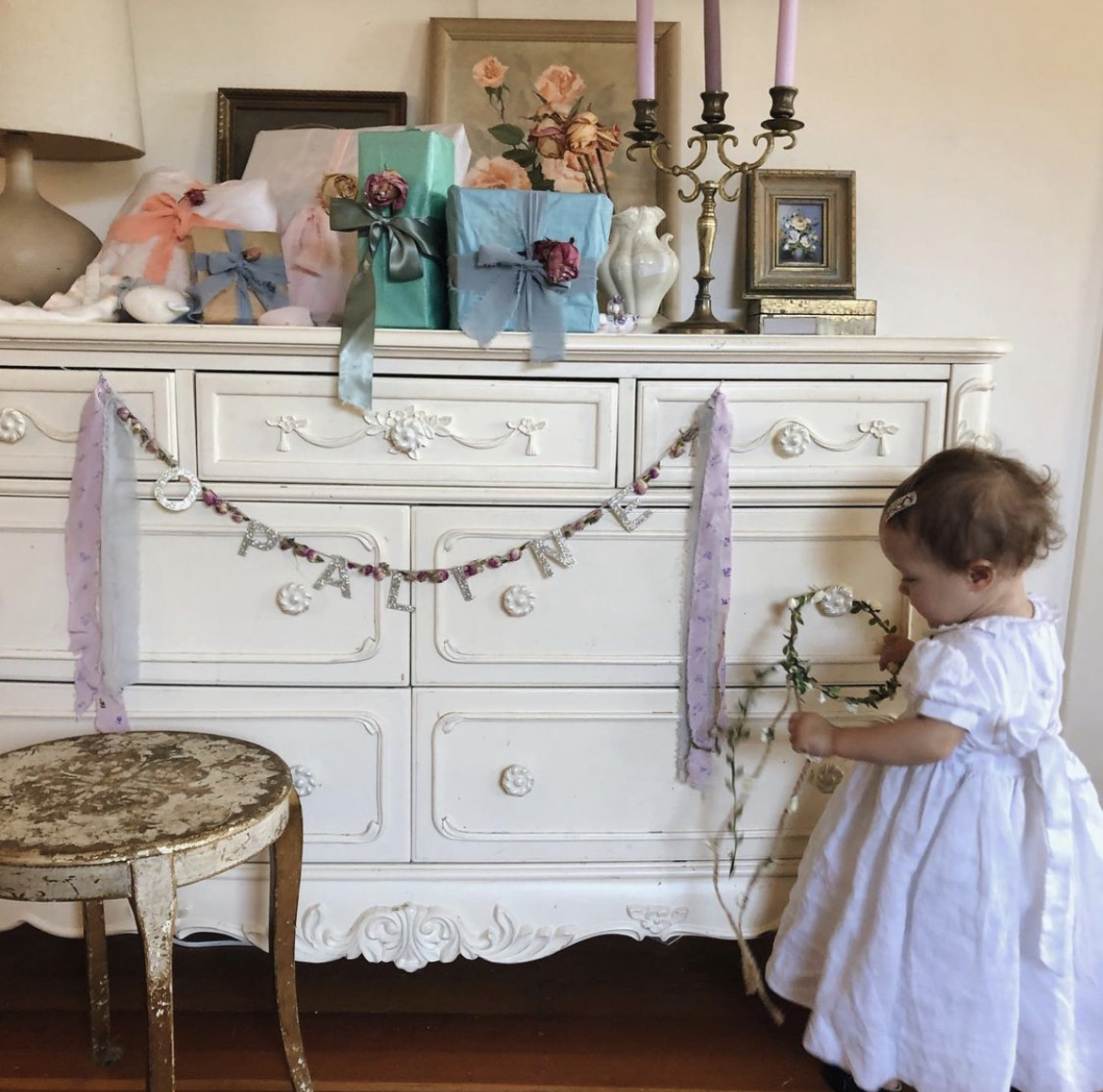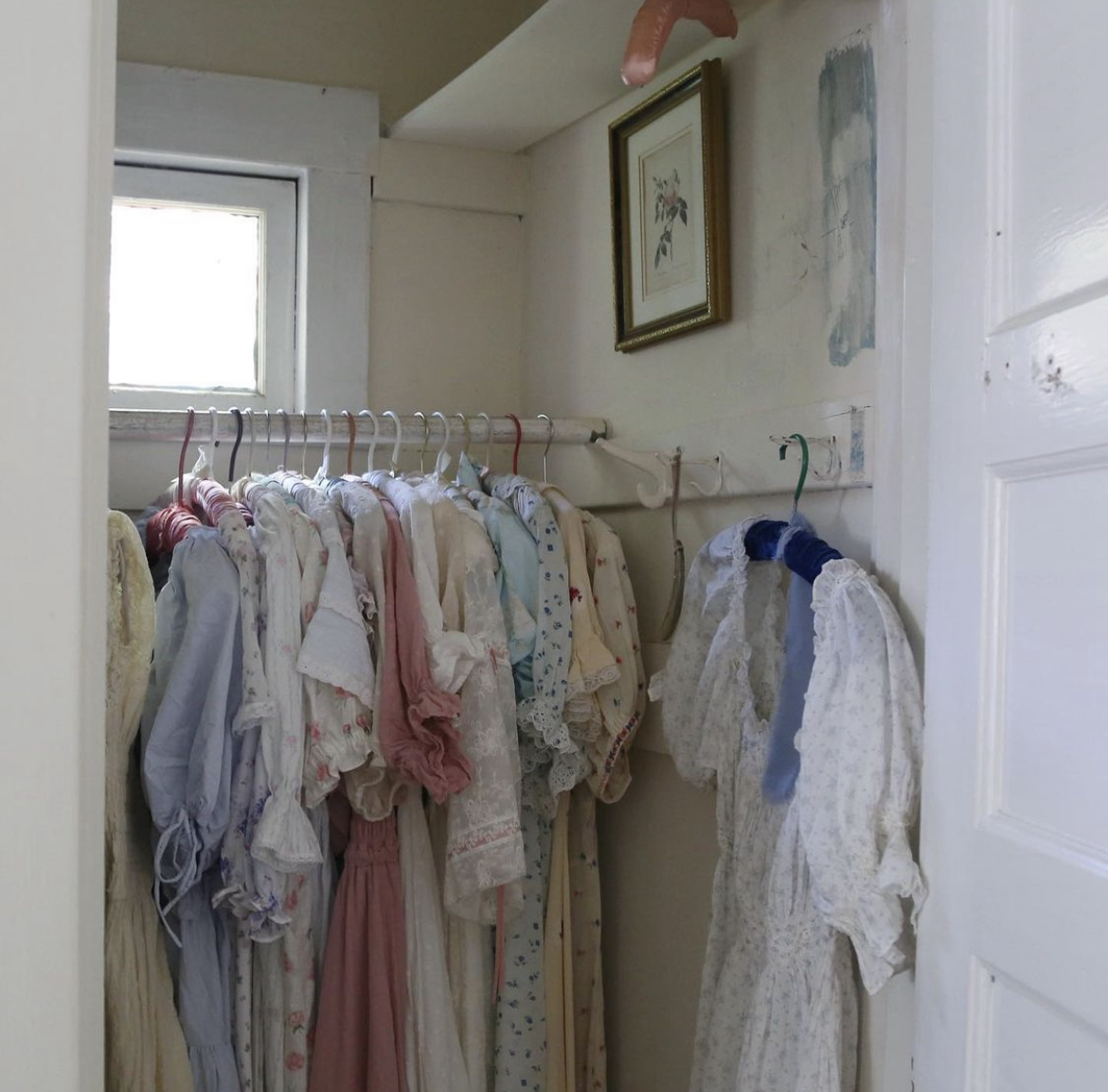 And finally, my friend Sara Jo from Bryarton Farm. She has a beautiful account where they're taking such care of their old farmhouse. I love how she creatively stretches their money to make every detail lovely.
I hope you've enjoyed this scroll through some more of the beautiful and inspiring cottagecore decorating there is to be found!
Pin this for Later: