Late summer is a great time to refresh your patio or fire pit area!
Think about it – the nights are getting darker sooner and the weather is turning colder. It's the perfect time to have a cozy outdoor seating area for when your family and friends are over.
We've had a very casual seating area out near our large grass "golden field" area for a while, but I knew it was time for a quick refresh to make it more inviting, comfortable and functional!
Here are the 5 key areas I focused on when refreshing our fire pit that I think will translate well to any patio or fire pit or outside seating area in any home.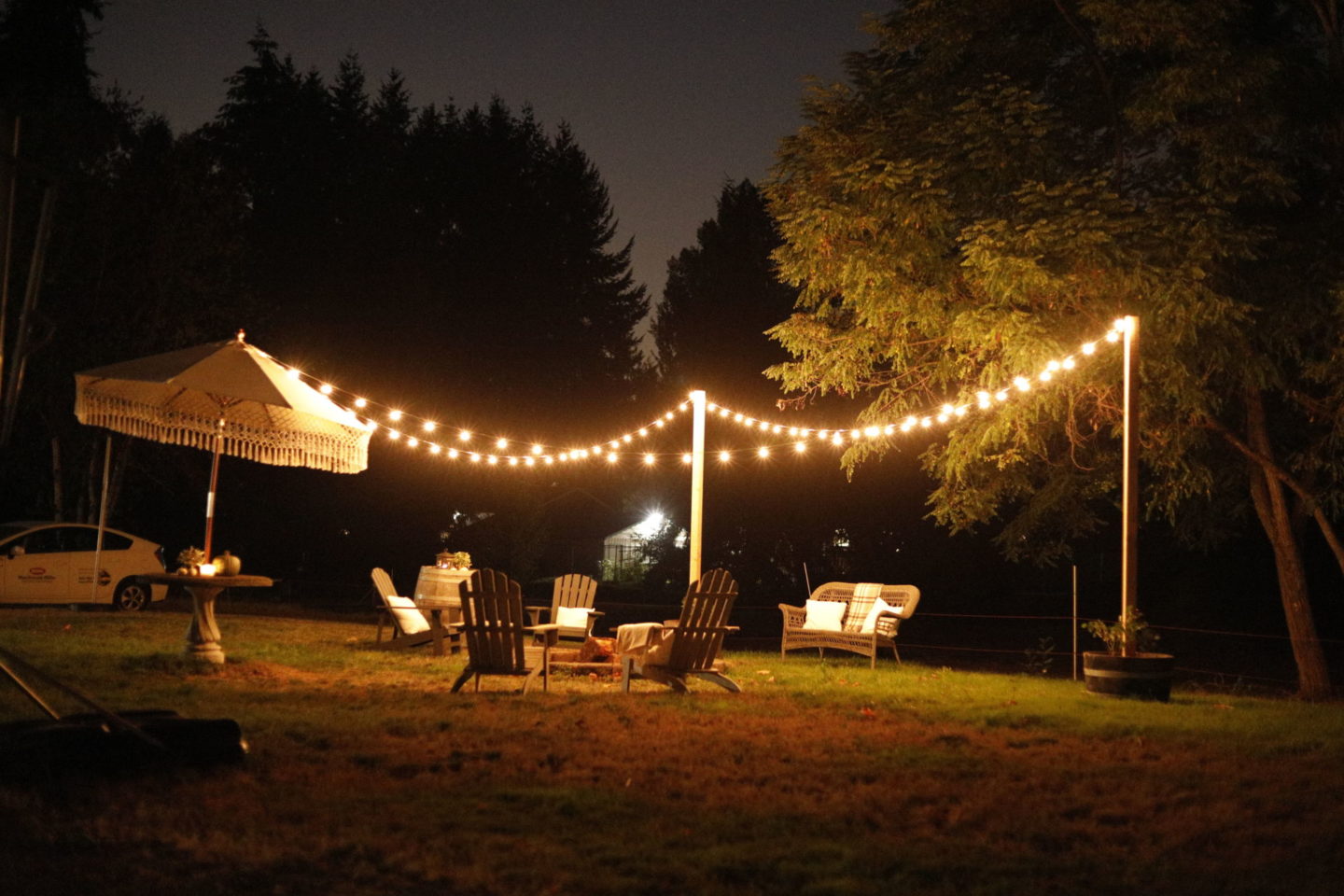 *This post contains affiliate links to products I know &/or love.
5 Refresh Ideas for your Patio or Fire Pit
Number One | Lighting
String lights are so popular right now for outdoor seating areas and I can for sure see why! The atmosphere they add to the area is unbeatable!
Because our fire pit area is not near any structures, we had to do some problem-solving in the way of a DIY project (are you even surprised?).
We chose to make light poles for the area out of whiskey barrel bases. Here's what we did:
DIY Whiskey Barrel Light Poles
Supplies:
Whiskey Barrels (1 per light)
4'x4′ Posts, 10 feet long (1 per light), I recommend getting pressure treated posts, but our local store was out, so we went with pine. We'll bring them under cover for the winters to extend their lifetime.
50lb bag of concrete (2 per light)
Water
Shovel
Level
Cup Hooks (1 per light)
String Lights (I used 3 strands)
Process:
Before you get started, understand this is a two person job! So make sure you have a friend available.
Pre-drill holes and screw in 1 cup hook a few inches down from the top of each of your poles.
Then working with your partner, stand the 10′ 4×4 post up in the middle of the whiskey barrel.
Use the level to ensure you're holding it up straight while your partner attaches two "L" brackets between the post and the bottom of the barrel. (This will help hold your post in place while the concrete sets.)
Pour the two 50lb bags of concrete into the barrel around the post. Add your water (following the ratio on your bag) and mix with a shovel. Let it set/cure for the designated amount of time.
Once the pole is set and the concrete is cured, you can add some design elements!
I chose to make mine into planters by adding soil and transplanting a rose from another area in our yard.
I know a lot of people use jasmine because it will grow and vine up the pole, but I don't really like the way jasmine smells. I love white climbing roses, but this is not the season for them, so I'm hopeful to get some in January to add in here.
For the second pot, I used faux eucalyptus stems from IKEA. They aren't permanent, but for now they add some color and texture!
Once your pots and posts are ready to go, place your pots and string up your lights!
My husband and I made 2 poles, and chose to set them up in a triangular pattern with the 3rd point being the top of my umbrella.
I wanted to it this way so that we could avoid any lights crossing directly over the top of the fire.
Shop This Look!
Number Two | Umbrella
Speaking of my umbrella – I recommend adding one to your outdoor seating area!
Having an area that is covered is great for shade when you use the area in the daylight, and also nice for having a place to stage food & drinks.
I got this umbrella from World Market for about $80. I don't belive the same one is in stock anymore, but here are a few that could be really cute!
Number Three | Furniture
Having comfortable seating at your patio or fire pit is essential! Some of my favorite outdoor chairs are adirondack chairs. I love that their style is not fussy, that they're comfortable, and that their wide arms give you plenty of room to set down a plate or drink!
We got two of our adirondack chairs a few years back and at the time I painted them with Annie Sloan French Linen paint. They were an anniversary gift and I attached cute little labels for my husband and I.
This year we invested in two more, and I painted them black with Fushion Mineral Paint in the color "Ash". (You might remember this is the same paint I used for my son's locker project!)
Which of the colors do you prefer?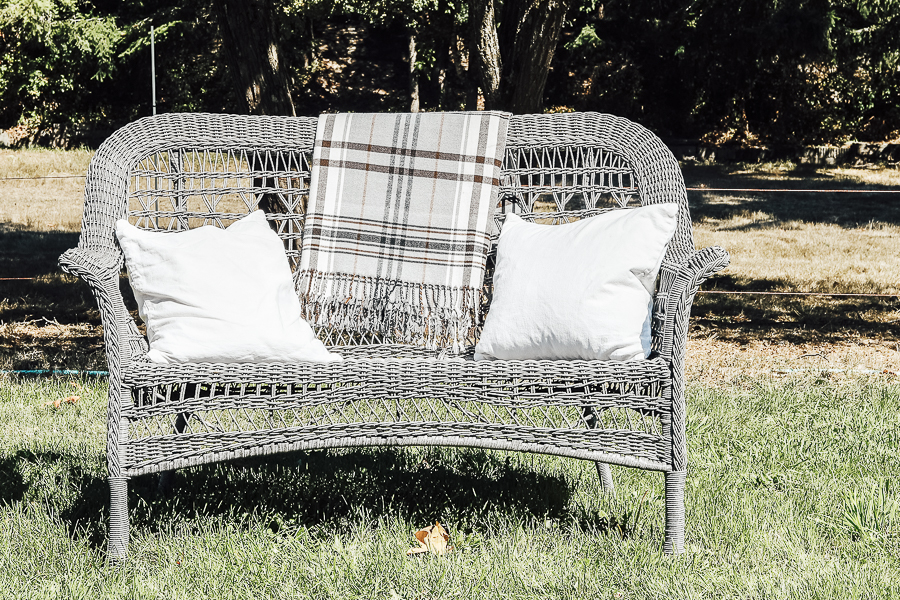 I was thinking to paint them all 4 black, but then I ran out of paint – and now I'm conflicted!
My rule of thumb is to always place seating in a way that at least 2 or more people can be sitting together. Because of our set up, I ended up grouping the two sets of adirondack chairs, and leaving the our faux wicker loveseat (purchased from At Home) for a 3rd grouping of 2.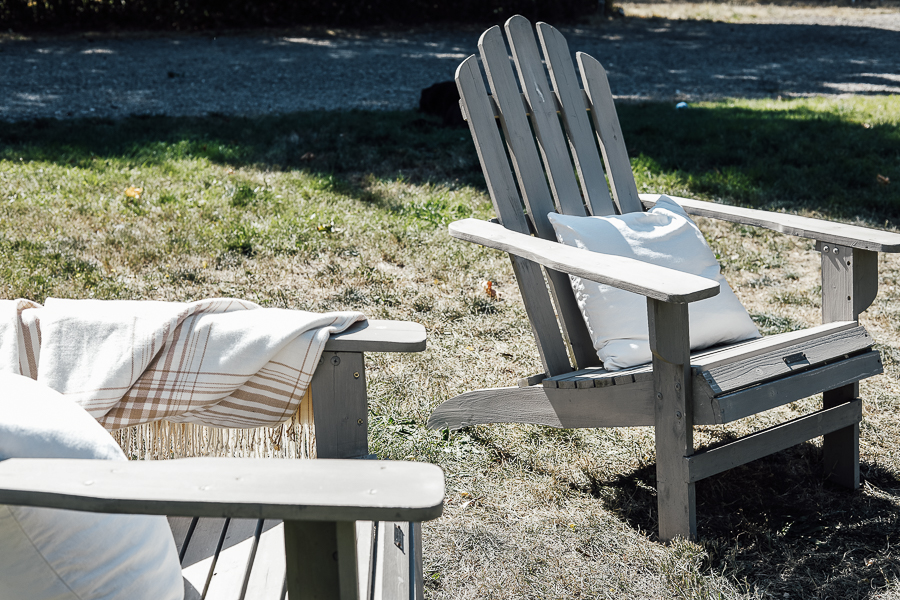 Number Four | Textiles
Next, we have textiles! This is where you get to bring in the comfort!
I added white 20″x20″ pillows for each seat (one per chair, two on the love-seat).
If you happen to only have indoor fabrics, there's a product out called Scotch Guard Water and Sun Shield that will help protect your interior fabric from fading or other damage.
After my pillows were in place, I added a few throw blankets for extra warmth once the sun went down.
Number Five | Seasonal Decor
Last, but certainly not least – add in the pretties!
Seasonal decor is a fun touch and makes a great backdrop for the star of the show – fire pit snacks… Aka: smores. Yum.
You can never go wrong with melted chocolate + marshmallow + graham crackers.
Well I hope you enjoyed this quick peak as we refreshed our patio and firepit area!
Which of things are you most excited about doing in your own yard?
Pin this for Later: